Hi, guys! Today I've decided to light up some useful information about PSD to Angular Conversion. I'm sure most of you have heard this term and many web developers and software users have mentioned this notion. I reckon, that after reading this article, everyone says: "Surely, I use this very often". Of course, I will reveal some general information with some details.
From my point of view, this topic is worth your attention. Don't taunt you, let's go!
What is PSD to Angular Conversion?
Nowadays a website for your business is the foundation brick to build an online platform. And now let's remember what PSD is. PSD stands for Photoshop document which is used for graphics design. Photoshop is also useful for creating a website design.
Of course, it is always better to try before settling. Designing a website in Photoshop will give you that possibility to experiment and then simply change it in Angular.
What are the other ways to enable the conversion method:
Now, I want to introduce two more ways to perform PSD to Angular conversion: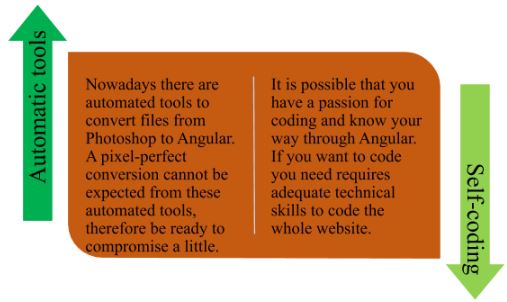 Advantages of PSD to Angular Conversion
PSD to Angular conversion calls for a regular process of creating code based on the Photoshop files. There are various advantages of this process and some of them have been explained here:
Why convert PSD to Angular?
As you can see, there are many frameworks that offer easy-to-use methods for web creation. Some people think that the PSD to the Angular method is a bit dated. However, it's a viable option for web design. There are lots of reasons, why Photoshop is still very helpful in web design:
With Photoshop, you can create a great visible representation of your project to help your clients understand the design better.
With Photoshop you can make each design unique. This is the main winning point against website builders.
Photoshop allows you to create a pixel-perfect design, including the need for modern web design such as retina quality graphics.
The design phase is very active, so you have to be flexible. Your clients might switch from one opportunity to another until they find what suits them best. Unlike building a model, creating a mockup is more comfortable and faster.
Moreover, despite the long process, converting PSD to Angular guarantees that you will have a good quality code. This is essential in terms of easy maintenance.
Conclusion
So, let's summarize all my words written above. I tried to highlight the most important facts, which can be useful for you. I hope that you have a little clearer vision and understanding of "What you know about PSD to Angular Conversion."
Let's remember two ways to perform PSD to Angular:
Automatic tools 
Self-coding
Of course, this service has also advantages such as:
Standards-Compliant Output
Responsive Web Design
Dynamic Functions
CMS Integration
Many thanks for reading! I hope you found this article useful and enjoyable.
Have a nice day or evening!
---
Interesting related article: "Choosing the right web development company."