In this current time and phase, we are surrounded by technology and huge numbers of software. In the same way, businesses aren't any exception. Businesses these days are heavily relying on different types of software and apps to make sure that their activities will not be affected and remain smoother.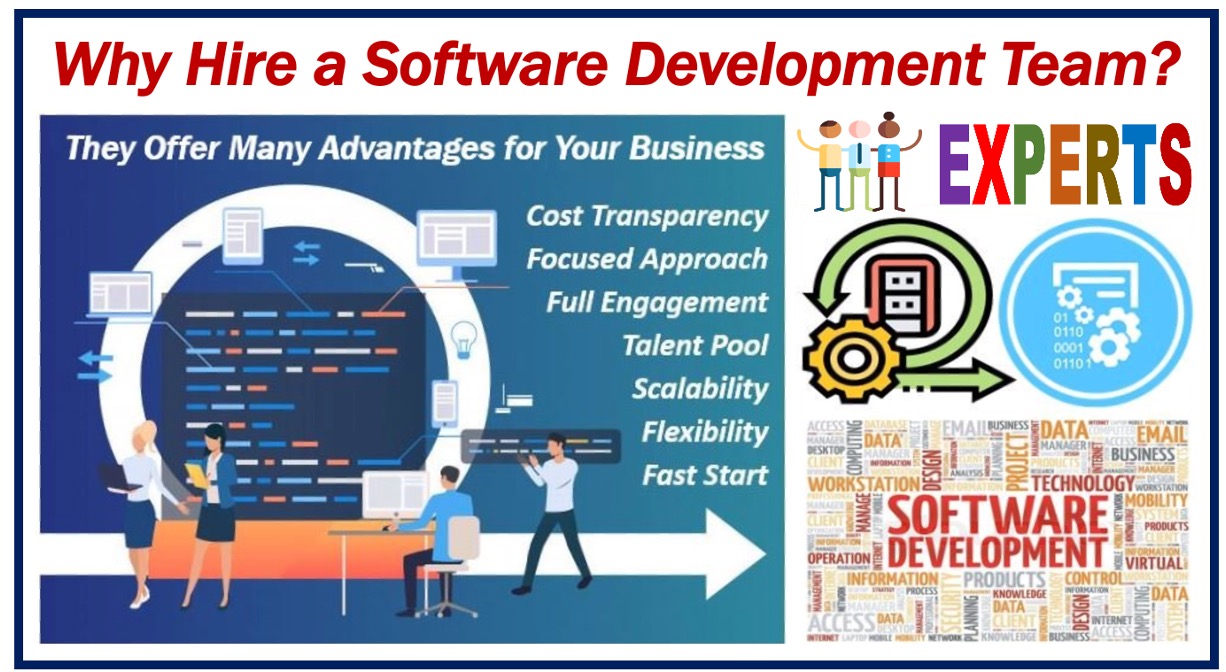 Not only this is important for the reputation of the business but their profits as well. Following are the 5 reasons to choose a software development team if you are also considering developing new software or you want to work on some existing software of the company.
Why Software Development Is Important?
IT industry and digital services face is constantly changing. Businesses must stay updated since it enables them to stand out from predecessors and increase their competitiveness. Software development if done properly can improve customer experiences significantly, and businesses can witness a huge number of feature-rich and innovative products conveniently available in the market. Not only just that, but it can also increase the security of the organization and its data.
Because of the firms' expansion, the amount of data will gradually increase. The company's attention will be more focused on efficiently storing important data. However, businesses must do this by creating and improving their digital infrastructure so a business can offer reliable service to those who use this data.
Not only just that, but software development is also compulsory for the data analyst. If data is obtained from their daily tasks and organized with the right type of software then it can greatly help keep a record of the trend among their targeted demographics.
Reasons To Choose a Software Development Team
For several reasons, you should go for a software development team. Here is what you need to know.
1. Scalability and Quality of The Team
You may adjust your team up or down based on the shifting requirements of your project because the software development agency is adaptable and able to give you highly trained and experienced tech-savvy. Hiring a software development company allows you to select a flexible model based on the needs of your project and interact with the project manager anytime you like.
By opting for nearshore software development services, you gain access to a flexible team that can easily adapt to your project's changing requirements. Collaborating with a software development agency provides you with highly skilled professionals and direct interaction with the project manager. In contrast, working with independent developers may require more time and effort to acquire additional expertise and adjust team size.
However, independent software developers now have access to additional technical expertise or flexibility. That means you must handle it on your own. Even if you plan to work with additional experts, the procedure may take some time.
2. Well Versed with Latest Tech and Tools
While companies are often claiming that they are aware of the changing trends in the market, the reality is often not what it looks like. Not all companies know about the latest technologies like individuals in software development teams. Companies offering software development teams to hire are much aware of the latest tools, technology, and trends which can be helpful for the working company.
Businesses are always changing and enhancing their processes and timeframes. The software development teams are knowledgeable about new programming languages, technology developments, and existing software along with the trend. They can offer quick yet latest solutions as a result.
3. They Learn About Your Company
Providing the best to the company is the major for the software development team. To design the best unique solution, a committed software development team spends time getting to know your company. A software development company can create the best team to fulfill your needs by comprehending the goals of your company.
Assembling a "dream team" from a bigger group of experts available at a software development company is common. Having an appropriate number of teammates and skill sets for your project is the basic requirement to get a project completed proficiently. The software development team works within your company's values and norms once it has been organized for the best outcomes.
4. Dedicated to the Success of Your Business
Another reason to hire a software development team is the similarity. A similarity between you and them is that you don't want to have success. They will help you to achieve the goal by constantly researching and coming up with the proper knowledge, latest innovation, and appropriate tools so they will focus on the success of your company.
Working on a project with a software development team a business can create strong relations with the team and provide you with the tools and knowledge required for the success of a project.
5. You Can Reach Your Goals Faster
A software development team's ability to help you get on track with some significant projects and accomplish your objectives faster makes it a compelling reason to hire a software development team.
You will not have to wait weeks to hire a project coordinator, assemble a knowledgeable team of software developers, and instruct everyone about the project to achieve your goal when you need to get the project up and running.
A devoted professional software development team is "fully prepared" with a specifically picked group of project specialists who will begin to work right away to help you reach your objectives more quickly.
Bonus: An Inspiration to Your Team
The software development team will work on your project during the working hour of the company and along with your team. They can set an example of team working, project handling, and the use of the latest tools and experience.
Companies looking for ways to increase the productivity and experience of their in-house team can take notice as a software development team will show them a new perspective regarding skills, knowledge, and market trends. Your in-house team will be motivated enough to perform better.
Bottom Line
Hiring a software development team can significantly improve not only project quality and the final results. It can significantly improve the quality of the project and can enhance the performance of the in-house development team as well. Professionals at Weassemble are offering an experienced team of developers who will assure you nothing but the best.
---
Interesting related article: