As cities become more and more congested, cycling is quickly becoming the most efficient way for people to get around town. In fact, studies have revealed that personal vehicle usage and public transportation account for approximately one-fifth of global carbon dioxide emissions — making them a major contributor to an individual's carbon footprint when living in urban environments.
Why choose an e-bike?
Taking the wheel and choosing an electric bike over a traditional car for personal transport may be one of the most effective steps you can take to reduce your carbon footprint. Not only is this environmentally conscious, but it also puts money back in your pocket as there are no lengthy registration or maintenance costs associated with owning a vehicle – gas-powered or otherwise.
And with electric bikes, city-dwellers can enjoy an enhanced range and effortless transport, thanks to their built-in batteries that propel them at a much quicker pace than manual cycling. Ride around your locale with zero environmental harm or worry of tiring yourself out – you'll get where you're going in less time without breaking a sweat!
Now that we've gone over some of the reasons why owning an e-bike might be right for you, let's take a look at one of the most popular eBike on the market: the CityRun.
CityRun: the ultimate all-in-one e-bike
The CityRun e-bike is the perfect choice for anyone looking for a reliable, convenient, and affordable means of transportation.
The bike offers a smooth and effortless ride, perfect for busy urban commuters. With its powerful motor and long-lasting battery capacity, you can cross miles at ease while looking stylish along the way. Get ready to experience fast, fuss-free transit with this top-of-the-line e-bike!
With three different color options and a plethora of accessories made specifically for the bike, you can easily find one best suited to your individual riding needs.
Additionally, CityRun puts safety first by equipping their bikes with high-quality brakes and puncture-resistant tires as standard equipment–making sure that every ride is a safe one.
CityRun offers some of the most competitive prices in the market today – ensuring that anyone can enjoy the convenience and freedom of owning a quality e-bike without breaking the bank. Whether you're an occasional rider or a commuter looking for an upgrade–CityRun is your go-to solution for getting around town more efficiently.
Specifications of the CityRun
Battery48V/15Ah
MAX Payload Capacity330-350 lbs
E-Bike Weight61.7 lbs
E-Bike ClassClass 2
Charging Time4-5 Hours
Hub Motor500 W Brushless Gear
Tires26″x 2.5″
IP LevelIP × 4
Range55 Miles (pedal assist)
BrakeHydraulic
Package Weight78.2 lbs
Product Dimensions72.8×25.9×46.8 inches
Charger48V/4A
Front ForkHydraulic Suspension Front Fork
Rear Rack Capacity120 lbs
Package Dimensions58.3×9.8×29.9 inches
What sets CityRun apart?
Now, let's go over some of the main features that set the CityRun apart from the competition:
Hydraulic breaking – Enhanced braking in any situation. Upgrade your riding for a safer, more stable, and comfortable ride with hydraulic brakes that drastically reduce the stopping distance by up to 50%.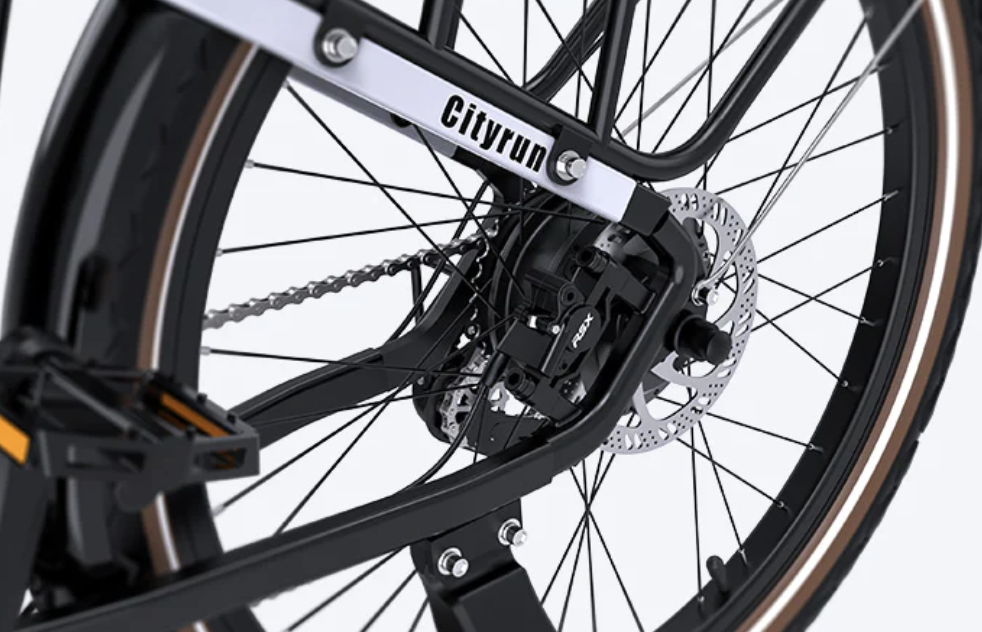 Hydraulic Suspension Front Fork – this increases the durability of your bike frame, significantly reducing impacts from bumpy roads and smoothing out vibrations for a smoother ride.
Turn signals – Stay safe on the roads with integrated taillight brake light which flashes to alert drivers and riders when you're turning left or right. Constructed using high-grade materials, this essential rider accessory ensures imperviousness against all weather conditions while maintaining peak visibility day or night – so your security is never compromised! Safety is always a top priority.
Battery and fast charger – Enjoy a reliable and efficient ride experience with the removable 720Wh battery capacity – giving a range of up to 55 miles when prompted by pedal assistance. Make sure you're always well prepared for your journey thanks to its 4A fast charging capabilities!
Multifunctional LCD Display with dedicated app support – The e-bike has a multifunctional LCD display so you can stay informed and in control of your ride. The display works with the Heybike APP to monitor battery levels, track operation status, or troubleshoot any problems quickly with the help of specific error codes – all from the palm of your hand!
Automatic LED headlights – With automatic LED headlights, you'll always be prepared for the dark. Enjoy an added layer of convenience and security when cycling around in any nighttime conditions.
Conclusion
Overall, the CityRun e-bike is a great choice for those looking for an efficient and affordable means of transportation. With its powerful motor, long-lasting battery capacity, high-quality brakes, and puncture-resistant tires as standard equipment, you can easily customize your ride to suit your individual needs while feeling safe and secure on every journey!
Additionally, its competitive prices make it accessible to all riders without compromising on quality or performance – making this one of the best choices in the market today. So if you're looking for an upgrade that will help get you around town faster than ever before – look no further than CityRun!
---
You may be interested in: Hydraulic Brake VS. Mechanical Brake, Which Is Better?