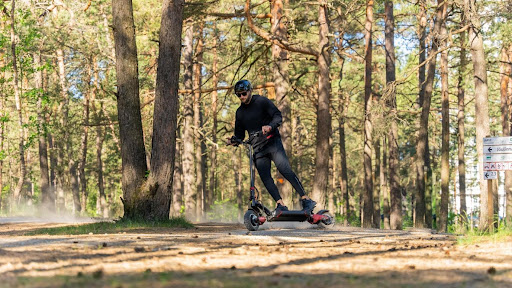 Electric scooters are great for navigating busy city streets, saving money on taxis, and getting to work in time. But you don't want your electric scooter to be a boring old appliance you must ride daily—you want it to be an extension of your personality. 
As the common saying goes, beauty is in the eyes of the beholder, which is true when designing an electric scooter. Designing your electric scooters for adults will make it look great and help you stand out among the other electric scooters on the road. After all, your electric scooter reflects who you are, helps others see that you're a proud scooter owner, and adds some pizazz to your ride.
Decorating Ideas For Your E-Scooter
Here are some decorating ideas for your electric scooter that will stand out from the crowd.
Add graphic stickers
Graphic stickers can be placed anywhere, making them a popular way for electric scooter riders to personalize their ride. Whether you want a graphic of your favorite music artist, cartoon character, or one that makes a bold statement about how you feel about society, there are dozens of places online where you can buy custom-made graphics for your electric scooter. 
Handlebar bag 
A handlebar bag makes your electric scooter unique and comes in handy. During your daily travels, you will need essential supplies such as a homemade lunch or a water bottle. You can keep these items in a shoulder bag, but that will only weigh you down and cause fatigue. This is why getting a handlebar bag is the perfect solution. You can choose colorful handlebar bags that are waterproof, make your best electric scooter for adults unique, and brings out your personality.
Paint your electric scooter
The color of your electric scooter for adults says a lot about you. There are many colors to choose from, but if you want something eye-catching, you'll want a bright color. A red e-scooter, for example, will stand out much more than a black one. When choosing paint for your electric scooter, it's advisable not to choose neon colors because it makes it difficult for other people in traffic to see you. 
Handlebar streamers
Streamers are a quick way to add color and excitement for a fun, festive touch. You can find all sorts of patterns that match your color scheme or select those that you like. Ensure they're lightweight, so they don't weigh your handlebars too much. 
Depending on your electric scooter's design, look for streamers in various widths, such as stripes or geometric shapes. Stripes are effective when used with other decorations like ribbons or flowers. If you're using more than one color, use coordinating colors that don't clash with each other but complement each other instead. 
Paint your tires
Coloring your tires is another great way to set your ride apart from others. While blue and green colors are popular choices, trying something more striking like purple or red might be fun. And remember that it's not just about style; colorful tires will also help your scooter stand out from a distance.
Accessorize with flowers
Buy some bright and colorful flowers from your local market to bring a bit of summer into your electric scooter for adults. Carefully place them around your scooter in a few spots. Plenty of flower stands online and in-store would work well as an accessory for your scooter. Pick out a small plant and paint it in florescent colors, or grab some silk flowers; they're great because they won't wilt.
Since you'll be driving in city traffic, you'll want to ensure that all bouquets are firmly attached, so they don't fly off if you brake quickly. 
Use artistic paint jobs
If you're looking for a way to personalize your electric scooter for adults and make it stand out, adding artistic touches is a good place to start. Artistic touches, like spray paint or acrylic paints, are an easy way to customize your electric scooter. 
You can add accents or patterns, but letting loose and spraying color all over is fun. Apply the paint in a well-ventilated area and wear proper safety gear. A new coat of colorful paint on your best electric scooter for adults can give it a unique look.
Add a seat cushion
For long rides, you may need a little extra padding. That's where seat cushions come in handy if you have an electric scooter with seat. You can purchase them ready-made or if you have a sewing machine, whip up one yourself. You can place it directly on your seat or drape it as an accent piece. Cushions are available in a wide range of colors and materials, so you're sure to find something that fits your style and budget. 
LED strip lights
One of the best ways to decorate your electric scooter stem is with some LED lights. They're cheap, easy to install, and look amazing at night. LED lights are great for upgrading existing lights, but you can also add your lights for safety or extra visibility. 
You can also customize your wheels with LEDs. They glow white in the dark, creating a magical effect that makes you stand out, and they are motion activated. The wheels are made of transparent PU and have grey spokes.
Add a basket
Baskets make it easy to transport groceries, picnic supplies, mail, and even pets on a scooter. Before getting a basket, ensure it will fit your best electric scooter for adults and is within weight restrictions. There are plenty of colors that will match your personality and fit your electric scooter for adults. 
Scoot Beams
Scoot Beams are bright, entertaining lights that will keep your little electric scooter visible as you ride home. They're simple to put together; loop the strap over the pole of your scooter and tighten it. To activate, click the button on the front of your Scoot Beams, then press it again to change settings or turn it off. It has three light modes: fast flash, slow flash, and constant.
---
Interesting Related Article: "Are Electric Scooters Good for the Environment?"