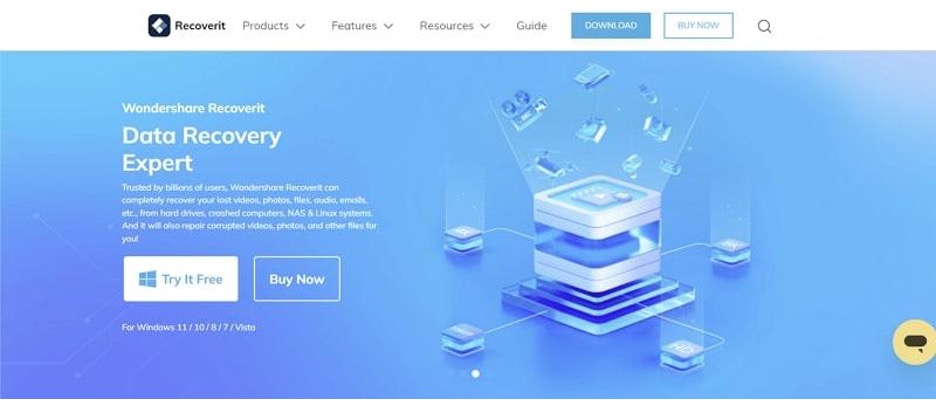 Losing crucial information can be a nightmare for users, particularly in today's digital landscape. Data plays an essential role in both our personal and professional spheres. USB drives, despite their convenience, are not immune to data loss. Hence, learning how to preserve and recover data in case of unexpected losses is essential.
Numerous factors may contribute to losing data from a USB flash drive. However, it is necessary to be equipped with the essential knowledge of flash drive recovery in case such an event occurs. If you wish to learn the perfect way of recovering data from a USB, this article is for you. Keep reading to discover the ideal USB data recovery tool to recover your precious data quickly and easily.
Part 1: What Features to Look for in a USB Data Recovery Tool
If you're looking for a data recovery tool that can work with USBs, you will find numerous options in the market. Choosing a suitable tool that can work according to your requirements is challenging. But where should you start looking? To assist you in this task, here are some top features that you should look for in an efficient data recovery software:
1. Device Compatibility
Since you are looking for a USB data recovery tool, it is imperative that it supports external drives. Look for a tool that is compatible with your device and your USB flash drive. Many tools support a wide range of USBs, external hard drives, and memory cards.
2. Ease of Use
A user-friendly interface is vital in a flash drive recovery tool. Data recovery is a complicated process, but the software also doesn't have to be complex. You should look for a tool that offers data recovery in simple ways, especially if you don't have much prior experience with tech.
3. File Type Support
Ensure that the tool you choose supports a wide range of file formats. This is essential for USB data recovery when multiple files are involved. Choose a program that works well with documents, images, videos, audio files, etc.
4. Data Privacy and Security
Data privacy and security is a significant concern when it comes to recovery efforts. It is thus essential to select a tool that can preserve the integrity of your data. You should also ensure that the data recovery tool is secure and trustworthy. This can prevent malware or further data corruption.
5. Cost-Effectiveness
It would help if you also considered the tool's price in relation to its features and your specific requirements because some data recovery software offers free versions with limited features. Others require a purchase for full functionality. You should choose the one that caters perfectly to your needs.
Part 2: The Perfect USB Data Recovery Solution With Advanced Features
The features mentioned above are a must-have in every data recovery software. Still wondering which tool to choose for recovering data from USB? The answer lies in Wondershare Recoverit. It is a complete data recovery solution available on Windows and Mac devices. The tool is the ultimate software for efficient flash drive data recovery. 
Recoverit is capable of recovering data attributable to any cause. This includes accidental deletion, corruption, formatting, virus attacks, system crashes, and other malfunctions. For quick and effortless USB data recovery, it offers a powerful toolset to users. The platform supports all major USB brands and types, including Sony, Toshiba, SanDisk, PNY, etc. With an impressively high recovery rate, this software is all you need to succeed in your data recovery process.
Part 3: Main Highlights of the Most Efficient Data Recovery Toolkit
There is a lot more that Recoverit offers than a simple USB data recovery tool. Here is a brief overview of some other features that the tool offers:
1. Crashed System Recovery
If you are facing a crashed computer system that cannot boot, your data seems to be lost forever. However, Recoverit can change that. This tool can create a bootable USB drive for the system to access data. Moreover, it can save your files from being lost forever.
2. Enhanced Photo & Video Recovery
Recoverit offers enhanced photo and video recovery to users. It works well with high-quality media files and can easily preserve the quality of lost data. If you want to recover Ultra HD, 4K, or 8K videos, Recoverit is the perfect solution.
3. Multiple Device Support
Sometimes, data loss occurs in external devices instead of an internal computer system. Under such circumstances, this data recovery toolkit offers the perfect solution. The tool offers extensive support for various devices, such as camcorders, drone cameras, GoPro, DVRs, SD cards, and others.
4. Quick & Advanced Video Repair
Although corrupted video files are tough to repair, Recoverit makes it easy. If you are having trouble playing your videos, try the Video Repair feature of this toolkit. This tool can repair video files in almost any format and supports large file sizes.
Part 4: A Step-by-Step Guide to Perform Efficient and Blazing-Fast Data Recovery
Recovering data from a USB flash drive is relatively straightforward when it comes to Recoverit. The following steps indicate how to recover data from USB using this robust data recovery toolkit:
Step 1: Open Recoverit and Connect the USB
Install and launch Wondershare Recoverit on your Windows or Mac computer. Now, connect your USB to your computer and ensure the device can read or detect it. Once you launch Recoverit and connect the USB, select it as the target location under the "External Drives" section from the homepage. Once selected, hit the "Start" button to begin the process.
Step 2: Scan the USB for Data
After you hit the "Start" button, this tool will automatically scan the selected location. The scan results will be displayed on Recoverit's interface in real time. If you see your desired files, you can pause or stop the scan anytime.
Step 3: Preview and Recover the Deleted or Missing Files
Once Recoverit is finished scanning, you can click on files to preview them. Tap the "Recover" button, then choose a safe location to save the recovered files.
Part 5: Added Benefits of Using Wondershare Recoverit for USB Data Recovery
As the above guide indicates, USB data recovery is much easier using Recoverit. However, convenience isn't the only benefit this data recovery software offers to its users. Here are some additional benefits you can receive when using Recoverit for data recovery:
Extended File Type Support:

Regarding file types and formats, Recoverit offers extensive support. It can recover almost any data quickly, from videos to images and documents. This software also works well with all major file formats.
High Recovery Rate:

Recoverit gives you a 95% chance of accurately and effectively recovering your lost data. You can use the tool to retrieve data from the depths of destruction. This high recovery success rate makes it one of the best available options.
Comprehensive Support for Common Issues:

This USB data recovery tool can recover data lost as a result of any cause. This includes scenarios ranging from accidental human errors to device formatting or other reasons. It can even recover data from a crashed computer.
BitLocker and Disk Image Recovery:

If you are using BitLocker, your data may be encrypted in special drives. This data recovery tool can easily bypass these drives and get the data back for you. It can also retrieve data stored on disk images.
Conclusion
Data management and recovery have always been a big challenge for users. However, the process can be made easy with the right tools at hand. The perfect USB data recovery software, Wondershare Recoverit, has eased users' tasks. Using this software, you can now retrieve lost data from a USB quickly and easily. Recoverit allows users to take control of their lost data and actively avoid productivity setbacks.