Two devastating earthquakes earlier this month have claimed thousands of lives in Turkey. Besides the tragic loss of life, the structural and economic damage is also enormous. Buildings have collapsed, and the incident has caused a severe lighting breakdown. The seasoned lighting brand Refond is in deep sorrow at this Turkey earthquake. To help restore local electricity, Refond has donated 80 lamps with LED lighting for temporary asylums and other Turkish places with electricity breakdowns.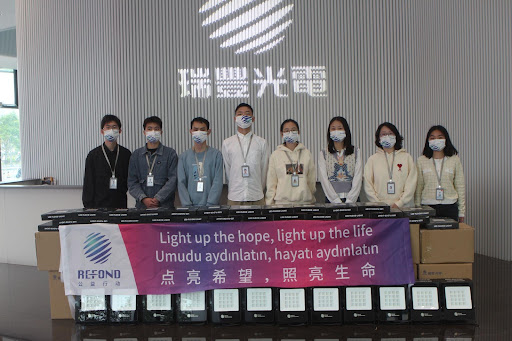 Lamps with LED Lighting Can Help Ease Turkish Power Outages
Products like lamps with LED lighting are invaluable in this hour of need for the Turkish to illuminate their surroundings. Fortunately, with Refond's donation of lamps with LED lighting, Turkish power outages can be eased  in several ways. 
Energy-efficient lighting: LED lamps with LED lighting are known for their energy efficiency. They consume at least 75% less electricity than traditional lamps, making them an ideal solution for Turkey and other regions that experience power outages.

 

Improved visibility: LED lamps provide better visibility than traditional lamps, making it easier for Turkish people to move around and perform their daily tasks during power outages.
Reduced environmental impact: The carbon dioxide LED lamps produce is about one-tenth of that traditional lamps have.
Ease Power Outages with Refond's Lamps with LED lighting
Refond has a diverse range of LED lighting solutions and products that can also be utilized to alleviate the impacts of power outages in Turkey and other regions experiencing electricity disruptions. Here are some of their solutions:
LED COB Lighting
Refond's COB LED technology ensures that the illumination is clear and focused, making it ideal for enhancing the surroundings effectively, including temporary shelters and facilities in Turkey. The wide beam angle of their COB LED strip lights also ensures that the light is evenly distributed, creating a comfortable and welcoming environment. Some of the LED COB lighting solutions this brand offers include the COB RGB LED strip and the COB single-color LED strip, which can satisfy different color options.
LED Modules
Refond's LED modules offer excellent durability and energy efficiency, making them reliable as lamps with LED lighting solutions in Turkey. These modules are designed to work independently, allowing for greater flexibility in installation and use. With a low failure rate, these modules provide long-lasting performance without worrying about the need for frequent replacements.
Flexible Light Strips
Refond's flexible LED light strips are ideal for residential and commercial projects in Turkey. These innovative light strips offer high brightness levels and multiple color options, providing a customizable lighting solution. The energy-efficient design ensures that the flexible light strips consume less power, lowering electricity bills.
---
About Refond
Refond is a premier LED lighting manufacturer in the industry. With a wide range of state-of-the-art LED products and solutions, this LED light company in China caters to both professionals and end-users. The brand covers various categories and applications, from micro/mini LEDs to plant lighting, including lighting for the living environment. The company also excels at providing its consumers with unmatched after-sales and technical support services. The recent donation of 80 lamps with LED lighting to Turkey is just the beginning of Refond's response to the power outage situation in the country. The brand aims to contribute more in the future with its dependable solutions. Check out Refond's complete line of LED lighting products to experience their innovative solutions.