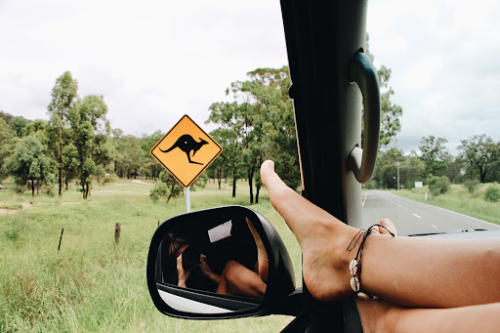 Planning a trip to explore Australia? You've made a great choice! 
Australia is among the best tourism countries in the world, consisting of natural wonders, beautiful beaches, wide deserts, unique food experiences, and so much more. However, before starting the Australia trip, you need to plan things beforehand, like the best places to visit and places to stay and most importantly, you need to hire car in advance. 
What are the benefits of renting a car in Australia?  
Many long-term tourists to Australia purchase their own vehicles, so they can experience one of the country's most popular road trips and save money and time on taxes and rails. Tourists who only enjoy short visits in Australia should consider renting vehicles and saving money. 
There are many benefits of using a rental car in Australia. What are those? Let's have a look. 
1: No Waiting at the Bus Stops 
If you're someone who doesn't like to wait, then a car rental is for you. In Australia's major cities, each bus stops after 4-6 minutes. So, in case your destination is 5 stops ahead, your trip will be delayed by at least 20 minutes.
 Even if you're a public transport fan, Australia is a country where a tourist shouldn't necessarily rely on it. 
2: Convenience
Hiring a car in Australia can offer you a lot of conveniences. Since all cars come with a navigation system, which can greatly help you to find your way to the destination whether you are on the highway or city streets. While landmarks are a great way to navigate if you're relatively close to the area, sometimes tourists get lost and don't know how to get around, which is where Google Maps on your smartphone and the best car navigation system available come in really handy! 
3: Saves Money 
It's a common tactic of taxi drivers all over the world to avoid shortcuts in order to charge more money from tourists. By using car rental, you can avoid it. In addition to that, you get a pick and drop service from a car rental company which also saves time and money.  
4: Less Travel Restriction 
With car hire, you are no longer bound by schedules. You don't have to wonder where the nearest public transportation stops or taxi stations are located. Instead, you can drive your rented vehicle and explore the place where a bus or taxi cannot take you – to touristy monuments or off-the-beaten-path destinations.
5: Enjoy the Australian Road Trip 
With a hire car, you can rent the luxurious car you want and enjoy driving to the highways and roads of Australia with beautiful sightseeing. 
How to Rent a Car in Australia?
Renting a car in Australia doesn't mean a lot of paperwork. It is a hassle-free process. Here are a few steps you can follow to hire a car.  
1: Advance Booking
It is always recommended to book the car in advance before flying to the country. It allows you to choose from a variety of car options and get good discount packages as well. Booking a car online through a credit card is also comparatively less expensive and, at times, gets your complimentary car insurance as well. 
2: Search for a Car Hire Company
You can find many car rental companies online, but it's wise to hire the best that are popular and have their offices at airports in all major cities. For instance, Alpha Car Hire is a well-reputed Australian car rental company whose offices are located at airports. 
3: Check Reviews
Always check reviews before hiring a car rental company and only hire a car from a company that has high customer ratings. 
4: Compare Prices 
To save money, you should compare the prices and policies of multiple car renting companies. Also, make sure to read all the teams and conditions on their website. 
What is the Minimum Age Requirement for Hiring a Car in Australia?
It depends on the car rental companies, but generally, one must be at least 21 years old to rent a car in Australia. 
Can I Rent a Car in Australia with a US or UK License?
Yes, you can hire car in Australia with a valid US or UK car license. However, if your car license is not in English, then you will be required to carry an international driving permit.
---
Interesting Related Article: "5 challenges for the car-sharing industry today"