A 3D-printed pipette-tip test created by researchers at University of Connecticut could substantially reduce the cost and time of testing the presence of numerous diseases.
The team developed a 3D printed device that can be attached onto a normal pipette to carry out an enzyme-linked immunosorbent assay (ELISA).
ELISA has been used for over 3 decades to test blood, cells and other biological samples for a number of different diseases, including some cancers, HIV, and Lyme disease.
According to UConn Today, the researchers said that the 3D-printed pipette-tip test they developed leverages what "has long been the gold standard for measuring proteins, pathogens, antibodies and other biomolecules in complex matrices."
Traditional ELISA tests are performed on plates with 96 micro-wells. Each well is its own testing chamber where samples are combined with different agents – the sample changes color upon reaction with the agent.
Technicians analyze changes in the color produced during the reaction to determine the presence of a particular disease or condition.
However, this process takes a long time and involves numerous washing steps. It can also be quite expensive and requires specialized training to conduct testing.
The lab where the researchers conducted the study doesn't have an automated ELISA washing machine, which means that each plate used for tests must be washed manually.
"The ELISA washing techniques take forever," said research assistant Mohamed Sharafeldin, who is currently working toward his doctorate in chemistry. "It's very tough, especially in a lab like ours. We don't have those kind of fancy washing machines."
Karteek Kadimisetty '18 Ph.D made an offhand comment one day while running ELISA that he wished doing ELISA was as simple as pipetting.
This prompted the researchers to start designing a 3D-printed adapter for commonly used pipettes that could run an ELISA test right in the pipette tip.
Each single-use pipette tip represents one micro-well on an ELISA plate. A multi-tipped version was also designed by the researchers which allows for eight tips to be pipetted at the same time.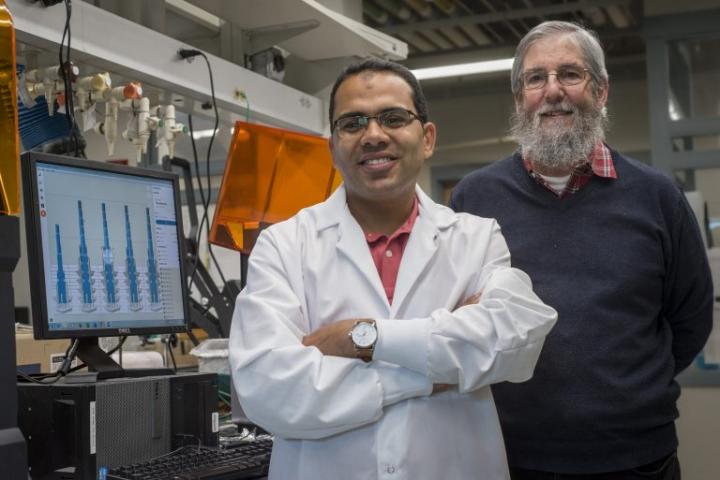 "We didn't want to make a big change in the traditional ELISA; we just made engineered, controlled changes," Sharafeldin said. "So, the basics are the same. We use the same antibodies at the same concentrations that they use with conventional or traditional ELISA, so we are using the same protocols. Anything that can be run by normal ELISA can be run by this, with the advantage of being less expensive, much faster and accessible."
The team tested the pipette tips on samples from patients with prostate cancer.
The tips were not only found to be as accurate as ELISA tests, but they were also much faster and required just a tenth of the amount of testing agent.
The 3D-printed ELISA tips hold only 50 microliters each while traditional ELISA plate micro-wells hold 400 microliters of fluids each. The design of the reservoir inside the tip increases the surface area where the reactions take place.
"Here we have a chamber where the reaction happens at all points," Sharafeldin said, referring to the pipette tip design. "This reduces the time of the assay, which is an important thing, because the ELISA assay takes from five to eight hours to run. This one can be run in 90 minutes."
The team's findings were detailed in a paper recently published online in Analytical Chemistry (citation below).
---
Journal Citation
Accessible Telemedicine Diagnostics with ELISA in a 3D Printed Pipette Tip
Mohamed Sharafeldin, Karteek Kadimisetty, Ketki R. Bhalerao, Itti Bist, Abby Jones, Tianqi Chen, Norman H. Lee, and James F. Rusling
Analytical Chemistry
DOI: 10.1021/acs.analchem.9b01284
---