As with any major acquisition or purchase, there will be multiple factors that need to be reviewed and analyzed before parting with your hard-earned money. And not the least will be the price that you will need to pay. The analysis will require even further scrutiny when the purchase is a complicated piece of manufacturing machinery – such as an RF welding machine.
During the RF welding manufacturing process, two sections of the material to be pressed together are aligned, and pressure is applied to the surface area of both materials. When the sealing process commences, the press collectively comes together, and RF waves are broadcasted through the electrodes (RF sealing dies) into the area between the materials — where the sealing process will occur.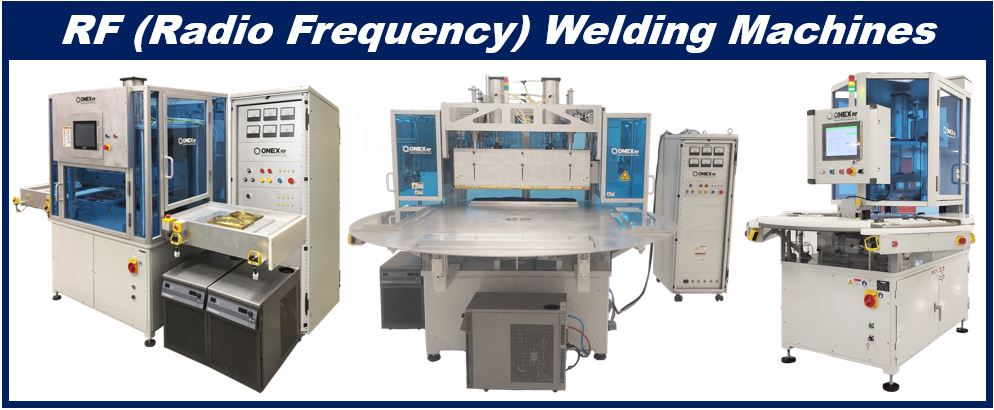 The radio frequency waves will 'excite' the material molecules, which move according to the RF waves and become hot as energy is released. Applying both heat and pressure promotes molding to occur between the two pieces within the device.
Machine Division of High-Frequency Welders
High-frequency welding machines can be classified according to industry standards as follows:
HF dielectric welding machine: RF heat sealing equipment that creates a wide range of medical supplies and car interior accessories.
The prices for these types of HF welding machines can start from USD 2,000 to USD 25,000 second hand, and brand new models can range from USD 6,000 to USD 20,000 from China. Certain brands that are manufactured in either the US or Europe can start from USD 100,000.
Key Factors To Consider When Purchasing an RF Welder Machine
When making a major purchasing decision within any business, whether it be a new hire or a new retailing campaign, can often be intimidating. Decision makers will want to ensure that they are investing company funds wisely, and in a manner that will yield a beneficial return. The following questions can help with this decision-making process, and can be applied to the purchase of a RF welding machine:
What is the nominated or planned budget for the acquisition?
Will the purchase be new or used?
Can the welding machine actually perform the functions that you need it to do?
Will the machine's manufactured throughput or output match the planned usage? And for what timeframes can this output be utilized for?
What do previous customers of this product state or say about it? Do they recommend its purchase to others?
What exactly are the warranty and post purchasing support and maintenance options?
Is machine support available 24 x 7?
Will in-depth training on how to effectively use and manage the machine be available?
Will the supplier design, manufacture the RF sealing tooling and make samples during machine acceptance run?
What is the process for ordering spare parts – their availability, the time it takes from ordering to delivery, and the availability of experienced labor support to perform the part maintenance?
Specific Factors To Consider When Purchasing an RF Welder Machine
Radio frequency welding machines appear in multiple shapes and sizes and operate within various power limits. The choice will depend upon the product type required for manufacture and the number of products to be welded. The size of an RF welding machine depends on the material contact area or product size and the thickness of the materials that will be used during the bonding process.
Specific manufacturers use steel, brass, and aluminum to produce dies that are used in RF welding. The type of die determined for the particular project will depend on various factors, including design complexity, cost, and sturdiness.
Steel dies cost less but are prone to rust and other issues and can be difficult to repair.
Brass dies cost considerably more but possess high energy efficiency and sturdiness and are straightforward to repair.
Aluminum dies, occasionally described as magnesium dies, signify low-cost machinery that is straightforward to build. They work well for complicated designs but require up to 25% more power than brass dies do in order to accomplish comparable bonding strength.
Maintaining an RF Welder To Prevent Unplanned Outages
So as to conserve and protect the longevity of any RF welding machine, periodic and skillful maintenance is essential. When an Rf welding machine suddenly becomes offline, there can be grave ramifications such as loss in productivity and order fulfillment delays – all leading to a loss in revenue and, therefore, profit.
A structured and systematic maintenance plan should contain clear and concise steps for the following periods:
Daily maintenance,
Monthly maintenance,
Yearly maintenance,
Ad-Hoc maintenance.
Conclusion
The attraction of RF welding is the flawless and impeccable weld that it renders, and RF welding can be performed on common materials such as PVC, Polyurethane and EVA, etc….
Asking how much an RF welder might cost is like asking how long a piece of string is. The most prudent purchase of such a costly machine will depend on the precise business requirements that stipulate exactly what the welding machine will manufacture, the environment where it will be used and with what materials, and to satisfy what designs or patterns. Also, the quantity to be produced, and when, is also a crucial determining factor.