The price of Ripple XRP rose by as much as 16% on Friday, Feb 6.
XRP's opening price was $0.81 at 00:00 (UTC) and rose to as high $0.94 at 17:50 (UTC) before retreating slightly to its current $0.91 level at press time, according to data from Coindesk.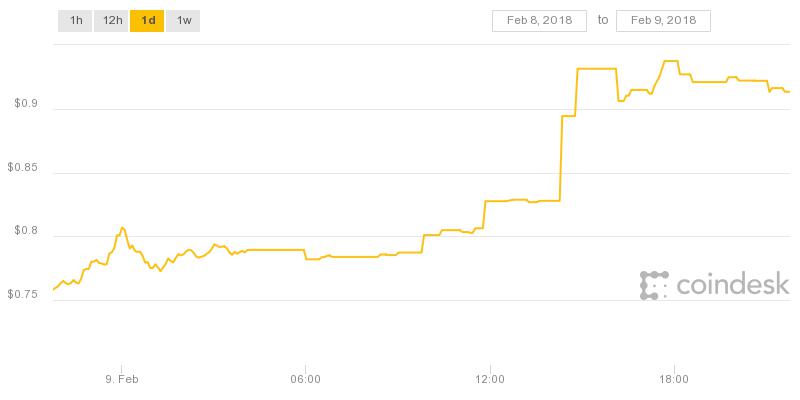 The market cap of the digital currency is beginning to climb back up after severe declines last month.
XRP's current market cap stands at around 35.725 billion – a 40% increase from its market cap of just $25 billion at the beginning of the month.
The price of Ripple XRP is currently about 60% higher than its low of $0.56 that it dropped to less than a week ago.
Ripple XRP's surge today comes after one of China's largest payment providers, LianLian, announced that it will be using Ripple's settle solution xCurrent to power cross-border transactions between China, the U.S., and Europe.
Brad Garlinghouse, CEO of Ripple, tweeted that Ripple "just opened the door to the largest e-commerce market in the world"
Last month XRP's market cap surged to as high as $83 billion – temporarily making it the second largest cryptocurrency by market cap after Bitcoin.
However, XRP, along with most other cryptocurrencies, suffered major losses as January progressed amid fears of Chinese and South Korean regulation, Facebook's policy change banning cryptocurrency and IPO advertising, as well as news of Bitfinex subpoenas.
Video – Ripple is a Cryptocurrency
You probably know that Ripple is a type of cryptocurrency. Do you fully understand what cryptocurrencies are and how they are different from dollars, pounds, euros, and other traditional currencies? Watch this Market Business News video to find out.