F. Hoffmann-La Roche Ltd. focuses on producing pharmaceuticals, medical devices, and diagnostics. It was founded by a young, Swiss entrepreneur Fritz Hoffmann-La Roche in 1896. He believed that branded pharmaceutical products were the way to go.
What started off as a tiny drug laboratory eventually became one of the leading research based healthcare multinationals globally. The company today is active in more than 130 countries.
The company originally focused on vitamin preparations. It was the first firm to mass-produce synthetic vitamin C (branded as "Redoxon"). In the early 40's, it started making inroads into the US market.
It was the first drugmaker to develop and market a group of tranquilizers known as benzodiazepines (such as Valium).
The success of benzodiazepines allowed Roche to expand, and it subsequently set up bioelectronics departments in the US and Switzerland to develop electronic medical instruments.
Over recent years Roche has been involved in important advances in diagnostic techniques and innovative medicines aimed at molecular targets.
In 2009 it acquired the biotechnology corporation Genentech for $46.8 billion.
Other company information
CEO: Severin Schwan
Chairman: Franz Humer
Headquarters: Basel, Switzerland
Employees: 80,129 (2012)
Company subsidiaries: Genentech and Ventana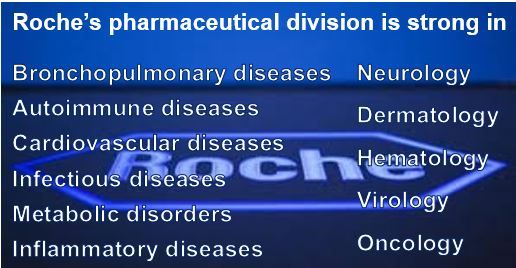 Roche is a world leader in breast cancer treatment.
Roche Pharma's top selling drugs in 2013 were:
MabThera/Rituxan: $7.5bn (non-Hodgkin lymphoma (NHL) and chronic lymphocytic leukaemia),
Avastin: $6.7bn (colorectal cancer, and other cancers),
Herceptin: $6.6bn (breast cancer),
Lucentis: $1.8bn ("wet" type of age-related macular degeneration),
Xeloda: $1.6bn (numerous cancers),
Tarceva: $1.4bn (lung and pancreatic cancers),
Pegasys: $1.4bn (chronic hepatitis C),
Actemra/RoActemra: $1.1bn (rheumatoid arthritis),
CellCept: $900m (helps prevent organ rejection in transplant patients),
Xolair: $900m (allergic asthma).
F. Hoffmann-La Roche Ltd. Financial Results in 2013
Key figures 2013
Group Sales: 46.780 billion CHF
Pharmaceuticals Division: 36.304 billion CHF
Diagnostics Division: 10.476 billion CHF
Core operating profit: 17.904 billion CHF
Operating free cash flow: 16.381 billion CHF
Total net assets: 21.241 billion CHF
Net income: 11.373 billion CHF
Read the full 2013 Roche Annual Report
---
News about Roche reported by Market Business News:
August 25, 2014: a deal worth $8.3bn has been agreed for the takeover of Californian based drugmaker Intermune. Some analysts say it is too much money for a one-drug company, which has not yet managed to turn a profit. Its medication, pirfenidone (Esbriet), has been approved in the EU and Canada for the treatment of idiopathic pulmonary fibrosis. Approval is expected by the US FDA this year.
August 16, 2014: A $10 billion bid for the remaining 40% of Chugai that Roche does not own is likely to occur, unnamed individuals told Bloomberg. Investors were surprised with the news, given that CEO Severin Schwan said last year there were no plans to acquire the rest of the Japanese drugmaker. Last month he said the company's strategy is to make small acquisitions and set up partnership deals.
July 24, 2014: H1 2014 sales were down by 1% because of the strong Swiss franc. Excluding the currency factor, sales were up 5%. Roche's new cancer medications had a good six months. A writedown in the company's tissue diagnostics business sent net profit down by 7%.
July 2, 2014: Roche announced it has agreed to buy Seragon Pharmaceuticals for up to $1.725 billion, with an up-front cash payment of $725 million and the rest tied to targets. Seragon is developing small molecule drugs for treating estrogen receptor dependent breast cancer. With Herceptin losing patent protection in Europe this year and in the US in 2018/2019, the company is making moves to make up for the loss in expected income from its blockbuster breast cancer medication.
---