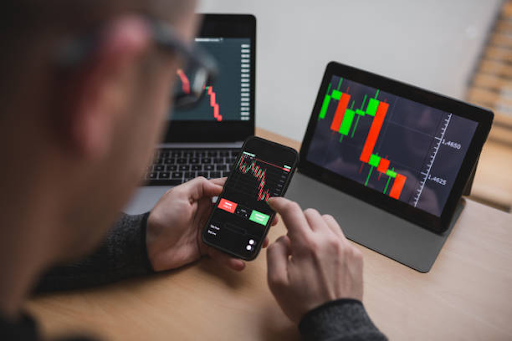 Options trading can be a tricky business, especially for beginners. With so many different strategies and methods, it can be quite challenging to figure out where to start. 
But what if you were told that you could learn options trading easily and effectively? That's where Rockwell Trading comes in. 
Rockwell Trading is a company that provides education and training for options trading. Founded in 2005 by Markus Heitkoetter, a professional trader with over 15 years of experience, Rockwell Trading has quickly become a leading provider of options trading education. 
In this Rockwell Trading review, we'll take a closer look at what Rockwell Trading is, what products and services they offer, its pros and cons, and whether or not they're the best fit for you to learn options trading.
What Is Rockwell Trading?
This company was founded way back in 2005 by Markus Heitkoetter to help people like you become successful in stock, options and swing trading. And by the looks of it, they're doing a pretty good job.
Speaking of which, you can learn more about the founder in our more tailored Markus Heitkoetter review. 
What sets Rockwell Trading apart from the competition is its deep dive into different trading styles. They don't just give you a cursory overview; they really break down their strategies and investment niches in great detail. 
Plus, not only do they offer educational resources and coaching, but they also provide legit trading software, which is a rare find among trading services.
Rockwell Trading Products and Services 
Rockwell Trading offers a wide range of products and services to help you learn and grow in the trading world. This includes: 
Trading tools

Educational resources 

Rockwell mastermind

Coaching programs
Rockwell Trading provides a variety of educational materials for you, including webinars, training programs, and coaching calls. These resources are designed to help you improve your trading knowledge and skills. The platform also has a free video course on options trading for those new to the market. 
In addition to the educational resources, Rockwell Trading also offers a variety of trading tools. The PowerX Optimizer and a selection of strategies are available to assist you in identifying and executing profitable trades. The PowerX Strategy and Wheel Options Strategy can be purchased for $4.95 each and provide unique methods for options trading. 
Another feature of Rockwell Trading is the Rockwell Mastermind community. This is a community of traders who work together to share strategies and support one another in their trading careers. Members of this community can participate in strategy calls with experienced traders and access additional educational resources and support. 
Lastly, the platform offers tailored coaching programs to provide personalized support. The Platinum and Diamond coaching programs offer one-on-one coaching with experienced traders and provide access to various educational resources and tools.
Rockwell Trading Pros and Cons
Pros:
Access to advanced technical analysis tools and strategies such as PXO and wheel trades

Utilization of the PowerX Optimizer, a top-of-the-line stock scanner

Flexibility to access the platform from any location with internet access

Opportunities to learn strategies for making profitable trades in a down market

Direct mentoring from industry experts such as Heitkoetter and lead trading coaches
Strategies taught can be applied to multiple markets, including forex, E-mini futures, and commodities
Cons:
Some products offered may be considered costly
Options trading may present a steeper learning curve for some users
Rockwell Trading Cost
As a premium service, Rockwell Trading's products may come with a higher price tag. 
However, when considering all the benefits and features you receive, it is still considered a great value. The pricing for the services offered by Rockwell Trading is as follows:
PowerX Optimizer (lifetime updates) – $1,997

Theta Kings Trading (lifetime access to recordings) – $997

Platinum Plan (6 months) – $12,000

Diamond Plan (yearly) – $30,000
Each of the services offered by Rockwell Trading is packed with excellent features that can help take your trading to the next level. 
By combining these services with Rockwell Trading's free educational resources, you will have everything you need to get started and make a strong start in your trading journey.
Rockwell Trading Alternatives
When considering alternatives to Rockwell Trading, there are a variety of options available. However, one powerful alternative that uses a similar strategy is the PowerX Optimizer. 
To gain insight on how this alternative performed against competitors, you can check out a PowerX Optimizer review from 2022. 
This platform offers many of the same features as Rockwell Trading, including the PowerX Optimizer and a range of strategies to assist in identifying and executing profitable trades.
By the way, you can also compare its recent performance to Rockwell Trading by reading our 2023 PowerX Optimizer review, to determine if it aligns with your investment needs.
Is Rockwell Trading Worth It?
Rockwell Trading offers top-notch services that are well worth the investment. Although the prices may seem high initially, premium-level insights come with premium price tags.
For many users, the PowerX Optimizer service may be the best choice. It allows you to scan thousands of stocks and ETFs and access their analysis from any location.
This does not even take into account all the additional features that come with the software.
Theta Kings or the Mastermind service is a great option if you are looking for one-on-one coaching.
Overall, Rockwell Trading has made a strong impression and is worth considering for anyone looking to improve their trading skills.
---
You may be interested in: How a Professional Business Coach Can Transform Your Business