Today, the mobile app world is based on artificial intelligence technology, and there is no alternative to this. Companies are taking huge benefits from developing apps with AI implementation as it provides phenomenal results for the company and its customers both.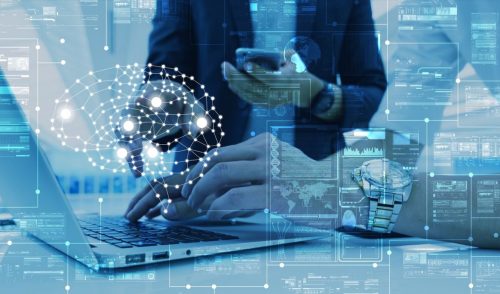 Even developers love AI as it allows them to innovate and use creativity to enhance their skills. AI helps developers to create the best solution with full advancement, and that somewhere boosts their confidence to do more creativity and innovation.
The biggest tech companies, like Google and Baidu, are spending billions of dollars on AI in-app and software development.
This article is all about the role of AI in app development for various sections in one niche, so it helps to understand where you can take benefits, and this makes our article a perfect read for everyone. Whether you want to develop your own mobile app development or are looking for a better opportunity to grow in the AI sector, this article includes everything. Read on.
What is Artificial Intelligence?
In simple words, AI is a technology that offers a high level of intelligence by analyzing real-time information in relation to human actions as well as behavior. It helps developers to create advanced and new solutions and make complex tasks easy.
On our smartphones, there are various new features included, and with every new release of iOS app development, new and exciting features are coming. Like the iOS 16 feature that allows you to attend your FaceTime call either on iPhone or macOS.
The existing example of AI is Siri, one of the great advents in AI mobile app development.
AI includes:
Machine Learning
Language processing
Machine Vision
Context Management
App Development Growth with AI-Facts & Figures
According to the latest reports, the AI market size was valued at $51.08 billion in 2020.  Data may vary depending on the source.
More than 91 percent of businesses have an ongoing investment in 2021.
More than 60% of workers say that the adoption of AI within the workplace has resulted in increased productivity.
Almost 23 percent of customer service companies currently use AI-powered chatbots.
62 percent of consumers are willing to use AI to enhance their mobile user experience.
The global AI market is projected to reach $60 billion.
Significant Role of Artificial Intelligence in App Development
The role of AI in the business world is vast. AI is providing something to every field, be it companies, customers, developers, and other crucial sections of the industry, everyone is taking benefits of AI development.
More and more generations are getting engaged with mobile phones as well as apps, and this is only going to increase. The new generations are demanding something new to see in apps or mobile features, and that's only possible with AI.
Demand for creativity and innovation has increased, and that's why AI comes in. This is just the beginning. No doubt, AI will lead the market in the coming years.
Let's see at some point how AI is enhancing the business world.
 Conversational UI
A Conversational User Interface is an additional feature for communication in AI app development.  This feature works like speech recognition and it offers the ability to interact with the computer in human terms using voice or text.  This comes with NLU (Natural Language Understanding), which recognizes and analyzes conversational patterns to interpret human speech.
Accurate
AI ensures data collection with rapid speed and accuracy.  It is quite difficult to collect accurate data in less time, but with AI, companies can collect and predict accurate data in less time and with less cost. The AI algorithm studies the behavior and actions and, with that understanding, show you the results.
Behavior Study
Behavior study is the basis of your platform's success because it helps you provide relevant content to users so that they can show interest in your product. The AI studies the behavior, and searches of a user on browsers keep an eye on the user's actions, and shows the most searched keywords on the user's mobile device.  This also helps your business to provide a personalized experience to users.
AI Enhance Customer Experience
AI helps developers to find better and new ways to store data in different fields in mobile applications that ultimately make apps faster. AI unlocks new features in mobile applications, such as iOS 16 features.
Personalized Experience
The AI studies user behavior and collects data, predicts it, and provides results on that basis.  It helps businesses to show the relevant ads, see customer engagement and make a profit.  When a business is sure about the particular choice of a user, it shows other relevant products or services to users and provides them with a personalized experience.
 Powerful Security
AI helped developers unveil the advanced, powerful security feature so that users can consider their phones as a secure platform for all their information.  The facial recognition feature was one of the robust security features launched by Apple to reduce security breaches and enhance the user experience.
Powerful Search Engines
Search engines are now easier as not only words, but even images, and voices are now accepted as search terms. With the help of AI, users can now search for anything on Google or any search engine via typing words, using voice, or with images.
 8 AI Technologies for App Development
Improved Search Engines
Chatbots
Facial Recognition
NLP (Natural Language Processing)
Machine Learning
Emoji Recognition
Deep Learning
Neutral Networks
AI-based App Ideas for Businesses to Invest in
AI-based iOS and Android app development are the future of the mobile app industry, as the demand for enhancement in mobile apps will increase over time. This is the time when individuals can take advantage of this great opportunity and can set up their own business or grow a business via developing AI-based apps for users.
 AI-based news App
Reading newspapers with the morning team is a conventional trend that some people love, but what about those who don't have enough time to read a complete newspaper or find the relevant news that is important for their niche?  This is where AI-based apps help users to get the daily news update based on their interests and locality.
AI-based learning apps
Online learning is the best platform to continue your studies no matter where you are.  Millions of users, including students, and teachers, have again started their studies with the help of online learning platforms.  The EdTech industry is one of the fastest-growing industries, and investing in it is a profitable decision.
AI-based home service apps
In the age of working from home, it's difficult to manage house chores with office work. Everyone needs second help, and an AI-based home service app helps users find the best on-demand home service for their home.
AI-based fitness apps
The AI-based fitness apps help users, trainers, and gym owners to find the right place for earning and service.  Fitness apps bring consumers, trainers, and gym owners under one roof, and this helps everyone. Fitness freaks can find the best trainer at home, trainers can train users online and earn money, and gym owners can grow their business by listing it online.
AI-based tracking apps
Tracking apps are also in demand as Android users don't have enough options for this. A tracking app with some useful features can really help a user to track someone or find their phone if it gets lost.
AI-based food delivery apps
The food delivery business is growing like a fire in a forest. Don't miss this great opportunity. if you have a restaurant business, then develop your own app and grow your business online. There is a huge demand for on-demand food delivery app development in the market. This is the right time to grab this opportunity before someone else grabs it.
---
Interesting Related Article: "Understanding Digital Product Development & App Development Process"