Safeway Inc. – Company Overview
Company
Safeway Inc.
Headquarters
5918 Stoneridge Mall Road Pleasanton, CA, USA
CEO
Robert L. Edwards
CFO
Peter J. Bocian
Industry
Retailing
Type
Public
Founder
M.B. Skaggs
Founded
1915
NYSE stock symbol
SWY
Net Sales
$36,330.2 million USD (2014)
Operating profit
$534.5 million USD (2014)
Net income
$112.5 million USD (2014)
Employees
137,000 (2014)
Website
http://www.safeway.com/
IR contact number
1-877-723-3929
---
Safeway Inc. is one of the largest supermarket chains in North America. The company is based in Pleasanton, California.
As of January 2014, Safeway operates more than 1,330 stores under several different chains in the US, such as: Carss-Safeway, Pavillions, Randalls, Safeway, Tom Thumb, and Vons.
Safeway Inc. also operates 190 stores in Mexico in partnership with Casa Ley – Safeway holds a 49% interest in Casa Ley, S.A. de C.V.
Acquisition deal agreed: Since February 21, 2014, Safeway has been in advanced negotiations with Cerberus Capital Management regarding an acquisition. On March 6, 2014, Cerberus, which owns rival grocery chain Albertsons, announced an acquisition deal worth $9.4 billion which is expected to be completed in Q4 2014 (i.e. Safeway to be acquired).
Safeway was founded by Sam Seelig, a man who opened a chain of grocery stores in Los Angeles in the late 1910's under the Sam Seelig Company. It wasn't until 1925 that Seelig changed the name of the company to Safeway.
In 1927 Safeway went public on the New York Stock Exchange – at a stock price of $226.
In the 1930s Safeway introduced produce pricing by the pound and "sell by" dates on perishables to ensure freshness.
The company was taken private in 1986 after being acquired by Kohlberg Kravis Roberts (KKR). However four years later, in 1990, Safeway was taken public again – issuing 46 million shares at $2.81 per share.
According to Safeway, approximately 82% of its stores are 35,000 square feet or larger.
The company claims that "customers can always count on us for great prices on the freshest produce and meat, plus thousands of everyday lower prices down every aisle."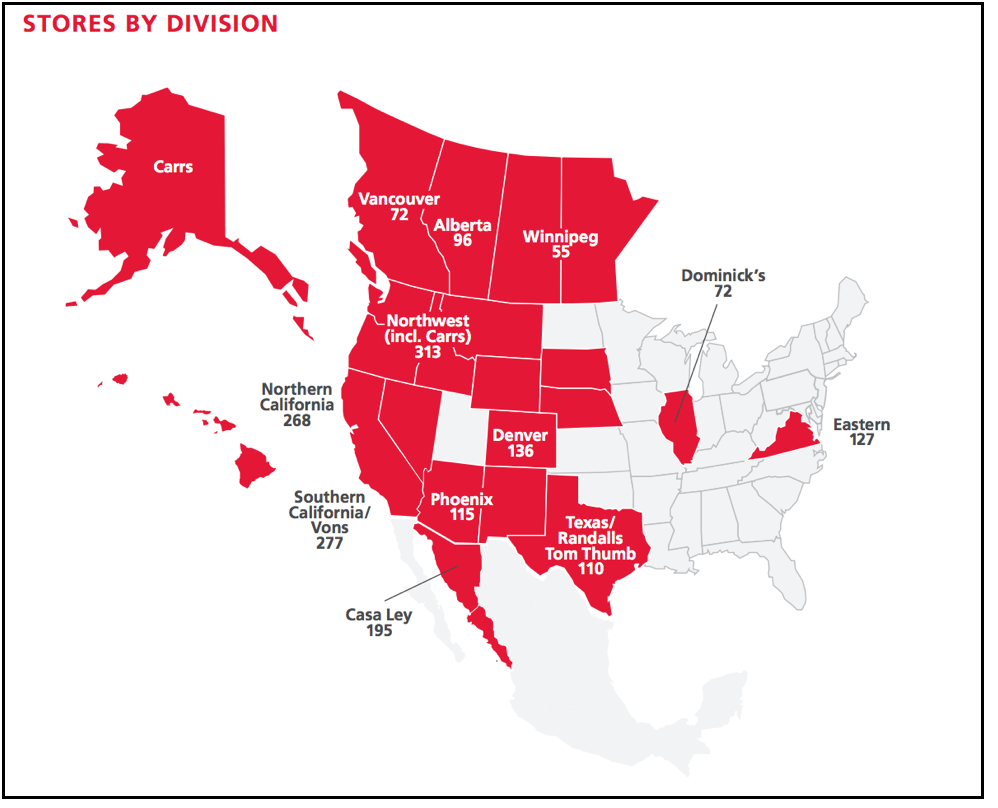 ---
Safeway Inc. – Financial Results
| | | |
| --- | --- | --- |
| Key figures (in millions of USD) | 2014* | 2013* |
| Sales | $36,330.2 | $35,064.9 |
| Gross profit | $9,682.0 | $9,231.5 |
| Operating profit | $534.5 | $551.5 |
| Income before income taxes | $165.0 | $251.6 |
| Net income | $112.5 | $3,522.2 |
| Total assets | $13,377.0 | $17,219.5 |
| Cash and cash equivalents at beginning of year | $4,647.3 | $352.2 |
*Year ended January 3, 2014 and 2013
Source: "Safeway Inc. – 2014 Form 10-K"
---