Salesforce is a powerful customer relationship management (CRM) platform that helps businesses manage various aspects of customer interactions. One critical aspect of customer support is case management in Salesforce, where efficient case assignment rules play a vital role. Optimizing these rules can significantly enhance the effectiveness and efficiency of handling customer inquiries and issues.
Understanding Salesforce assignment rules
Salesforce assignment rules govern the distribution of incoming cases to the appropriate agents or teams. These rules ensure that each case is routed to the most suitable person for prompt resolution. Salesforce queues further facilitate this distribution by acting as virtual storage areas for cases before they are assigned.
There are two types of assignment rules in Salesforce:
Salesforce Lead Assignment Rules

primarily focus on distributing new leads among sales representatives based on predefined criteria such as geography, lead source, or lead score. 

Case Assignment Rules

are responsible for Salesforce case distribution. These rules play a pivotal role in the realm of customer support by directing incoming

Salesforce support cases

to agents or teams equipped with the expertise to resolve specific issues. 
As organizations strive to provide seamless experiences for both potential customers and existing clients, mastering these assignment rule types becomes crucial for optimizing customer interactions and nurturing lasting relationships.
The need for optimization
Default assignment rules might not account for specific business needs, leading to uneven case distribution, longer resolution times, and potential customer dissatisfaction. Optimizing Salesforce rules address these issues by ensuring equitable distribution, maximizing agent expertise, and expediting case resolution.
Best practices for Salesforce assignment
Prioritizing cases

. Categorize cases based on urgency or complexity to assign high-priority cases to experienced agents, ensuring quick resolutions.

Efficient assignment techniques

. Implement round-robin assignment or load-based distribution to evenly distribute cases among available agents, preventing bottlenecks.

Role-based vs. direct assignment.

Choose between role-based case assignment, where cases are directed to specific teams or direct assignment, where cases go to individual agents based on expertise.
Advanced Salesforce assignment techniques
Multi-criteria case assignment.

Combine multiple factors such as case type, priority, and customer tier for more accurate case routing.

Automated case assignment.

Leverage

Salesforce automation tools

like Process Builder and Flow to automate case assignments based on predefined criteria.

Customized queues.

Tailor Salesforce queues to match specific business units or case types, improving case categorization and routing.
Streamlining Salesforce case routing
Salesforce case routing logic
Understanding Salesforce case routing logic is fundamental for ensuring that customer inquiries and issues are directed to the right personnel with the expertise to address them effectively. The case routing process involves a sophisticated interplay of various factors, such as queue membership, agent skills, workload, and availability. Salesforce's intelligent algorithms consider these variables to determine the most suitable destination for each case, maximizing the chances of swift resolution. 
Caseload balancing
Balancing caseloads in Salesforce goes beyond equal case distribution among agents. This strategic approach boosts customer service quality and agent efficiency. Preventing overload for some and underutilization for others, it curbs burnout and enhances job satisfaction. 
Even workloads lead to swift responses, faster resolutions, and increased customer contentment. Moreover, balanced caseloads aid managers in spotting trends, optimizing resource allocation, and refining processes. This practice optimizes operations and fosters a cooperative, productive support environment.
Case escalation and reassignment strategies
Case escalation and reassignment strategies are vital for effective customer support. Escalation involves transferring cases to experienced agents or supervisors to address complex issues promptly. Case reassignment in Salesforce redirects cases to different teams or agents for specialized handling. 
These strategies prevent delays, ensure timely resolutions, and uphold customer satisfaction. With clear escalation and reassignment criteria, organizations enhance their support processes, allocate resources efficiently, and build a reputation for adeptly managing diverse customer concerns.
Configuring and customizing assignment rules
Salesforce rule configuration instructions
Access setup. Log in to your Salesforce account and navigate to the Setup menu located in the top-right corner of the screen.

Search for assignment rules: In the Quick Find box, type "Assignment rules" and select what Assignment Rules you need to configure: Lead Assignment Rules or Case Assignment Rules. 

Create a new rule. Click on the "New Assignment Rule" button to start configuring a new rule.

Define Salesforce rule criteria. Give your rule a descriptive name and set the rule entry criteria. This includes conditions like case origin, type, priority, or other custom criteria that determine how cases are assigned.
Specify rule actions. Determine what happens when cases meet the specified criteria. You can assign cases to specific users, queues, or use other automation processes.

Configure rule entry order. If you have multiple assignment rules, specify the order in which they're evaluated. This is important when cases could meet criteria for more than one rule.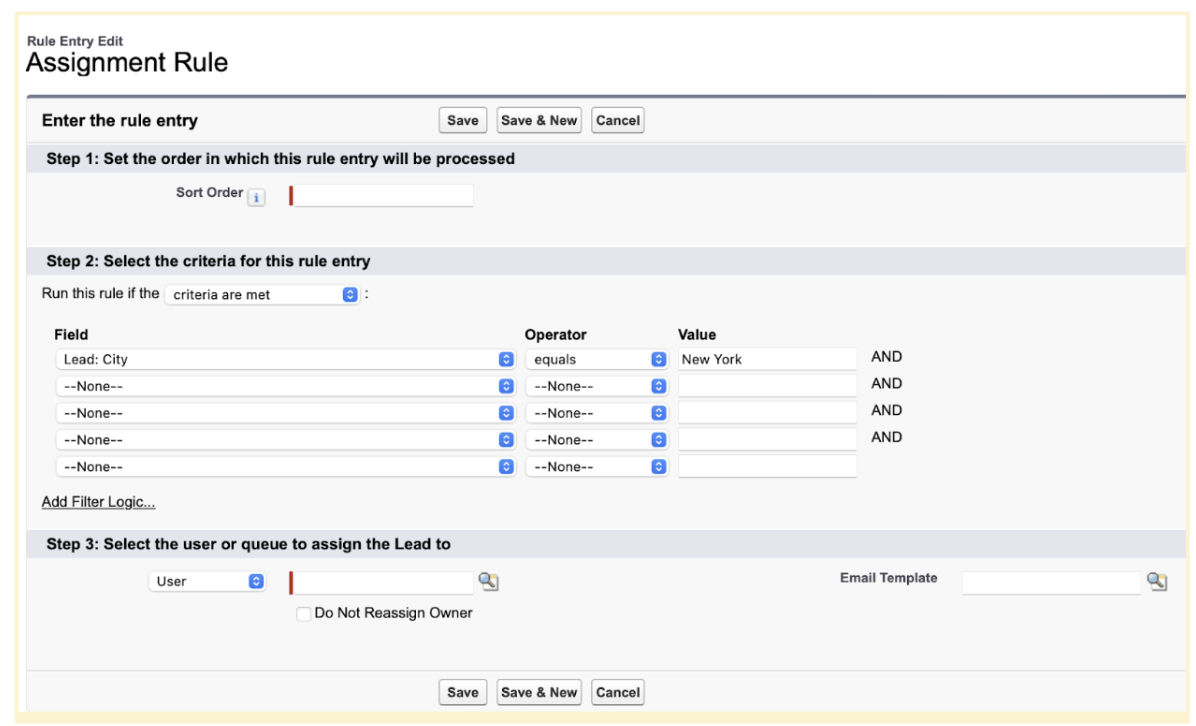 Activate the rule. Once configured, activate the assignment rule to make it live and start directing cases accordingly.
You can also integrate Salesforce workflow rules to automate follow-up actions after case assignments, enhancing customer communication.
Enhancing case management efficiency: Salesforce support cases best practices
Utilize case templates. Expedite responses by employing predefined case templates for common issues, ensuring consistent and swift resolutions.

Leverage macros. Enhance agent productivity with macros that automate multiple actions, reducing manual tasks and accelerating case handling.

Opt for case cloning. Save time on data entry by cloning similar cases, streamlining the process of creating and managing new cases.

Update

Knowledge bases

. Maintain accurate and current knowledge bases to empower agents with reliable information, enabling efficient issue resolution.

Engage collaboration tools. Employ platforms like Chatter to encourage agent collaboration, fostering knowledge sharing and teamwork for complex cases.

Notify agents of new assignments promptly and emphasize the importance of case ownership for accountability.
Conclusion
Optimizing case assignment rules in Salesforce is indispensable for efficient case handling. By understanding the fundamentals, implementing best practices, and embracing advanced techniques, businesses can ensure equitable case distribution, expedite resolutions, and enhance customer satisfaction. A well-optimized case assignment system ultimately streamlines support processes and contributes to the overall success of the customer support function.
Advanced Communities is your best partner when it comes to configuring your Salesforce instance or developing a Salesforce Experience Cloud site. In case of any questions feel free to reach out to get professional support when you really need it. 
---
You may be interested in: Maximizing ROI with Salesforce: A Case Study