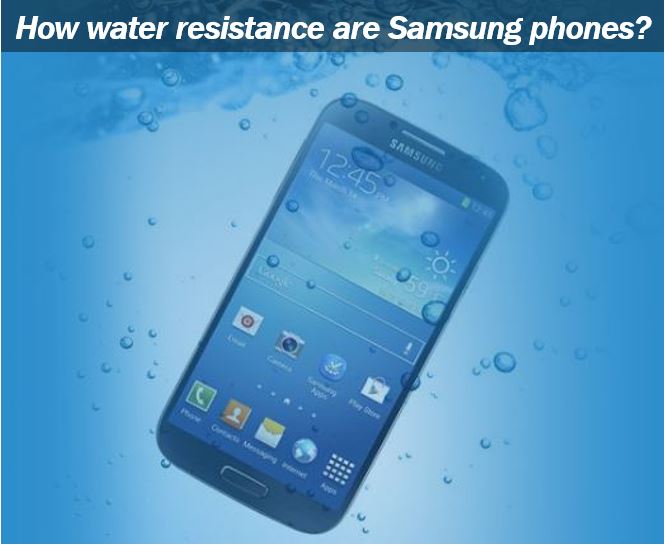 I don't know about you, but the last thing I've ever wanted to do with my phone is put it near a body of water.  A pool?  No thanks.  The shower?  Nada.  The sink?  No way, Jose.
However, some people lead active lifestyles, and these lifestyles may end up near water.  This is why phone manufacturers have been using their phone's water-resistance ratings as a selling point.
However, it seems that Samsung may have been a bit too eager to sell their latest Galaxy phones, as they've been accused of lying about the water resistance abilities of their phones.
1. Giving Out Water Resistance Ratings
Before we dive into the meat of this article, let's look at the different ratings that modern phones typically receive when it comes to water resistance.
The rating we are looking at is the International Protection Rating, though if you wanted to sound a bit fancier, you can say Ingress Protection Rating.  Phone manufacturers just say IP rating.And no, this is in no way related to your IP address.  I've seen this mistake made before.
The IP rating is split up into 2 numbers, one designated for resistance to dust, debris, and other foreign objects.  This goes from 1 to 6.
The second number is designated for resistance to water and the pressure of water.  This goes from 1 to 8.
However, there is a third number designed to rate the strength of your passwords.  Not really, but I think it would be a neat idea.
Anyways, all of Samsung's phones since the Galaxy S7 have been IP68, meaning that the phone is protected from dust and debris while able to be submerged in 1-meter deep water for around 30 minutes.
Every phone manufacturer uses this chart as a way to communicate resistances, though most have tried to stay truthful, or at least we think so.  Samsung may be showing that these charts are easily manipulated.
2. Samsung Under the Eyes of Australia
This week, the Australian watchdog agency, the Australian Competition and Consumer Commission, announced that they are taking Samsung to court over false information over the Galaxy lineup's IP rating.
The ACCC isn't saying that the phones aren't water-resistant, just that they're being advertised in a false way.  For example, one of the adds that the ACCC reviewed showed the Galaxy phones being used at beaches and pools.  However, the IP rating only judges a device's resistance in fresh water.  Chlorine or salt will only harm the phone, possibly damaging the phone beyond repair.
To the ACCC, this is Samsung enticing customers with situations that the phone can't actually survive.  If a customer dropped their phone in the ocean, the only thing they'd pick up is a brick with a screen.
Samsung has, of course, defended their advertisements, claiming that this situation is not a problem, since they
"…are also confident that we provide customers with free-of-charge remedies in a manner consistent with Samsung's obligations under its manufacturer warranty and the Australian Consumer Law. Customer satisfaction is a top priority for Samsung and we are committed to acting in the best interest of our customers."
This wouldn't be the first time that the validity of Samsung's water-resistance ratings have been tested.  Back when Samsung had their own separate Galaxy Active line, containing phones built for the "active" lifestyle, the Galaxy Active S7 was advertised as IP68.  When a couple reviewers dropped the phones in water to test the validity of the IP rating, the phones instead stopped functioning.  Samsung ended up fixing it, but the damage was done, both to the phones and the company.2016 just wasn't a good year for Samsung, huh?
I love Samsung, but it seems that they keep running into problem after problem when it comes to their phones.  Either they're performing some sort of false advertising or their phones are exploding.  There just seems to be no in-between.