Sanofi S.A. – Company Overview 
Company
Sanofi S.A.
Headquarters
54, Rue La Boétie, 75008 Paris, France
CEO
Olivier Brandicourt
CFO
Jérôme Contamine
Industry
Pharmaceutical
Type
Public
Founder
Jean-François Dehecq and Jean-René Sautier
Founded
1973
NYSE stock symbol
SNY
Net Sales
€34,542 million EUR (2015)
Operating income
€5,624 million EUR (2015)
Net income
€4,388 million EUR (2015)
Employees
115,631 (2015)
Website
http://en.sanofi.com/
IR contact number
+33 (0)1 53 77 40 00
IR email address

[email protected]
---
Sanofi S.A. focuses on the development and production of prescription drugs, over-the-counter drugs, and vaccines. Some of its most notable products are:
Zolpidem (Ambien) – an anxiolytic sedative
Glimepiride (Amaryl) – a sulfonylureas drug for type 2 diabetes mellitus
Enoxaparin (Lovenox) – drug for thrombosis
Insulin (Lantus) – drug for diabetes
In 1973 Sanofi was created as a subsidiary of Elf Aquitaine (French oil company) following its acquisition of the pharmaceutical company Labaz.
In 1999 Sanofi merged with a former subsidiary of L'Oréal called Synthélabo, to create Sanofi-Synthélabo. 
In 2004 Sanofi-Synthélabo merged with Aventis and changed its name to Sanofi-Aventis.
However, in 2011 the company decided to remove the -Aventis suffix. Partly because Sanofi (on its own) is easier to pronounce in countries such as China.
Sanofi has acquired the following companies since 2009:
Zentiva
Medley (A Brazilian pharmaceutical company)
Chattem, Inc.
BMP Sunstone Corporation
Genzyme Corporation (a biotechnology group)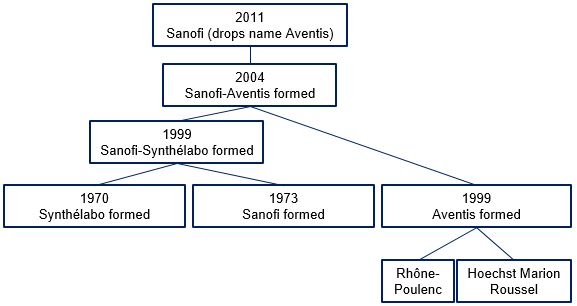 Sanofi is the result of several mergers and acquisitions.
---
Sanofi S.A. – Financial Results
| | | |
| --- | --- | --- |
| Key figures (in millions of EUR) | 2015* | 2014* |
| Net sales | €34,542 | €31,694 |
| Gross profit | €23,942 | €21,769 |
| Operating income | €5,624 | €6,064 |
| Net income | €4,388 | €4,509 |
| Total assets | €102,321 | €97,392 |
| Cash and cash equivalents at beginning of period | €7,341 | €8,257 |
| Cash and cash equivalents at end of period | €9148 | $7,341 |
*For the years ended December 31, 2015 and 2014
Source: "Sanofi S.A. – 2015 Form 20-F"
---
Sanofi S.A. – Live Stock Market Data
---