The saviour of several endangered species, Welsh scientist Professor Carl Jones, has won the 2016 Indianapolis Prize, a prestigious international prize, for saving at least nine animal species from certain extinction.
Prof. Jones, from Carmarthenshire in Wales, has devoted four decades of his life to protecting wildlife in Mauritius, a volcanic island nation in the Indian Ocean, famous for its beaches, lagoons and reefs.
He will receive the $250,000 (£170,000) in London later in 2016.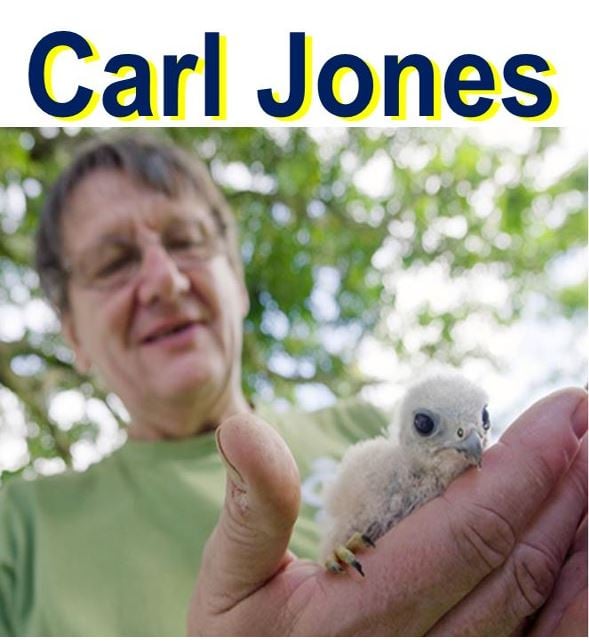 Prof. Carl Jones holding a Mauritius Kestrel fledgling – a species he helped bring back from the brink of extinction. (Image: uea.ac.uk)
According to the IUCN (International Union for the Conservation of Nature), nature owes Prof. Jones a giant 'thank you' – today, the natural world would be a considerably poorer place without him.
Brought back from the brink of extinction
Several species of fauna and flora would not exist today, and significantly fewer people would have been inspired to take up the cause of conservation, had it not been for Prof. Jones, who says that British naturalist, zookeeper, conservationist, author and television presenter, Gerald Durrell (1925-1995), was his inspiration.
---
---
Prof. Jones is Chief Scientist of the Durrell Wildlife Conservation Trust, as well as Scientific Director of the Mauritian Wildlife Foundation.
In a press release, the Durrell Wildlife Conservation Trust said:
"We are delighted to that he is the winner of the prestigious Indianapolis Prize 2016, the 'Oscars' of the conservation world."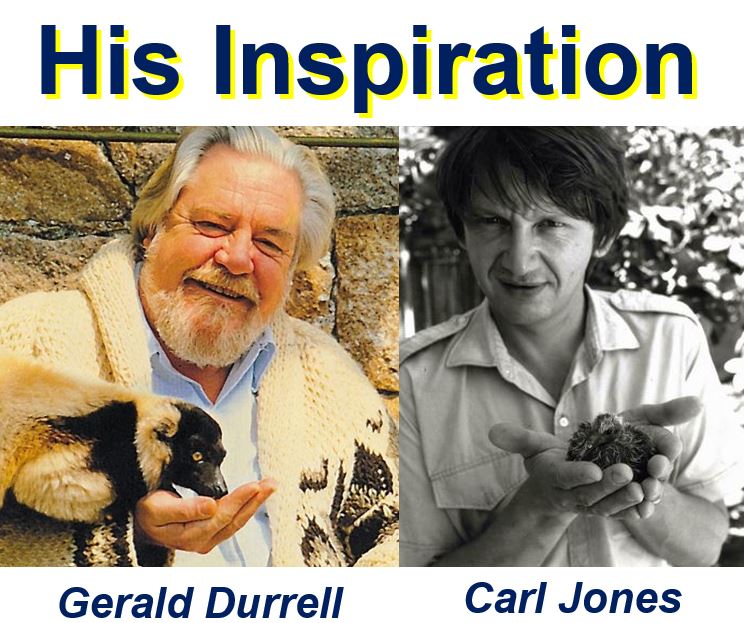 Prof. Carl Jones says he was inspired to take up the wildlife conservation cause in his youth by Gerald Durrell.
Simon N. Stuart PhD, Chair of the IUCN Species Survival Commission, praised Prof. Jones' work with the following comment:
"I know of no other conservationist who has directly saved so many species from extinction."
---
---
Prof. Jones – an inspiration for all of us
The story of Prof. Jones' life is 'inspirational', says the Durrell Wildlife Conservation Trust, which wants to share it with all of us, including the many conservation approaches that he pioneered, the internationally-significant results that he accomplished, and why the man is 'a hero worthy of this award'.
Most of Prof. Jones' life has been devoted to pioneering work in Mauritius, working with the Mauritian Wildlife Foundation.
He created programmes which resulted in some of the most remarkable animal population recoveries in the world, many of which he led.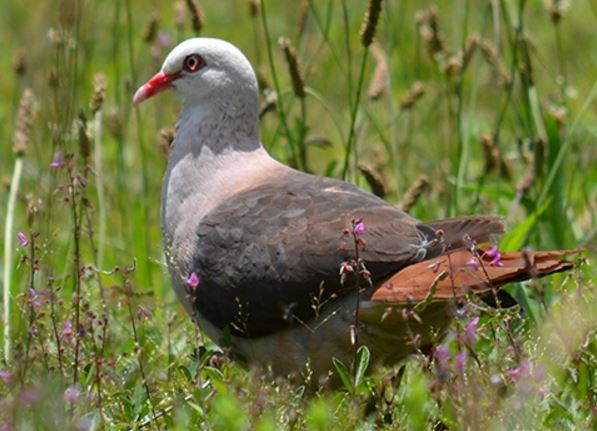 Thanks to Prof. Jones, the Pink Pigeon (above) still exists today. (Image: uea.ac.uk)
Thanks to his efforts, the following species have been brought back from the brink of extinction:
– Rodrigues fody (Foudia flavicans): a rare species of bird in the weaver family which is endemic to Rodrigues, an island of Mauritius.
– Rodrigues warbler (Acrocephalus rodericanus): a species of Old World warbler in the Acrocephalidae family found only on the island of Rodrigues. Its population was devastated twice – by Cyclone Monique in 1968 and another cyclone in 1979.
– Echo parakeet (Psittacula eques): also called the Mauritius parakeet, is a parrot endemic to Mauritius – the only existing parrot in the Mascarene islands. Human activity drove all the other parrot species to extinction. The Mascarene Islands are a group of islands in the Indian Ocean consisting of Rodrigues, Réunion and Mauritius.
– Mauritius olive white-eye (Zosterops chloronothos): an extremely rare passerine from the family of white-eyes (Zosteropidae). It is endemic to the island of Mauritius.
– Mauritius kestrel (Falco punctatus): a bird of prey – the most distinct of the Indian Ocean kestrels – that is endemic to the forests of Mauritius. In 1974, there were just four individuals left. Thanks to a programme which Prof. Jones led, their numbers rose to more than 400.
– Pink pigeon (Nesoenas mayeri): a species of pigeon that is endemic to Mauritius. It became nearly extinct in the 1990s, and continues to be extremely rare. It is the only pigeon of the Mascarene islands that has not gone extinct.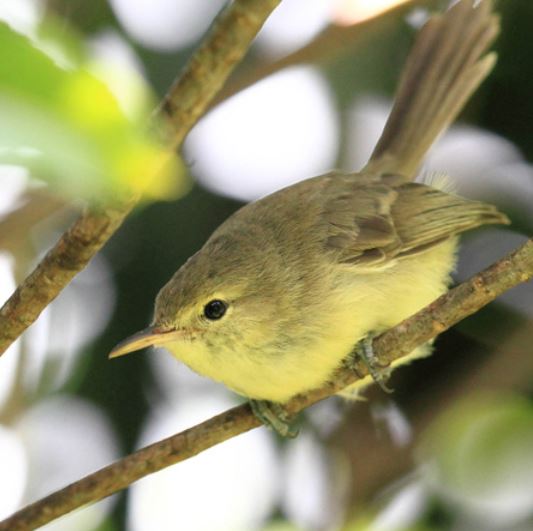 The Rodrigues Warbler (above) was saved from extinction thanks to a programme led by Prof. Jones. (Image: africanbirdclub.org)
The programmes that Prof. Jones set up, many of which used hands-on husbandry technique that several zoos around the world had developed, have achieved truly world-leading results.
According to IUCN, of the 63 species of mammals, birds and amphibians worldwide that have been down-listed on its Red List thanks to conservation programmes, Prof. Jones was project leader in six of them.
Professor Ken Norris, Director of Science at the Institute of Zoology, part of the Zoological Society of London, said:
"If Carl's pioneering step was his approach to species conservation, then his second was his recognition of the need to restore whole ecosystems."
The Mauritian Wildlife Foundation made the following comment regarding Prof. Jones and the prestigious conservation prize:
"The Indianapolis Prize honours an individual who has made an extraordinary contribution to conservation efforts involving a single animal species or multiple species."
"This biennial award brings the world's attention to the cause of animal conservation and the brave, talented and dedicated men and women who spend their lives saving the Earth's endangered animal species."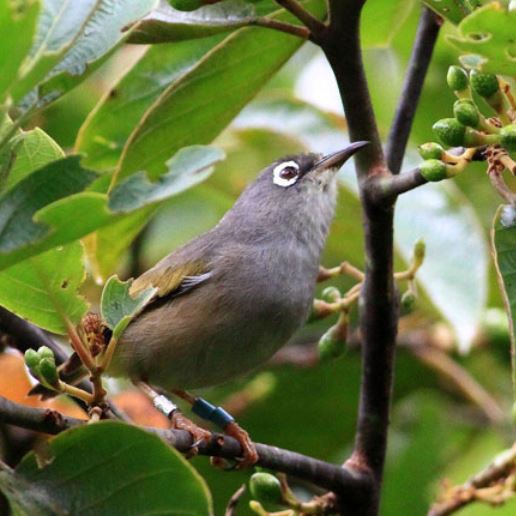 BirdLife International made the following comment about the Mauritius Olive White-eye: "This species is listed as Critically Endangered because it is estimated to have an extremely small population which is declining owing to predation by introduced mammals." (Image: africanbirdclub.org)
Prof. Carl Jones – brief bio
A conservation biologist, Professor Carl. G. Jones, MBE, was born in Carmarthen in 1954. He has worked actively for the Durrell Wildlife Conservation Trust since 1985, where he is Chief Scientist, and is co-founder of the Mauritian Wildlife Foundation, where he is also currently the Scientific Director.
The University of East Anglia, where he is an honorary professor in Ecology and Conservation Biology, quoted Prof. Jones as saying:
"It is wonderful to have won this prize and to get recognition for what has become a life's work. It is particularly pleasing considering the amount of criticism that we received in the early days when there was a lot of feeling against the use of captive breeding to help conserve critically endangered species, and also against the intensive management of species in the wild."
"More recently there have been some strong feelings against the use of ecological replacements – such as using Aldabra giant tortoises to replace the extinct Mauritius tortoise. I find this a very exciting initiative because without the Aldabra giant tortoises to maintain grazing, it is likely that several species of endemic plants that flourish in these grazed areas would become extinct."
"It is also good to see recognition being given to our work on some of the lesser known species. In the past, the winners have all worked with much higher profile species such as elephants, pandas, polar bears and lemurs."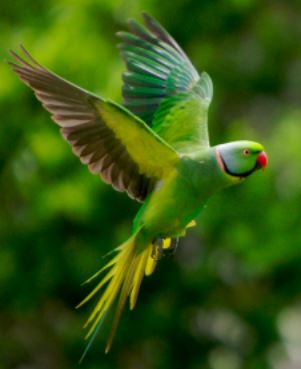 Bird Life International says that the Echo Parakeet (above) has seen a steady and prolonged increase in its wild population. However, its overal numbers are still very low – the species qualifies as Endangered. (Image: parrots.org)
Prof. Jones says we should know our species and use our practical knowledge, empathy and intuition more than our dogmatic education.
He has worked in the Mascarene Islands since 1979, and has led five successful bird-rescue projects where numbers had dropped to fewer than twelve individuals.
Experts say that Prof. Jones' work has helped Mauritius avert more bird extinctions than any other country.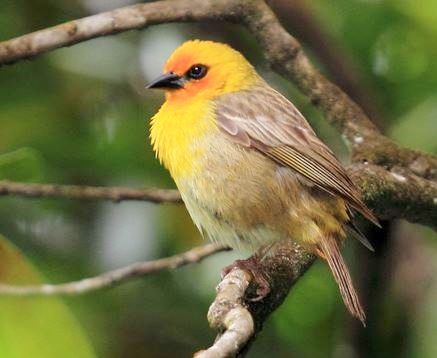 The Rodrigues Fody (above) has been downlisted from Vulnerable to Near Threatened following a study that found that its population is greater than previously thought – it is also growing rapidly. (Image: africanbirdclub.org)
After graduating (BSc) at North-East London Polytechnic, he studied for his master's degree in Swansea at the University of Wales. He started by studying owls, but later switch the title of his research to 'Studies on the Biology of the Critically Endangered Birds of Mauritius'.
In a press release, the Indianapolis Prize made the following comment:
"Passionate about animals since childhood and inspired by the famous British conservationist Gerry Durrell, Carl has dedicated his life and career to restoring endangered animal populations and habitat, approaching conservation with a clear understanding of the necessary balance within an ecosystem."
"He is responsible for developing and leading successful recoveries for reptiles, mammals and birds, including the pink pigeon, echo parakeet and, most famously, the Mauritius kestrel. Carl brought the total population of the rarest bird on the planet from only four individuals to nearly 400 over the course of a decade."
The Indianapolis Prize
The Indianapolis Prize is an international animal conservation programme and award that was set up in 2005.
The aim of the Prize is to bring everybody's attention to the cause and celebrate the people who have made extraordinary contributions to our planet's fauna and flora's survival status.
Video – Carl Jones winner of 2016 Indianapoli Prize
In this Indianapolis Prize video, Prof. Jones says he likes to think about what our world will be like 100 years into the future. What do we want Mauritius to look like? "Without nature, we become lesser human beings," he says.