Scotland's exports of Scotch whisky increased by 3% in volume terms to 1.3 billion bottles in 2013, compared to 1.2 billion in 2012, and the popularity of Single Malt continued to grow, says the Scotch Whisky Association (SWA).
In value terms, however, exports were steady at £4.3 billion ($7.2 billion). Sales were affected by sluggish demand from China and other emerging markets.
While consumers widen their range of available Scotch purchases, demand for Single Malt continues to expand. Single Malt exports reached a record £820 million ($1,373 million) in 2013, an increase of 5% compared to 2013. Single Malt now accounts for almost one fifth of total exports by value. Due to this increase, whisky casks have become a huge attraction for
investors as this number is only set to grow even more.
What is Single Malt? Scotch Whisky Regulations stipulate that Single Malt must be made exclusively from malted barley. It has to be distilled using pot stills at a single distillery. The Scotch must be aged for 3 years or more in oak casks with a capacity of no more than 150 imperial gallons (180 US gallons, 700 liters).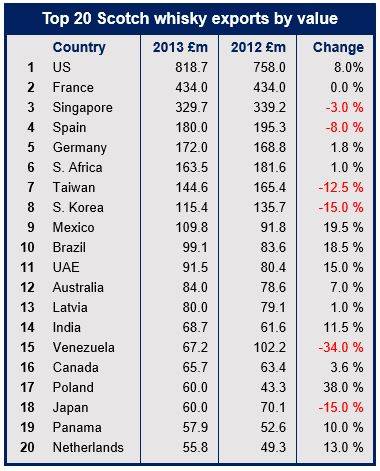 (Source: Scotch Whisky Association)
Scotch whisky key for Britain's trade balance
Scotch whisky accounts for approximately 85% of all Scotland's food and drink exports and nearly 25% of the UK total. Scotch whisky exports contribute £135 ($226) per second to the British trade balance.
Below is a breakdown of some major Scotch whisky export markets:
Sales to the US increased by 8% in 2013, reaching a record £819 million ($1,371 million). The US is the largest Scotch whisky market by value, representing almost £1 in every £5 of exports. The SWA believes this proportion will increase further through the TTIP (Transatlantic Trade and Investment Partnership).
France remains largest Scotch whisky market by volume. Sales in 2013 were up by 16%, despite a tax hike on spirits in 2012.
Sales to India, the fourteenth largest market by value and the fourth by volume, increase by 12% in 2013 to £69 million ($115 million). It is hoped that the EU-India Free Trade Agreement negotiations will resume following India's elections this year. There is currently a 150% import tariff on Scotch whisky imports into India.
Exports to Mexico grew by approximately 20%, reaching £110 million ($184 million). Mexico today is one of the fastest growing markets for Scotch whisky.
Sales to Brazil, also a fast-growing market, rose by about 20% in 2013 to £99 million ($166 million).
Poland imported 38% more Scotch in 2013. Sales have increased tenfold since 2004 when Poland joined the European Union, reaching £60 million ($100 million) in 2013.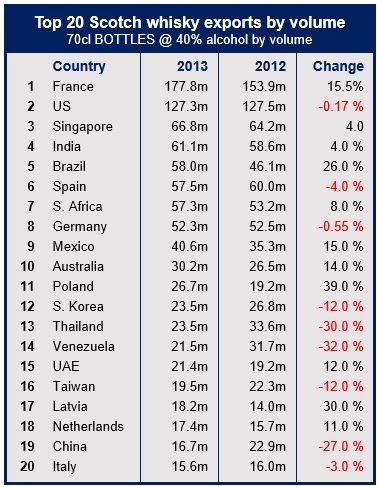 (Source: Scotch Whisky Association)
Sales in parts of Asia down
A combination of government austerity measures and sluggish economic growth hit Scotch whisky sales in several parts of Asia. Sales to Japan, South Korea and Taiwan dropped by between 13% and 15% in 2013. The Chinese market fell by nearly 30% to £51m. China is no longer among the top 20 markets.
Chief executive of the Scotch whisky Association, David Frost, said:
"Scotch whisky exports remain strong and the industry's impressive performance makes a major contribution to the UK's trade performance. The unprecedented investment programs in Scotch whisky by producers show that in the long term they are confident that demand will continue to grow."
"However, in the short run, there are some economic headwinds. Formal and informal barriers to trade remain. We should remember that the industry's success does not come automatically but is based on hard work, investment and careful stewardship."
"As a former ambassador, I know that the industry also depends on strong political support from government, for example to influence European Union negotiations on our behalf or to press other countries to allow better access to their markets. Both the UK and Scottish Governments have played an important role in this so far. Whatever the outcome of the Scottish referendum, as an industry exporting to around 200 markets we will continue to need the backing of an effective diplomatic network with the necessary global reach, commercial expertise, and capacity to influence."