In the United States, your credit score can determine a lot of things in your life. It can help companies decide if you are deemed worthy of a certain line of credit. It can affect you getting a lease for a vehicle, or even renting a home or an apartment. Sometimes, if you have no credit at all, then getting your hands on a credit card or establishing a line of credit can be difficult.
What can someone with no credit do to get their hands on a credit card? Obviously, you need to build your credit up so that you can have access to some of these opportunities in the future. If you have no prior credit history and are unable to get approved for an unsecured credit card, then a secured credit card might be the best option for you to start building a great credit history, and shoot that ever-important credit score up.
What is a Secured Credit Card?
A secured credit card is, essentially, a credit card you put a little money down on, sort of like a security deposit. In this case, however, the deposit is refundable, and usually reflects the credit limit that will be on the card.
Many companies offer secured credit cards for people who have no credit or even bad credit. They can be a great option for people who can't get approved for a normal line of credit, and the card issuer will not be at risk of repayment if the cardholder fails to pay, because they can just hold onto the initial deposit.
However, faithfully making payments on your secured credit card will help you out tremendously, as the card issuers will report your on-time payments to the major credit bureaus (Experian, TransUnion, and Equifax). This means that the more on-time monthly payments you make on your secured credit card, the more it will be reflected in your credit report, and you should see your credit score slowly start to climb with each payment you make on time.
For example, let's say you apply for a secured credit card and only have $300 to put down on it. If approved for the card, your credit limit would be $300, and you could then use your secured credit card just like you would any other credit card. You could use it for groceries, gasoline, bills, or just going out on the town.
As with any other credit card, you'll get a monthly statement in the mail, and will be required to pay it off to get your deposit refunded and to have your payments reflected in your credit report. If you don't make your payments, however, you could be at risk of losing your initial deposit, so make sure to make your payments on time!
What Are the Best Secured Credit Cards?
There are a myriad of options out there for secured credit cards, but some of the best ones have been compiled by trusted online sources, such as Nova Credit.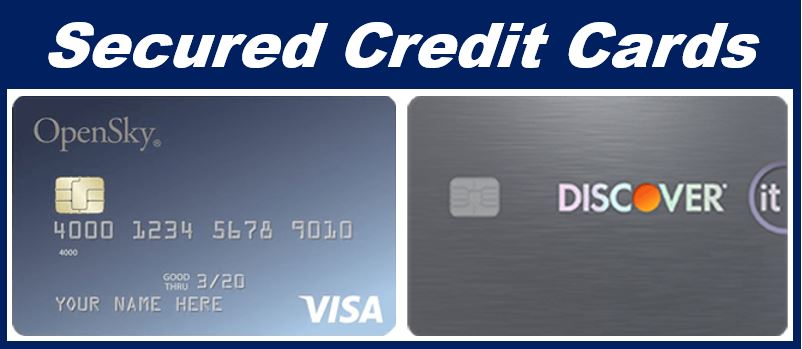 For the absolute best options for a secured credit line, check out these card options:
OpenSky's Visa Secured Credit Card: This one is unique in that it doesn't require a bank account for you to apply. You can send in your deposit with a debit card if you have one, but if not, you can also use money orders or even a check. There is no credit check on application, and you can deposit anywhere between $200 – $3,000. Your deposit will be your credit limit. The only downside to this card is the $35 annual fee, but that's a small price to pay for building your credit up.
Discover It Secured Credit Card: The Discover It secured card has no annual fees and even includes some rewards, like 2% cash back when you spend $1000 or more at certain locations.
If you can get your hands on a secured credit card, you will be able to go from no credit to good credit in a short time, just by using your new card and making your payments on time. When you have built your credit up with your new secured card, you might even be able to upgrade to an unsecured credit card with a higher spending limit. These are just some of the benefits you can reap from having a good score, so use your secured card to its fullest potential to build your credit score today.
_______________________________________________________________________
Interesting related article: "What is a Secured Loan?"