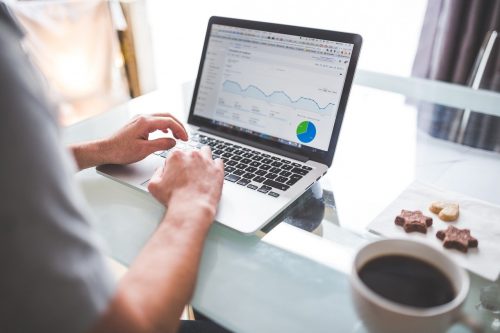 Analyzing and interpreting data patterns in a highly competitive market opens the doors to endless opportunities. Data-backed decisions give a business an edge over its counterparts by helping them understand customer behavioral patterns and market trends and predict technological disruptions. However, achieving timely data insights has always posed a challenge for business decision-makers. This challenge has existed primarily due to the high dependency of decision-makers on the IT team, data silos in different business units, and data skill gaps within employees in the marketing and business teams.
The business sector has witnessed a transition in power and control in accessing enterprise-wide data. From being restricted only to IT teams, data is now shared with the executives and line-of-business users. This feat has been possible through self-service analytics. Self-Service Business Intelligence (SSBI) analytics empower every business user, including the HR, sales, marketing, and product development teams, to seamlessly gain data insights without the support of technical experts.
Read on to learn about self-service analytics, its importance, challenges, and ways to choose the best SSBI analytics tools and BI systems.
What is Self-Service Business Intelligence (SSBI)?
Self-Service Business Intelligence (SSBI) analytics tools enable non-technical users to derive data insights without depending on the IT team for such information. The SSBI analytics tools help users get insights through ad hoc queries, filter and visualize data, and create data reports.
The 9th annual report of Dresner Advisory Services Self-Service Business Intelligence Market Study reveals that 62% of businesses find self-service BI essential.
What is the difference between traditional BI and SSBI?
| | |
| --- | --- |
| Traditional BI systems | Self-Service Business Intelligence Analytics tools |
| The user requests the IT/BI team to query, analyze, or visualize the required information. | Business users with or without BI knowledge can directly access the necessary data without the IT team's intervention. |
| Due to dependency on the technical team, users may have to wait for days or weeks to access the results. | Users can instantly view the desired data results through an intuitive user interface installed on the self-service reporting and analytics tools. |
| The end-user must approve the reports received from the IT team. | Approval of reports is not required as the business user creates it directly using the self-service analytics tools. |
| The IT team has complete control and governance over the data. | All SSBI tool users control data insights, whereas the IT team maintains the security and governance. |
| No BI or data access training is imparted to business users. | The IT team maintains a collaborative environment with the business team, training them on the best data access and BI practices. |
Why is Self-Service Analytics important?
In the era of data overabundance, businesses fail to make the best use of data to channel its potential toward more significant outcomes. Data is like a goldmine for any enterprise — it can uncover hidden truths and patterns when consolidated logically. According to Forrester's research, an insight-driven business is 78% more likely to grow revenue. Such businesses also have nearly 137% more competitive advantage over the rest.
However, in reality, accessing required data has never been easy. In a survey by ARM Treasure Data, 47% of the respondents opined that the most significant challenge in gaining data insights was siloed data. Further, 20% of the respondents found the lack of analytical skills and internal knowledge as the leading causes of data inaccessibility.
Self-service analytics strives to address the existing data gaps in organizations and shift the analytics responsibilities to business executives. With a simplified user interface and no-code or minimal-code platform, SSBI tools enable highly complex analytic tasks to be performed by any business user.
Benefits for Self-Service Analytics
The Self-Service BI Market size was valued at nearly USD 6.13 Billion in 2020. It is estimated to reach up to USD 19.31 Billion by 2028, with a CAGR growth of 15.44% from 2021 to 2028.
The positive trends and statistics in the growth of Self-Service Business Intelligence tools prove its immense benefits. Below are the advantages of leveraging SSBI analytics tools:
Empowers every business user with data access for strategic and accurate decision-making.
Reduces dependency on the IT team and improves self-reliance.
Enhanced efficiency of workloads.
Simplifies the process of retrieval, cleansing, and visualization of data.
Fosters data literacy and data democracy within companies.
Improves customer experience and reduces risks by applying real-time data insights.
Challenges for Self-Service Analytics
Self-service analytics tools are progressive means of empowering non-technical business users with data insights. However, as listed below, these tools pose a few challenges also:
The desired data belonging to a particular resource might be restricted.
It is challenging for non-tech users to determine accuracy, relevance, and data quality; this challenge might adversely affect the decision-making process.
Data compliance and security issues might impede SSBI when data management policies are not regulated.
Some cases require the knowledge of technical steps like data merging and data cleansing to be applied to obtain the desired results.
How to choose the best Self-Service BI analytics
The shift in the management of data and analytics toward business executives through Self-Service Analytics does not happen overnight. It takes a course of time to exhibit the benefits. To choose the best Self-Service Business Intelligence Analytics tools, consider the following factors.
Ensure that the self-service analytics tool for BI aligns with your organization's goals and structure.
The SSBI tool must have a quick response time in retrieving data, helping with timely decisions.
Advanced data integration features and a user-friendly interface goes a long way in making any SSBI the most preferred SSBI tool.
The SSBI analytics tool must be easy to deploy and transparent in revealing the expertise required to handle it.
The SSBI analytics tool must be secure and provide auditing capabilities to track the usage of data by the end-users.
One BI tool that fits all the above requirements is INSIA. Simplicity is the core tenet of INSIA. Its Search-based interface ensures that the business user can get started on self-serve analytics in no time. INSIA guides you through the entire insight discovery path. It is designed for business users and decision-makers.
With INSIA, you can connect to a DB, upload an Excel/CSV file or connect to social media platform APIs such as Facebook, Instagram, and Google Analytics/Ads. INSIA auto-populates KPIs and creates industry-standard reports/dashboards automatically for platform connectors.
Forty4hz SSBI analytics solution; INSIA aims to remove data barriers and overcome BI skill gaps. They entrust business executives with the power to create, visualize, and alter data reports, eliminating the need for external technical support.
Takeaways
Timely and better data accessibility for business teams paves the way for better-informed decision-making, improving an organization's business outcomes, and enhancing customer satisfaction and profits. The SSBI analytics tools permit every user to become a citizen data analyst to accelerate your organization's success. Today's SSBI analytics solution is the driving force behind creating a data and insight-driven future for businesses.
---
Interesting Related Article: "Why businesses need to use marketing analytics"