Washing Machines have now become one of the most essential appliances in households. They save time, energy, and helps you wash clothes smoothly without breaking a sweat. But choosing the right washing machine can be tricky.
You might now be sure about which washing machine would be best for you. With so many brands available in the market, the question arises – Whether to get a Semi-Automatic or Fully Automatic washing machine? Should it be top-loading or front-loading? The different types of washing machines can create confusion.
In this article, we will help get a better understanding of different washing machines and hope it will help you choose and get the washing machine on rent for your household.
Types of Washing Machines
Earlier the washing machines required manual labour. You had you use your hands to carry out cleaning and washing, but then came the second generation of washing machines which has some controls – Semi Automatic Washing Machine. These didn't just have a single giant tub but also allowed you to set the timer, pre-soak, and use the dryer but the manual work still has to be done. The technology advanced further and there came fully automatic washing machines, which are efficient, fast, and require very little manual work.
There are a number of factors that differentiate semi-automated and fully-automated machines. Both have different uses for different requirements of users.
Let's dive into the explanation and see how they work, what are their advantages and disadvantages and which one suits your requirements.
Semi-Automatic Washing Machine
Semi-Automatic washing machines are partially automated, which means you have to work manually. These are cheaper in comparison but have a sturdy design, built and provide longer durability. Semi-Automatic machines come with two separate tubs – Washing and Drying, the most basic features, yet efficient performance. Both the tubs are adjacent and can work simultaneously.
You have set the timer for the washing tub or pre-soaking, take out the clothes, extract some water, and put them into the dryer tub. After the washing process is done, you have to drain the water from the washing tub. Though there is a lot more manual work required the water consumption is low.
Advantages of Semi-Automatic Washing Machines
Affordable compared to a fully automatic washing machine
Low water consumption
Simple functions, easy to operate and repair
Clothes can be washed and dried simultaneously using both tubs
Longer lifespan compared to fully automated machines
Timers can be re-adjusted anytime
Easily started or stopped even in between the cycles
Disadvantages of Semi-Automatic Washing Machines
Occupies more space due to the bigger built
Requires manual drain or refill
Less safe and has a chance of electric shocks
Companies like, Cityfurnish bring you branded semi-automatic washing machine on rent. With a sleek and modern design, top load option, you can get your laundry done in no time. You can browse through portals like Cityfurnish to choose the right washing machine as per your requirements.
Fully Automatic Washing Machine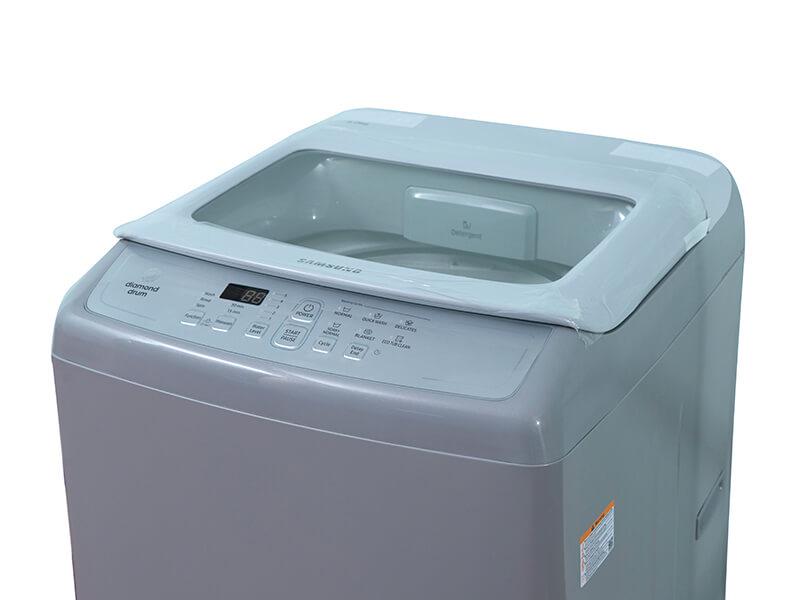 Fully-automatic washing machines have dozens of advantages on them that grab the attention. They have great functionality, loading options, more loading capacity, and above all, there is little-to-no manual work. Fully-automatic machines have one single tub which gets both the washing and drying done. You do not need to manually take out clothes to put in the dryer because it is automatic.
The water connection is required because you cannot put water manually and an adequate amount of water has to be maintained. They come with several programs and when you pick one, the washing is done according to that setting. These come with an in-built heater which is great for delicate clothes. Though they are expensive as compared to semi-automatic washing machines.
Furthermore, fully-automatic machines come in two types – Front loading and Top loading. In a top-loading machine, the lid is on the top. While in a front-loading washing machine, there's a door on the front to load.
Advantages of Fully Automatic Washing Machines
Has automatic controls.
Operations are easily carried out
Drains water automatically
Has advance rinsing and scrubbing controls
Comes with child safety features
Disadvantages of Fully Automatic Washing Machines
Settings can not be adjusted during the cycle. You cannot open the lid.
High water consumption.
Are more expensive as compared to semi-automatic machines
More complex features which might be difficult to operate
Companies like, Cityfurnish provide branded fully Automatic washing machine on rent. All with the latest features and modern design. Websites like Cityfurnisho offer both, front loading and a top-loading washing machine. Remember to browse to select the best washing machine to turn your washing task into a smooth one! 
Other Factors to Keep in Mind While Choosing Washing Machine
Size – If you are looking to save space, then fully automatic would be the best choice for you. They consume less space and are easy to carry or move. Meanwhile, Semi-Automatic washing machines are bigger and heavy.
Power – If you do not want your electricity bill to go up a certain mark, then go for a semi-automatic washing machine. They consume less electricity as compared to fully-automatic.
Water Usage – This is the major difference between the two. Fully-automatic machines need a water connection and consume an adequate amount of water to perform the washing functions. On the other hand, you can reuse the water in semi-automatic, if not, you can manually add water. But, if you do not want to do manual work or add water manually, go for Fully-automatic.
Wash Time – Semi-automatic machines take less time for one wash cycle, you need extra time to take out clothes and put them into the dryer. Fully-automatic machines may perform both the tasks without manual work but it takes a bit longer for one cycle to complete.
Quality of wash – Fully automatic machines provide better wash. They make take a little longer but they scrub and washes clothes thoroughly, leaving no stains behind. In semi-automatic, you may have to scrub the stains, especially if they're deep stains. Which means more manual work.
Price – Fully automatic washing machines have loads of features and functions, they are more expensive.
Washing clothes is a daunting task. But it doesn't have to be. With the right washing machine, you can easily get this chore done, even during your busy schedule. Based on these factors, you can get an idea of which washing machine would be the right choice.
Though buying a washing machine can take a toll on your budget, especially if you've recently moved or are on temporary living arrangements. Since the washing machine is an essential household item, you can easily get either of the washing machines on rent to save the money.
Get Your Desired Washing Machines on Rent too
There are companies that provide a rental service for washing machines, that way you don't have to struggle with the whole process yourself. One example is Cityfurnish they provide a list of top-rated, branded, and highly reliable washing machines that you can look through, using their online portal.
Companies with this service can provide the best, highly advanced, sleek, stylish, durable, and most of all branded washing machines on rent. Here are some reasons why you should consider leaving this process in the hands of people that can help you:
Coordinated Delivery – Deliveries can be fully coordinated. After placing the order, the team will contact you and coordinate the date and time of your delivery. The chosen product will get delivered to you in no time, all as per your preferences and according to your convenience!
Delivery and Installation –  Some companies offer no extra charges for delivery and installation. For example, Cityfurnish offers free delivery and installation services. Hence, you do not need to worry about paying an extra amount for these services
Easy Documentation Process – Hassle-free renting documentation process. Nowadays, companies let you do it online, via WhatsApp or email.
Free Maintenance – If you face any issues with the products while they're in the renting tenure, they can provide maintenance services. For example, Cityfurnish takes care of everything for you with no extra charge.
Data Security – Strict privacy policy, the whole renting and documentation process is safe and secure.
Free Relocation – Some companies can assist you when you decide to relocate to another place or city. Their team will pick-up the appliances from your current home and deliver them to your new place, just like Cityfurnish does.
Save Money – Just pay all the rental services at very nominal rates. You won't have to worry about the delivery, pick-up, maintenance, and installation. Therefore, you can save a lot of money and enjoy the whole experience.
---
Interesting Related Article: "What to Consider When Doing Laundry During the Coronavirus Pandemic"