Semiconductor sales worldwide in February reached $25.87 billion, or 11.4% higher than in February 2013, the largest year-on-year increase in three years, according to data published on Friday by the Semiconductor Industry Association (SIA).
In comparison to January's $26.26 billion, February sales were 1.5% down, "reflecting normal seasonal trends," the SIA said.
Strong growth in the Americas
Semiconductor sales in the Americas grew by 18% over the year. All monthly sales figures are compiled by World Semiconductor Trade Statistics (WSTS) and represent a 3-month moving average.
Brian Toohey, president and CEO, Semiconductor Industry Association, said:
"The trend lines remain positive for the global semiconductor industry, which has followed record revenues in 2013 with an encouraging start to 2014."
"The Americas market continues to demonstrate impressive growth, while sales in Asia Pacific and Europe also increased substantially year-to-year, and the Japanese market continued its recent rebound."
Below is a breakdown of semiconductor sales by region from Feb 2013 to Feb 2014:
Americas +18%
Asia Pacific +12%
Europe +9.6%
Japan -0.2%, the country's smallest year-on-year fall since August 2012.
February sales fell in comparison to the previous month in all regions, as they tend to do every year due to seasonal trends.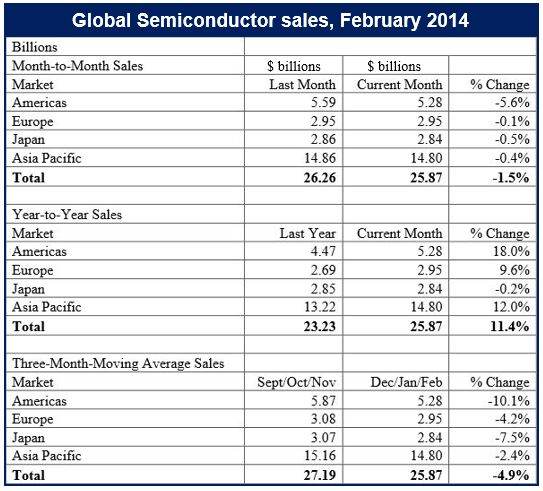 (Source: Semiconductor Industry Association)
Lawmakers should act to remove obstacles that hinder growth
Mr. Toohey added:
"The U.S. semiconductor market has been a key driver of global market growth over the last year, and policymakers in Washington can help maintain this momentum by enacting measures that remove obstacles to continued growth."
"One such obstacle is America's dysfunctional immigration system, which was revealed again this week when scarce H-1B visas were rapidly claimed by employers. Lawmakers should recognize that outdated immigration policies hamper economic growth and innovation, and they should work together to enact meaningful immigration reform in short order."