People who have used faxing services in the past prefer fax over other methods of communication. However, with changing times, fax machines are no longer the preferred method to send and receive faxes.
Therefore, this article will deal with the ways to fax online without the need for a fax machine or phone lines.
Part 1: How Fax Machine Works
Fax machines essentially communicate fax signals over telephone cables. These cables carry analogue signals from one place to another, which helps in fax data transmission.
When someone sends a fax through a fax machine, the sender's fax machine dials the receiver's fax machine and then transmits the document.
However, for this method to work, one needs the entire setup. The cost of fax machines can run high. These high costs, combined with the costs of paper, ink, and maintenance can make the method very inconvenient.
Additionally, in this day and age, there are very few people who have a landline connection. So how to fax without a fax machine or phone line? It is simple- by the power of the internet.
Part 2: How to Send & Receive Fax Online Without a Fax Machine
As described in the last section, fax works on analogue telephone cables. However, the internet works on digital signals.
In order to bridge this medium mismatch, the use of an online fax service is important. CocoFax is one of the popular fax services that allow sending and receiving faxes through the internet, in more ways than one.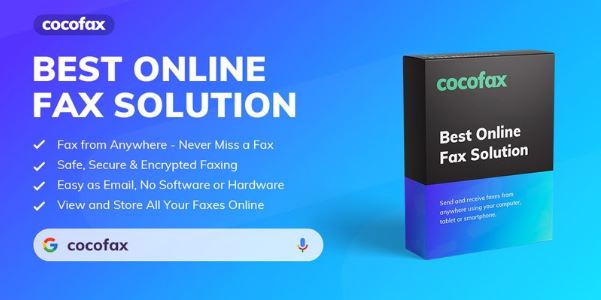 2.1 How to Fax from Computer
Online fax providers such as CocoFax facilitate faxing through computers without the need for any additional hardware such as fax modem or phone lines.
CocoFax handles all the fax hardware requirements that sending or receiving faxes needs. Therefore, all that is needed by a user is a CocoFax account.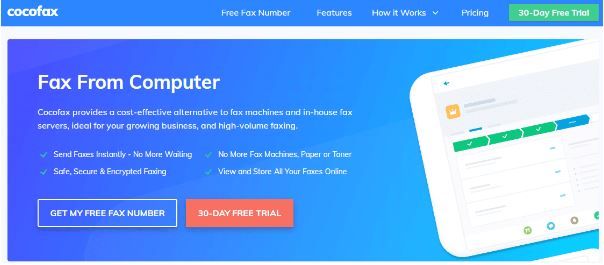 With a CocoFax account, users also get a free fax number of their own choice along with a 30-day free trial period.
2.2 How to Send & Receive Fax from Computer
In order to fax through the computer, the only requirement is to create a CocoFax account. The trial period and the fax number are provided automatically during the signup process.
Once the CocoFax account is up and running, users can log into their account and send and receive faxes through their CocoFax dashboard.
All received faxes on their CocoFax fax number are shown in the 'Inbox' folder. If the user wants to send an outgoing fax, they just have to click on the 'Send Fax' button.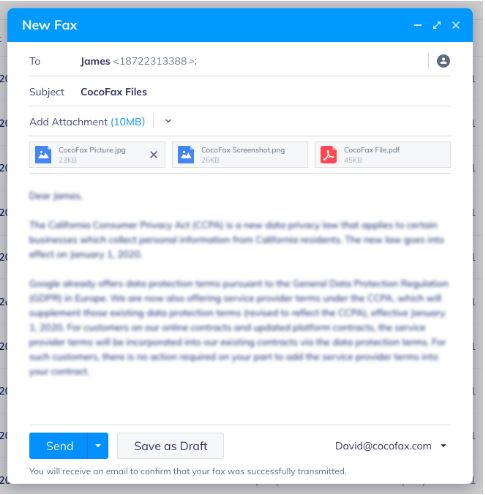 After this, they can draft their fax document, enter the receiver's fax number, and add any additional documents that they wish to fax.
Part 3: How to Send Fax Without Phone Line
Besides the computer, it is also possible to send and receive faxes online through the email client on any device. This is possible for Gmail, Yahoo mail, Outlook, and any other email service that exists.
3.1 How to Fax from Email
Email clients such as Gmail do not support fax services on their own. Email to fax and fax to email is a service pioneered by online fax companies such as CocoFax.
In order to fax from email, the only things that are needed are a CocoFax account and an email address.
Email to fax service can be used anywhere in the world. It is a convenient and portable method and better than any other fax alternative.
The best part is that you get the ease of using email combined with the security and confidentiality of using fax.
3.2 How to Send & Receive Fax from Email
In order to send and receive faxes through email, the user should create a CocoFax account and link their email address with the account.
After that, sending faxes is just like sending emails. In the create email popup, users can fill the details of the fax that they want to send.
The major difference is that instead of the recipient's email address, the 'To' field contains their fax number (along with the country code), followed by '@cocofax.net'.
For instance, if their fax number is 123456 and their country code is +44. The 'To' field will contain:
The document that needs to be faxed can be attached with the email itself. CocoFax supports a wide array of formats, including: pdf, doc, docx, xls, xlsx, png, jpg.
Every fax sent through email
Whenever a user sends a fax through CocoFax, they receive a delivery report of the fax in their registered email inbox shortly after.
CocoFax provides a fax number to users who create a CocoFax account. This number can be used for receiving faxes as well.
Whenever someone sends a fax on this fax number, CocoFax forwards the fax to the registered email inbox. The fax document is added as a PDF attachment to the email. The email also contains other details of the transmission.
Part 4: Frequently Asked Questions
Here are the answers to some common doubts that readers enquire about faxing online:
Q: How can I fax a hardcopy of a document online?
In order to fax a document that is present in a hardcopy, you can either scan it or click its picture through the phone camera. Then it is possible to fax it using any of the methods discussed above.
Q: Why was my fax not delivered?
The common reasons for faxes being undelivered are the receiver's fax machine being busy or switched off. Additionally, people often enter an incorrect receiver fax number which can lead to undelivered faxes.
Q: How to fax from a phone?
Faxing through phone is possible from the phone's browser or through the email client you use on your phone. The steps for this are the same as those discussed above.
Q: How can I fax a cloud document?
You can directly provide a cloud link when faxing a document through CocoFax's dashboard. Alternatively, you can download the document and fax it as an email.
Q: What will I enter in the 'To' field while using email to fax?
The 'To' field would contain the recipient's country code, their fax number, followed by '@cocofax.net'.
Endnotes
Using the internet to send and receive faxes saves on countless expenditure that would otherwise be spent on fax hardware. Additionally, one gets more features than the high-end fax machines have to offer.
Therefore, it is beneficial to use internet fax over other traditional faxing methods that the people have been using before.
Happy faxing!
---
Interesting related article: "What does Telecommunications mean?"