When it comes to mobiles for senior folks, it's important to look for a super-simple device that offers straightforward features.  While tech-savvy seniors can handle high-end gadgets with deftness, there are others that find smartphones a nuisance and a big struggle. This may be due to issues like poor eyesight, impaired hearing, and deteriorating motor skills that are known to plague the older generation. Seniors generally prefer a compact, no-frills, standard mobile for a more streamlined experience.
Key Features to Consider:
A handset with a large keypad, big fonts, well-lit screen, good audio, a dedicated emergency knob, and a simple interface can do the trick. Needless to say, the unit should be durable, provide a good grip and come with an affordable price tag. Sadly, there aren't too many mobiles on the marketplace that are designed categorically for senior use. Listed below are six top-rated phones in India that cater to the specific requirements of older individuals.
Seniorworld Easyfone:
Easyfone offered by Seniorworld is our top pick for the elderly segment. With a focus on simplicity, the phone is engineered specifically for senior citizens. The lightweight unit with a rubberised matte body provides a good grip and is easy to handle. In terms of specifics, Easyfone features a large 2.2-inch screen, a generous font size for legibility, and a keyboard that calls out the numbers when pushed. Also, the audio is outstanding and ring tone loud. Other highlights include a flashlight at the bottom and a side knob for locking/unlocking the device. It is equipped with an FM radio, Hindi menu and a basic camera that doubles up as a magnifying glass. A cradle charger that works like a stand and a programmable SOS button are some other standout features. Further, there is provision for setting reminders and blocking unwanted callers.
iBall Aasaan 3:
Offering nothing but the bare essentials, Aasaan 3, rolled out by the Indian handset maker iBall is the perfect unit for elderly users looking for minimalistic features.  The well-designed gadget flaunts a simple and balanced look with a large 2.31-inch screen, talking keypad and large fonts to enhance ease of use. Besides, the device boasts one-touch buttons for the camera, torch, keypad lock, and FM. Other handy features include a loudspeaker, calculator, alarm clock, medicine reminder, countdown timer and more. Let's not forget the SOS functionality for alerting selected contacts in the event of an emergency.
Nokia 3310: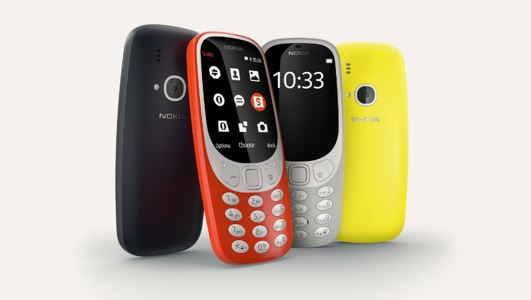 Remember Nokia 3310 the legendary handset launched in September 2000 that went on to become a hot seller. A new version of 3310 was rolled out in 2017. The easy-to-use phone, complete with signature Noika jingle and a simple interface is a fantastic choice for senior citizens. Though slightly slimmer than the original, the new phone has retained the same size and shape. It, however, flaunts a larger 2.4-inch colour screen, a twelve-button telephone keypad, and selection keys. Other highlights of the rebooted 3310 include a 2-megapixel snapper with LED flash, 3.5mm jack, micro-USB port for charging, dual-SIM connectivity and a robust 1,200mAh battery.
Skymoon D1201:
The Skymoon D1201 is another phone that provides simplicity and great functionality for the elderly. The compact device boasts an attractive design that is pleasing to the eye. The unit is easy to hold and fits snugly in the palm.  It comes with a 1.7-inch bright display and a large keypad that enables better readability in diverse light conditions. And yes, the simple menu makes navigation a cinch. The shortcut keys are perfectly positioned on the sides to access FM radio, the flashlight and control the volume. The unit has good audio quality and excellent battery life.
SCOSMOSLight V1 
The economically priced SCOSMOS Light V1 is an excellent option for seniors with financial constraints. The sleek yet sturdy unit is easy to operate. It brags a 1.8-inch colour display, big keys, the large font size for crystal clear text and a loudspeaker. What's unique about the model is the keypad buttons that provides voice confirmation to the user on being pressed. Another bonus is a fully programmable SOS button that can trigger an alarm and send SMS's to selected contacts. Other key features include a 0.1-megapixel camera, loud ring tone, torchlight, digital alarm, speed dial, vibrating alert, good battery life and FM radio that functions sans headphones.
Magicon Senior Duo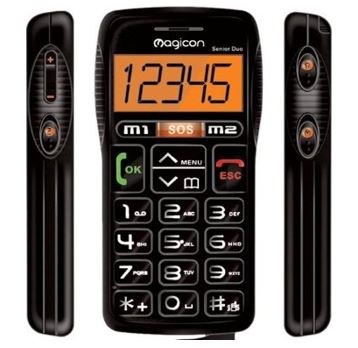 With calculator kind of feel, a simple interface, no-fuss features, and a straightforward menu, the Magicon Senior Duo is an ideal handset from an older adult's perspective. The basic model has a 2.6-inch high contrast display, large buttons and big font for easy navigation and texting. There is an SOS function for safety and a torch which can also be used as a flashlight. A small magnifying glass housed in a pull out tab at the bottom is a boon for those with visibility issues. Also, there is a shortcut dialing and one-touch locking/unlocking facility. The Magicon Senior Duo supports a dual SIM.
As you can see these 6 senior-friendly mobiles focus on features and functions that can benefit the seniors. More than this, there are many other smart devices for senior citizens that can give them comfort and ease. You can skim through online portals like Seniority and get an idea about the same.