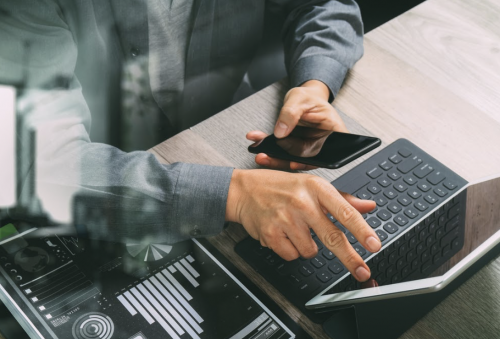 In this fast-growing technology era, everything turns on autonomous systems. Mobile phone turns into a smartphone, website moving on application type business. Whether you are an independent contractor or employee, undeniably there is no need to deny that getting paid is important. Direct deposit can eliminate the need of going to the bank or deposit cash a check. This way, direct deposit is a great option if you are looking to access your cash quickly.
All the business sectors are redesigning their old processes with new technology to eliminate the time, cost, safety, and security. Direct deposit is one type of example of system enhancement. As per the latest survey, "In the USA more than 93 percent of U.S. workers receive their payment by direct deposit".
In this blog post, you'll go through with the following:
What is a Direct Deposit?
A few essential steps to setting up direct deposit
Benefits of setting up direct deposit
What is a Direct Deposit?
A direct deposit can be defined as an electronic payment from one bank account to another. In other words, it is a way of payment made directly into a payee's account. For instance, money transfers from an employer's bank account to an employee's bank account; however, there are several other ways available to use same day direct deposit.
It mainly requires the use of an electronic network, which allows deposits to take place between banks, called ACH (Automated Clearing House). Since the funds are transferred electronically and credited automatically to recipients' accounts; thus there is no need to wait for the money to clear. The common uses for direct deposits are tax refunds, paychecks, etc.
Direct deposits are most common for businesses, specifically when they make use of the transactions to pay their employees.
They are a more convenient and safer method of transferring funds as this process eliminates the possibility of theft or any kind of loss of cheques or cash since the deposits are taken place electronically. 
Common payment method: Direct deposit eradicates unnecessary paperwork. Every size of businesses and employers of all sizes can enjoy the ease of making payments through direct deposits.
In addition, many businesses also set up direct deposits through their banks. Federal benefits or unemployment pay may be paid as a direct deposit. Also, receiving payment through direct deposit lets you set up automatic transfers into a savings account to grow savings.
A Few Essential Steps to Setting Up Direct Deposit
Get a Direct Deposit Authorization Form & Provider
It's a fairly quick and easy process if you are having your paycheck directly deposited into your bank account. Start by asking for an online or printed direct deposit authorization form from your employer, when it comes to setting up direct deposits. A direct deposit authorization form is a document, which authorizes a third party.
The right system is required to transfer the ACH payments and then send the money into your employees. If you are using online payroll or book-keeping many financial services can offer you payment options.
Fill in Account Information
Before filling in the account information you have to keep the following information:
Bank's address. To pay in a direct account you need to fill in your bank address. Address of the bank you can get on a bank statement or bank statement.
Bank's routing code. On your bank statement or checkbook, you will notify the nine-digit number. That will be your bank's code.
Bank Account number. On your bank statement or bank checkbook, there will be a number apart from the bank code. This will be your bank account number.
Type of account. Which type of your account is you need to mention from a passbook or bank statement. It will be either saving or a current type account.
Enter the employee information into the payroll system
Once you collect the employee's information you have to submit to your payroll provider. Then they will process your payment through ACH. The main before entering the information on to be sure for correct and must be verified with bank's software. Some employers may ask to use void check to verify the account and routing numbers. In this case, you can write "VOID" on the front side of the blank cheque and attach with the bank information. "VOID" cheque used only to retrieve the required information and verify with filled information.
Run payroll and send payments via direct deposit
The main work of your direct deposit has been finished. Now you have to wait for information verification and process. Once your information is confirmed you can process your business. Now the last payment automatically transfers into the employee's account as per the set frequency. Here you can set the deposit schedule against each account.
Submit the form
The predefined format of the form will ease your form-filling process. All collected information on the form is shared with the organization that will transfer the payments. Direct deposit takes one or two working days for direct deposit into the account. Now you can track when automatic transfers initiate for any scheduled bill payments after the payments are received in your bank account. Check regularly if any payments are made from your accounts before direct deposit you can transfer your funds to avoid the pain due to drafting fees.
Benefits of Setting Up Direct Deposit
Since digital payments take place in traditional ways of payments. It eases the life of everyone who usually spends the time on fund deposits. Direct deposit is always beneficial for both sides. Either it is an employee or employer. There is a list of benefits which we will explain to you in detail.
Direct deposit benefits to employee:
Employers aren't the only ones who benefit from using direct deposit. Check out a few advantages of direct deposit for employees. Employees:
No need for a paper cheque and no worry about losing it
No need to go to the bank door for clearing the cheque. You are saving your time.
You can easily transfer the money to various accounts.
You can access the pay status on salary day
Where you are you will get the pay on payday or on scheduled time.
Efficiently can manage the money through easy access.
Apart from various benefits, you don't need to spare the time for a paycheque. Bank long queues will not be part of your life.
Direct deposit benefits to employer:
Not only employees, but direct deposit has various benefits for employers as well. Let's have a look at the list:
You can save time by paying a direct deposit overpaying cheque to individuals.
No need to pay attention to everyone for the paycheque.
Transfer the fund at any location anytime.
Scams on paycheck or wrong transactions will be eliminated.
No long queue is required in the bank for depositing the money.
Cost-saving.
How direct deposits can help in making payments?
You can use it for scheduled payments or any transaction related to the government sector.
Salary of your manpower
Veterans payments
Compensation money declared by the government
Mutual funds money
Pension money
Supplemental security income
Retirement and unemployment payment.
The easy and convenient process of direct deposit definitely will help you by saving time and money. You will feel more comfortable and regular hustling of life will be avoided.
Conclusion
Even after you are completely aware of these benefits and successfully received rewards by setting up direct deposit, it's worthwhile to go through with the latest updates and keep monitoring your bank accounts. This way, you'll be aligned with the latest updates along with peace of mind.
So, it's high time to add some ease to your life by knowing and implementing how to set up direct deposit.
Want to share your thoughts on direct deposits and their benefits? You can comment below.
---
Interesting Related Article: "Why is the Banking Sector the Most Vulnerable Sector During the Crisis?"