If you run a hotel, finding ways to keep your workflow running smoothly is vital – but what if you could give your earnings a shot in the arm simultaneously? Sounds impossible?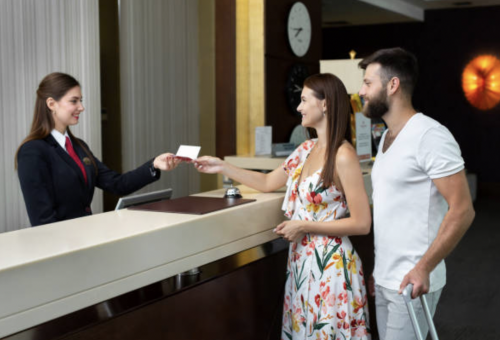 Automation platforms can do both of these things – as well as keep your guests happier, too! Keep reading to find out precisely what these platforms can deliver to your business and the best options on the market right now.
Duve
A complete one-stop-shop to enhance virtually every aspect of your hotel's processes and keep everything flowing smoothly. Duve improves efficiency through smart automation features, so your guests can enjoy a better, more personalized experience.
Online check-ins and check-outs, a comprehensive guest app, a communication hub, and mobile keys are just a few of the features you'll get access to by deploying this superior platform. Plus, offering guests tailored, customized upgrade opportunities is an effective way to maximize hotel revenues and help ensure that your visitors enjoy an optimal stay where their needs are anticipated before they've even rung down to the front desk!
The reporting tools can give you a clear picture of what you're doing well and areas that could be tweaked to make your guests even more likely to make a subsequent booking.
Plate IQ
Designed specifically for the hospitality industry and its unique needs, Plate IQ offers invoice management and billing tools and also provides plenty of features that allow for in-depth data analysis, so you can see, for example, which marketing campaigns have been most effective, and get a comprehensive idea of your guest demographics.
The spending analysis tool is also handy for identifying where savings could be made, and the actionable reporting features help you figure out how to ensure every guest has the best experience with you possible.
Plus, the time your staff saves on tasks that the platform automates can be spent doing the most important job of all: ensuring that every one of your visitors is enjoying their stay to the maximum!
Cloudbeds
Cloudbeds offers lots of opportunities for automating and streamlining your workflow, from online check-ins and check-outs to its holistic property overview designed to maximize occupancy and revenue!
The Cloudbeds Channel Manager function is likely to be appreciated by hoteliers wanting to manage information across multiple channels: it connects seamlessly with the Cloudbeds property management tools to ensure that room rates and inventory details are always in sync and updates this information in real-time. 
The software also incorporates an all-in-one marketing solution that can drive up bookings and boost your establishment's online visibility in general.
Revinate
This option will provide you with incredibly rich and detailed guest profiles, which include their total number of stays, preferred booking method, total money spent, upgrade requests, and much more.
The platform can also assist with reputation management by automatically culling unfair reviews from TripAdvisor, Google, and many other review sites. Plus, its marketing campaign module helps manage every element of a promotion, even across multiple hotel sites.
The ability to automate guest feedback forms and surveys is a useful way of tracking guest experience and the hotel's overall performance, offering, in conjunction with the guest profile, a comprehensive picture of the experience your hotel is providing for its patrons.
Experience Hotel
This software focuses on automating processes to promote guest loyalty by emphasizing opportunities for tailored upselling, concierge features, and unobtrusive surveys delivered at crucial points throughout each guest's stay.
The segmentation tools offered by the platform mean you can design and manage effective campaigns that target prospective guests based on factors such as age, interests, or geographical location.
The re-booking tools are also of particular note: these have been built specifically to avoid guests making a subsequent reservation via a third-party site.
Sirvoy
Perfect for small to medium-sized hotels (and even hostels and campsites), Sirvoy makes life simpler by automating time-consuming tasks and smoothing out your staff's workflow.
The software's multi-lingual booking platform is designed to maximize commission-free bookings, while the incorporated channel manager can take care of the distribution side of your operation. 
Sirvoy offers an easy-to-use website builder, multiple booking engines, booking alerts, a rate management tool, and much more. The platform can set seasonal rates, add surcharges and taxes, block out individual rooms, and create multiple room types quickly and easily.
Little Hotelier
Created for small but perfectly-formed hotels, Little Hotelier is great for attracting more guests, upping website conversion rates, maintaining a website, and taking online payments. It even comes with a mobile app to manage things on the go.
The software is user-friendly, with an intuitive interface and an easily navigable menu and features. As well as helping you take bookings directly via your Facebook site or website, it connects to more than 450 booking channels and supports searches made on sites such as Google Hotel Ads to drive up bookings and maximize revenue.
Users appreciate this option's single calendar, which can be used to manage every reservation, and the handy ability to automate aspects of guest communication and compare competitor rates quickly and accurately.
---
Interesting Related Article: "Advantages of Working in the Hospitality Industry"