In a shocking twist of events, American sprinter Sha'Carri Richardson has been suspended from competing in the 100-meter sprint at the Tokyo Olympics. The young sprinter tested positive for marijuana this week, and accepted a 30-day suspension. She may still be able to run relays after the suspension has lifted.
Richardson was in Oregon when she used marijuana, where recreational cannabis has been legalized since 2015. The nation continues to legalize marijuana, with Connecticut being the latest state to join the "Green Rush." The talented athlete told Today host Savannah Guthrie that she used cannabis after a reporter confronted her about the death of her birth mother. She says she was shocked to learn of the death from a complete stranger. "It was definitely triggering and blinding," Richardson said. "I know I can't hide myself, so in some type of way, I was trying to hide my pain."
However, Richardson took full responsibility for her actions. "I know what I did, I know what I'm supposed to do, what I'm allowed not to do. And I still made that decision," she declared. "The rules are clear, but this is heartbreaking on many levels; hopefully, her acceptance of responsibility and apology will be an important example to us all that we can successfully overcome our regrettable decisions, despite the costly consequences of this one to her," U.S. Anti-Doping Agency CEO Travis Tygart said in a statement.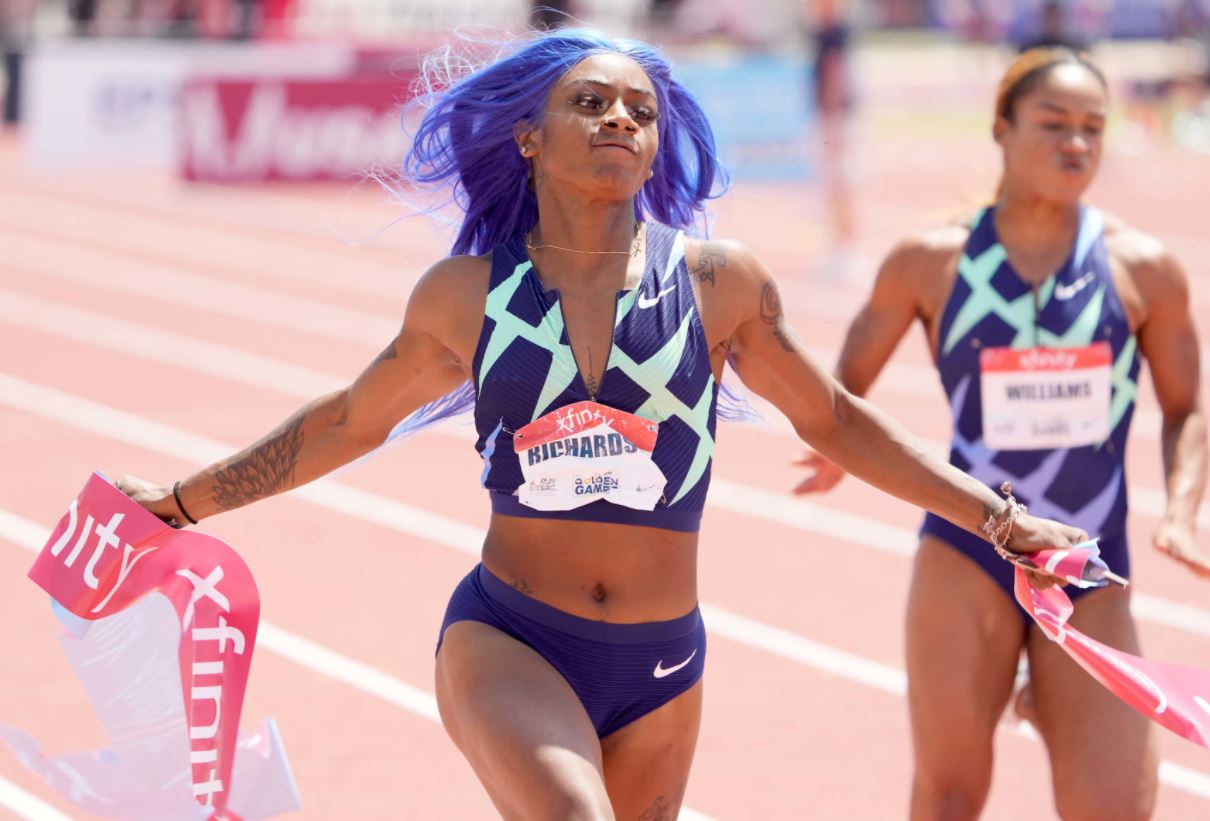 Richardson turned heads at the Olympics trials when she won the 100-meter sprint in 10.86 seconds. It was there that she tested positive. Americans were impressed with the 21-year-old sprinter, who was aiming to be the first American woman to win the Olympic 100-meter title since Gail Devers in 1996.
Richardson may compete in the relay race
There is a chance Richardson can compete in the 4×100 relay races, if the positive drug test is backdated to the day it was taken and not the date it was revealed she tested positive. "If I'm allowed to receive that blessing [compete in Tokyo] then I'm grateful for it," she stated. "But if not, right now I'm just going to focus on myself." But even if Richardson doesn't get cleared for the Olympics this year, her journey is far from over.
"This is just one Games. I'm 21, I'm very young. … I have plenty of Games left in me to compete in and I have plenty of talent that backs me up, because everything I do comes from me naturally," she stated. "No steroid, no anything. This incident was about marijuana, so after my sanction is up I'll be back and able to compete, and every single time I step on the track I'll be ready for whatever anti-doping agency to come and get what it is that they need."
It is unfortunate that a medicinal drug that athletes have used as a pain reliever and stress reliever instead of harmful opioids can harm their career. Her suspension has caused many fans to bring up the Michael Phelps situation.
Although Phelps never tested positive for marijuana, he was suspended for three months and lost many sponsorship deals after being photographed smoking from a weed pipe. But, his suspension was in February of 2009, six months after the 2008 Olympics and six months before the 2009 World Championships.