Writing a decent resume is the most important part when you're on a job hunt. Basically, it's what the employers will use to judge whether one will land a job or not. That's why it's so paramount to include all the best accomplishments, key skills, and work experience in an application.
However, many employers and especially international corporations use resume-scanning software. It's called ATS – Applicant Tracking System, and what it does is uses ATS bots to scan through thousands of applications automatically. That means, before ending up in the hands of a hiring manager, your CV needs to pass the applicant tracking process.
Of course, if the CV is perfect and meets all the requirements, you'll most likely land an interview. But, there are plenty of tools like a resume builder that can enhance the process of writing one. A resume builder can greatly increase quality, save some precious time, and generally help to make a bot-beating resume. So, to help you decide whether you'll benefit from using a resume builder or not for your job application, we made an article with all the pros and cons.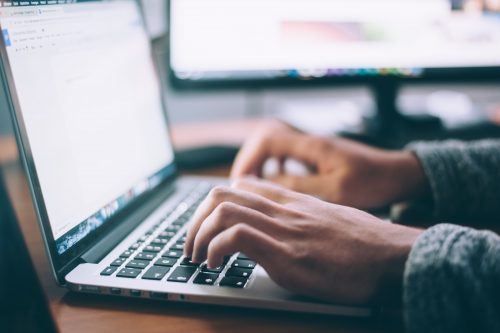 Pros
Most of such services are completely free of charge. You're given a decent amount of layouts, fonts, and color palettes without the need to download additional software.
The interface is intuitive and the tools are easy-to-use. Nobody needs an IT qualification to be able to use it, even the least tech-savvy users.
A resume builder will help greatly with the creative part. It equips your application with an up-to-date design, that will both look good and attract the attention of a recruiter. And of course, the tool will not let you overload the CV with excessive bells and whistles that make it unreadable.
Dozens of templates. The only thing one you ever need to do is to choose the resume templates and fill it with things like career experiences, qualifications, and such. This is perfect for people who've never written one before and don't know where to start from and what to do.
Scanning through all the options and templates of a resume builder may even be inspiring. Or some already existing layouts will remind you about the information you forgot to include.
The most obvious and important argument to use a resume builder is time. For job seekers with no experience in writing an application, a resume builder can greatly save time. It removes the need to learn how to use a certain program for composing text and makes sure to help you craft a winning application. 
The layouts provide a user with all the elements already present. Choose which one is the most relevant for your job application and employer. Forget about the need to create all the bullet points and columns yourself.
The opportunities for personalization and customization are infinite. Countless themes and other features provide one with a great possibility to mix different elements that would suit your resume the most. The recruiters will surely be impressed by how detailed and well composed it is.
Mixing and removing elements could also be useful when adjusting a CV to apply for a different job. That means you'll no longer have to rewrite the whole text. It's only a matter of a few clicks and copy-paste now.
Cons
While templates make it much more convenient to build a layout, it also means there's a possibility of another applicant using it. Of course, the chance is pretty low and all the information is different, but keep in mind that your job application may be similar to someone else's.
Some people have a very specific text and design in mind. Resume builders may not provide such users with corresponding design solutions and templates. It won't help in this case.
Continuing the topic of similar designs and layouts, it may especially apply to job seekers in the graphic sphere. The key skills here are the ability to format and create the design yourself. The use of an online builder may end up making an application look too generic and unprofessional.
While saving time by providing an already existing framework for the CV, such a service could make you pay with the time needed to proofread and double-check everything. Automated tools make mistakes occasionally, especially in the writing business. You don't want to be proud of creating an application in 30 minutes and then be disappointed when a recruiter denies it due to basic mistakes.
Most of such services are made to consider only American English grammar and spelling. This could be unacceptable for the ones looking for work in Australia, New Zealand, and Great Britain.
Often, the resume is saved only in PDF format after completion. Of course, it's the traditional standard format, but it would restrict one from further changes and customization.
Sometimes, the templates don't automatically adjust the empty columns. For example, if one doesn't have any information to fill in the "work experience" or "qualification" columns, the resume builder will leave it empty. Then, you'll have to redo everything yourself
Also, templates often have examples of filled-in information. That can possibly lead you to forgetting to replace it with your credentials. Employers probably won't consider fake numbers or addresses acceptable.
The fonts, formats, and designs available in a builder could also be a restriction for some users.
Most importantly, using a professional resume builder still won't provide one with writing experience. Learning from the mistakes, finding what's more relevant and how to serve certain information needs to be learned by manually composing a CV.
To sum up
Eventually, there's no certain answer whether it's better to get professional help, use a resume builder, or do it yourself. Everyone should make a decision considering their own circumstances, abilities, confidence, and available time. Still, having all these options to choose from is a great advantage of our time and they're worth checking out. You can check the top 10 best resume builders online, compare them and decide which one is worth your time.
---
Interesting Related Article: "5 Tips to Write an Effective Executive Resume"