Rock crawling can be one of the most fun and exciting types of off-roading. But unfortunately, not many people partake in it as it sounds quite intimidating. And while it can be dangerous, it's not more dangerous than any other type of off-roading. As long as you've equipped your 4WD with the right accessories, and have studied the basics of how to drive on rocks, you're guaranteed to have a blast.
The most important accessories for rock crawling are side steps, also known as rock crawlers or sliders. These accessories protect your rocker panels from rocks, and they provide a pivot point when you need to get over an obstacle.
Just like everything we modify our 4WD with, the ideal side steps you install on your vehicle should provide a compromise between durability, weight, and cost. Today, you can easily compare rock crawlers online from the comfort of your home and find the perfect deal for you.
But when shopping online 4WD accessories, there are other things you need to pay attention to, like fit, for instance. Some options may not be perfect for you, but you may be able to tweak them with a grinder and welder and make it work.
It's also important to think about how you use your 4WD, the type of terrain you intend on rock crawling over, how often you end up getting stuck, and what methods you use to get yourself unstuck. That being said, here's everything you should before you buy side steps.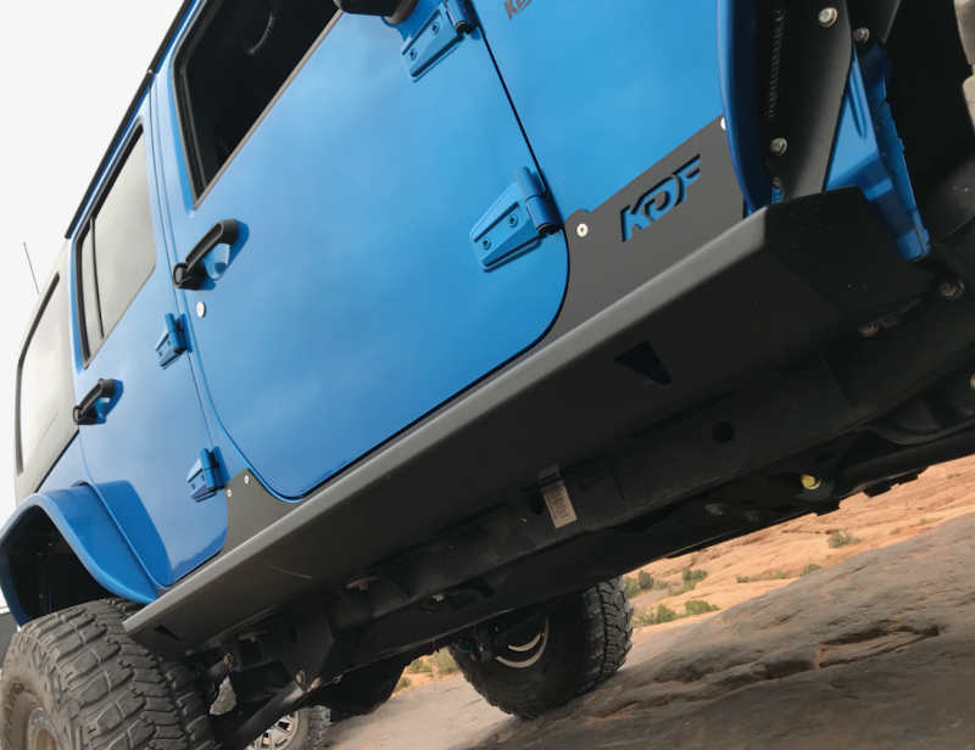 Difference Between Rock Sliders and Nerf Bars
A lot of people confuse rock sliders for nerf bars. Nerf bars serve a completely different purpose. They're mainly installed to make your vehicle look good, to be used as an extra step to get in and out of your 4WD, and to prevent other people from opening their door and hitting your vehicle with it.
That being said, nerf bars are made of lower-grade materials, as they don't need to support your vehicle's weight. They're typically bolted onto your vehicle using existing holes. As a result, they can't take hits without eventually damaging your vehicle's body.
Rock sliders, on the other hand, need to take the weight of your 4WD, so they're made of thicker, higher-grade materials. When you're shopping for these online 4WD accessories, you'll need to pay attention to whether they're DOM or HREW, and what the material's dimensions are.
Most of the time, they're made to fit your specific model, make, and year of the vehicle. Rock sliders aren't usually mass-produced, and you'll need to drill new holes in the frame or body of your 4WD to install them. You may prefer bolt-on HREW rock sliders or weld-on DOM sliders depending on your needs.
Metals Used to Make 4WD Side Steps
As briefly aforementioned, the majority of rock sliders are built using DOM or HREW steel tubing. These two materials are stronger, more dent- and gouge-resistant than aluminium. DOM and HREW refer to the processes used to make them. DOM means drawn over mandrel, whereas HREW means hot-rolled electric resistance welded.
HREW is the more economical option of the two and it's used in a wide range of 4WD parts. DOM, on the other hand, is more expensive, but also stronger. DOM steel tubing is basically HREW tubing that's been cold-worked by being drawn over a mandrel and through a die. This process makes it smoother and it forces the tube to have precise and consistent dimensions, improving the steel's molecular structure.
There are also aluminium rock sliders, which are more expensive, but lighter in weight. The reason aluminium is more expensive is that it's made with different welding processes that require more skill. Aluminium 4WD side steps aren't as strong as their steel counterparts, so they aren't recommended for heavy-duty rock crawling.
Material Shape and Diameter
Besides the type of material used to manufacture 4WD rock sliders, you need to consider the thickness of the material. Most manufacturers make crawlers that are thick enough to resist bending, denting, and splitting at the tube weld seam. Thicker materials are better at these things than thinner materials.
Round tubing is typically 3mm thick. This thickness is considered the industry standard, as it's relatively affordable, easy to bend, and lightweight. Square tubes, on the other hand, are typically 1.5-3mm thick. The diameter is also something you'll need to consider. Round tube diameter is generally 38mm, 45mm, or 50mm, whereas square tubing is generally 38x38mm, up to 50x50mm, 50x76mm, or 50x100mm, creating a wider step but also adding considerably more weight.
Square vs Round Tubes
Square tubes are better at resisting bending forces than round tubes. However, round tubes are better at resisting torsional forces than square tubes. In most cases, the differences between the two may be insignificant, but generally, round tubes are much more common for two simple reasons – they're easier to bend into prettier shapes using affordable equipment, and it just looks better. While the latter is a matter of taste, most people would agree that round tubes look better than square tubes.
Some rock sliders are a mix of square and round tubes, which provide the best of both worlds. But if you plan on using the sliders as an extra step to get in and out of your vehicle, then square tubes are probably the better option. The same applies if you're going to be recovering your 4WD with hi-lift jacks. This is due to the fact that round tubes will probably require a strap or chain to hold the hi-lift jack in place.
Compatibility With Other Parts
Some manufacturers make their rock sliders so that they're compatible with other protective parts. Depending on your 4WD, the rock sliders can connect up with bull bars for front body protection, front and rear fenders, and the roll cages.
The parts are usually bought separately, so you should always plan ahead. If you're dead set on buying auto side steps from a particular manufacturer, make sure they'll work with the fenders and bull bars.
As of now, there aren't any manufacturers that make sliders that purposely fit with other manufacturer's parts. That being said, you may have to make some slight modifications to make the different parts fit together. If your vehicle is in its factory state, however, you probably won't have any issues with this.
---
Interesting Related Article: "How to Beat A Trained Salesman: How to Negotiate A Great Deal On Your Next Used Vehicle"