If you've been in business for more than a day, you probably already know how important it is to properly build and grow your email list. After all, this is a simple way to boost your company's earnings. Keep in mind that for every dollar you put into email marketing, you can make as much as $36 in return.
In order to help you carefully craft and grow your email list, we've compiled a list of six tried-and-true methods. After reading, maybe you can turn those names and emails into dollar signs.
Use Pop-Ups 
To begin with, simplify the process of subscribing to your email newsletters if you want more individuals to join your mailing list. The best way to achieve that is through the use of email pop-ups. There are various email pop up designs that can be added to your website to make it easier for your visitors to sign-up for your email list. 
In addition, remember that the emails themselves are important. If you're providing truly outstanding material, chances are your messages are being shared as well, so don't pass up the potential to get additional sign-ups that way.
Get People Interested With Targeted Offers
You know what will most likely interest your target market. You put in time and effort to define your ideal customer. As a result, you can make offers to your target demographic that will resonate with them.
Over 71% of respondents to a recent survey stated they expect companies to deliver personalized interactions. Spend time learning about your target market so you can tailor your offerings to their interests.
Make Your Freebies More Appealing Than Those of Your Competitors
An opt-in offer can pique the attention of your intended audience, but that doesn't mean they'll sign up for your newsletter. When something is offered at no cost, certain individuals will always search for a better deal, even if they don't need to.
Is there a way to better target this demographic? You can outdo the competition by offering more valuable rewards.
If, for instance, you've decided to provide a PDF outlining many methods for achieving a certain professional or private goal. Your research into this idea has shown that one or more of your competitors already provide something quite similar to their customer base. Is there anything further you can do to sweeten the deal?
Consider, first, how many different approaches are presented for the reader's benefit. Does your competition offer 25 hints and tips? If so, you can provide 50.
Also, consider the content's quality. Do you think they're nicely written? Is their design aesthetically pleasing? These are all methods by which you can make your opt-in offer more attractive than the competition's.
Organize an Event
One effective strategy for building a contact list and ensuring that people don't lose touch is to hold events that require attendees to register or buy tickets in advance. You can make it quick, simple, and handy for individuals to sign up for the newsletter by including a sign-up box for it right on the registration form. Even if it's something as simple as a webinar, this is a terrific tool for keeping in touch with people and expanding your email list.
Use the Potential of Mobile Technology
It is reasonable to assume that mobile is where it's at in terms of marketing, given the fact that 92% of internet users access the internet on a mobile device rather than a conventional PC or laptop. For this reason, you should make it easy and comfortable for new customers to join your email list using a mobile device by giving them the option to join through text message, for instance. This will allow you to attract and retain more clients.
Gain From the Power of Social Media
Social media isn't only a strong platform for encouraging friends and followers to sign up for your email list, but it's also a terrific tool for interacting with new people and expanding the size of your existing audience. For example, Facebook allows you to include sign-up forms, making it fast and simple for users to opt in without leaving the app.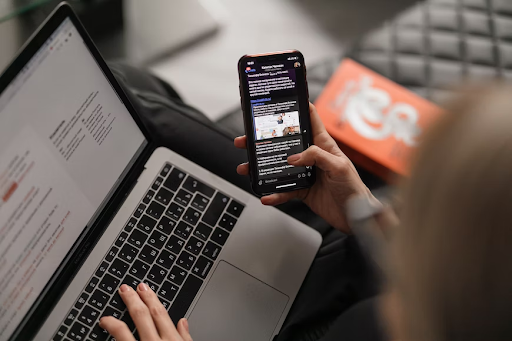 Final Thoughts
Now that you know a few more ways for expanding your email list, it's time to put them into practice. Although it's tempting to try every strategy out there, you really shouldn't do that.
Choose two or three tactics from the six we discussed above that will take you the least amount of time to put into action. Track the success of each tactic and don't be afraid to try out new ones if those don't seem to be working for you.
---
Interesting Related Article: "All Business Email Lists Are Not Created Equal"