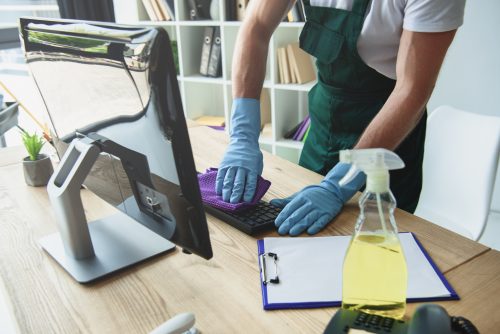 Are you looking for a commercial cleaning service provider but are not sure how to find the right person? Hiring professional cleaners can create a safe and efficient work environment. This is why it is important to look for a company that you feel more than simply satisfied with. Whenever you are looking for commercial cleaners, you could feel overwhelmed with several options. Here is a guide to help you choose the right cleaning professionals for you and your workplace.
6 Skills to Look For
Knowledgeable Staff
Whenever you work with a great cleaning service, you will realize that they know the right techniques to provide proper sanitation and thorough cleaning. The professionals will also know how and when to use the machinery and tools. The professionals who care about their work will have the right cleaning tools and they will ensure that they answer all the customer questions and queries with regard to the cleaning methods. Hence, before you hire a cleaner, you need to find out about the techniques, methods of cleaning, and machinery. If you can manage to get the detailed information, it is a sign you are working with the right company.
They Should Be Dependable
The janitorial service company you choose to work with should be reliable and dependable. It is important that you never have to guess when they will arrive at the office and how they will work. A professional company will work closely with the clients and create a schedule that is fit for everyone. Cleaning can lead to disruptions in the office and the professionals should do their best to avoid any unnecessary disruptions. Dependable cleaners can provide dependable work and they will ensure that you are satisfied with their services. You can also ask the cleaners for references to see if their other clients have found the services to be dependable.
Value for Money
Whenever you are shortlisting the cleaning service provider, you should feel good about what you are paying them. However, this does not mean you choose the cheapest option available. If something is too good to be true, then it surely is. A professional cleaning company will be aware of your budget restrictions and will work with you to find a plan and schedule which works well for all your needs. You must speak to the cleaners about the prices they offer and the plans they have.
Accepts Feedback
Nobody is perfect and even the best professional companies find themselves in a situation when the customer or client is not happy with their service. An ideal commercial cleaning company will not try to avoid constructive criticism but they will actually try to seek out feedback to ensure that the clients feel happy and satisfied with their services. A professional service provider will be happy with productive feedback through testimonials and online reviews, whether it is in person or on the phone.
Great Quality
Your commercial cleaners should not stick to "good enough". Whenever you choose a company, they should not only meet your expectations but should exceed them. A great cleaning service will take pride in the work and you will notice that they enjoy it too. The professionals should do more than just meet the minimum standards. Choose people whom you do not have to ask to re-do or re-clean.
Focus on the Details
Attention to detail is what will make all the difference in the end result. When you work with a knowledgeable company that places value on quality work, you will notice that they focus on the details. A company that cares about the work and is knowledgeable in the practices will also pay close attention to detail. There are times when small areas are missed due to the lack of experience and a lot more cleaning time is spent in other areas. The right cleaning company will not skip the often-forgotten places like the corners, window ledges, or under desks. Hence, ask the cleaners if they pay attention to these areas and if they also clean the crumbs and the cobwebs.
These are a few important skills you need to look for when hiring professional cleaners. The right people can make all the difference to the end results and they will ensure that you find value for money and are satisfied with their services. No matter who you choose to work with, communicate your requirements, discuss the budget and ask any questions you may have. Do not hesitate in asking for references or speaking to their previous clients. Research the market and you will find the right people who will handle the task for you without going over budget and you will find satisfaction with their services.
---
Interesting Related Article: "5 Ways Hiring a Professional Cleaner Can Save You Money"