How to create SLA in Jira for all levels of support
Is there a formula to get a happy customer? If so, it must be somewhere between customer's expectation and company's ability to justify it. What if your clients expect more than you can deliver?
To avoid this mismatching, it's better to set clear goals and specific objectives between service providers and their clients. Here is where Service Level Agreement (SLA) becomes useful. In this article, we'll look at how SLA in Jira can help support service teams that work with Cloud.
Support service SLAs represent your business as a reliable one. If your company aims to get a significant outcome, consider this point. Many SLAs are based on how quickly a support team responds to a request or closes a ticket. E.g., the SLA could state that 90 percent of support inquiries will be responded to within 3 hours. As a result, the most crucial aspect of customer service success is resolving each problem within the SLA time limitations.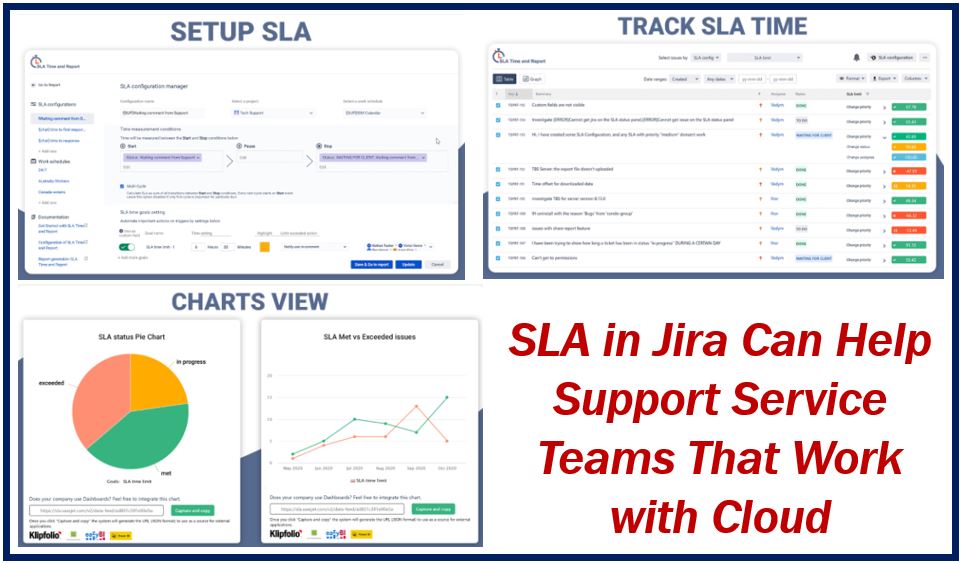 What are the levels of support?
Within the IT department, support is usually separated into four tiers: level/tier 1, level/tier 2, level/tier 3, and level/tier 4. The complexity of the assistance offered determines the support level.
Level 1: represents a service desk support where clients contact and express their problems. Support team members at this level have limited product or service knowledge and can only fix basic difficulties. This stage is known to Jira users as a ticket from a customer on the Service Desk sent in by Portal.
Level 2: the staff here have broader experience tackling comparatively complex issues and can lead, assist, or review the troubleshooting work of L1 support personnel. Whenever a resolution isn't found at this level, the process continues to the next.
Level 3: they are highly skilled experts and address the most complex issues, supporting both level 1 and level 2 professionals most of the time. Also, they make code updates, conduct research, and come up with answers to difficult or unforeseen problems.
Level 4: is typically confined to software vendors and their executive team on particular issues.
On levels 2-4, we'll need help from other departments such as Developers, Tech support, QA, etc. Here we commonly generate new issues for Jira Core or Jira Software.
So every level of support is critical for meeting the SLA deadline. Let's take a look at the options for setting SLA in Jira Cloud.
How to set the time for Jira tickets to meet SLA?
Jira Service Desk is one of the most often used tools for configuring SLAs for Jira issues. It allows users to accept, record, assign, manage, and solve client requests. Here you can set SLA timers for tickets through the Service Desk Portal. As a result, it provides everything required to handle first-line support queries.
The main disadvantages are that settings of Jira Service Desk SLA are only accessible to some agents. Staff who don't have an agent's license will not be able to set up a separate SLA alert or track how long it takes an agent to deliver a solution to the issue.
How to configure Jira SLA for L2, L3, L4 support?
Third-party add-ons from Atlassian Marketplace have extensions for setting and tracking time to SLA for the L2-L3 levels of support. SLA Time and Report by SaaSJet is one of the Jira SLA reporting options for Cloud. Let's have a look at how to start using this SLA monitor widget.
Customize SLA timers to your Jira issues, specifying start/stop conditions. You can set a countdown to start when a user chooses a status "Waiting for support". Stop condition can be defined by the first response provided by a support team member.
Set multi-triggers with time goals. It can be time to response within 3 hours. If it's overlimited, then a notification to the support manager or a change of assignee might be defined as an alert.
Monitor which issues are met or exceeded with report generation.
SLA Time and Report plugin allows you to define time to SLA for issues in Jira Core and Software, as well as Jira Service Desk. This add-on is appropriate for all levels of support and may be used as an extension at work with tickets from the Jira support portal.
SLA is an important aspect of business relations. Atlassian SLA allows users to create a config for each support level. Jira Cloud users have access to a number of tools that can assist them in customizing SLAs to meet their specific requirements.
We hope this article will help you to get more trust from customers by setting SLAs. Try how you can make some automation for your SLA with SLA Time and Report add-on.
---
Video – SLA Time and Report (Jira Cloud)