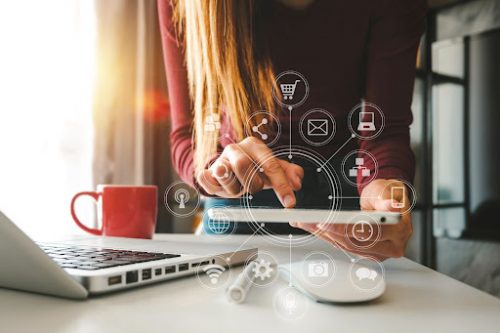 Although we have moved into a digital age where many of us spend time within a digital sphere where we can remove advertisements, the same cannot be achieved in real life.
Some digital marketing strategies can be time-consuming and can often be drowned out by the sheer volume of other businesses doing the same thing.
This is a small business. It is important to remember about traditional marketing methods as they are usually simple to carry out and can bring great results.
Physical send out around the neighbourhood
Although you can reach a large customer base online, there may be a great customer pool for your business to target on your doorstep. The best way to reach them is through methods such as postcard mailing marketing.
There are many reputable companies, such as CX Services, you can pair with to do so. They will be able to put together an attention-grabbing marketing postcard that your potential customers will notice.
You can leave physical marketing materials around your local area by creating various flyers, brochures, and business cards. Many local shops, coffee shops, and community centres have notice boards to host various leaflets and brochures.
This is also a great opportunity to provide a discount or offer on the distributed materials to entice those who find said leaflet into visiting your business.
Potential clients are more likely to remember about your business by having something tangible to hold, particularly as having leaflets lying around is a great reminder.
Marketing emails and online advertisements are easily forgotten as they are often out of sight and out of mind unless clicked on specifically.
In-person interaction
By going face to face with your target audience, you can make a lasting impression. Try attending various local events within your community and speaking to attendees whilst there.
It will be a great way to become known by locals, which can help spread awareness of your business through word of mouth. This is the perfect opportunity to hand out flyers and business cards.
There are also many networking opportunities at networking specific events that many other businesses will also attend. You may end up making new potential customers and important business alliances to help your business grow.
Real Life Signage
We all know that having a branded logo for the building of your business is important for visibility as it lets your customers know who and where you are.
Utilising real-life signage in the form of billboards, street boards, and even advertisements on the sides of buses can be very beneficial.
By advertising through these means, you will stick within the minds of those seeing your advertisement in person, particularly if your advertisement is eye-catching.
You may also find that people will take pictures of your advertisement if you are clever with your marketing, ultimately transferring the message online.
By displaying pavement signs outside your premises, you will help to draw attention to your business. Many people do not look up when walking past; Therefore, having a sign within their line of vision on the pavement makes them more likely to notice you.
Many daily commuters may walk past your business, whether it is on the way to work or to drop the kids off at school. Therefore they are more likely to keep your business in mind.
Sponsorship
A great way to get your business seen by people in the real world is through sponsorships. A common myth is that you need to be of a certain size and that sponsorship deals are expensive.
Although this will be the case for businesses looking for sponsorship within large scale events with large amounts of people attending, there are many small scales and local events that your business could turn to.
You could work alongside a local community sports team to sponsor any events or matches they do. Another idea would be to sponsor a local musician on their tour.
The amount of money you contribute to exposing your business logo at an event or social media post does not have to be huge. There may also be an opportunity to exchange your goods and services for sponsorship instead of having to offer money.
When using this marketing option, it is important to consider whether the event or person being sponsored aligns with your business in terms of activity, ethos and identity.
A gym sponsoring a fitness-related event would make sense, whereas a bar sponsoring an alcohol recovery event would not. You want to make a great impression with the people seeing your branding at an event instead of creating a talking point for all the wrong reasons.
---
Interesting Related Article: "Benefits Of Using Apps For Small Business Marketing and Content Creation"