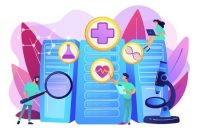 A mobile doctor could be a physician, his assistant, and even nurse practitioners who can do house calls for patients who prefer to be best checked and consulted in their houses. 
A doctor website design can highlight this option to your existing and prospective clients as more and more patients see the benefits of not having to go out for safety reasons. This portable choice is also a win on your part because you can see more patients outside your clinic. 
If you have been contemplating becoming a mobile doctor yourself, consider these tips on how you can optimize your practice and invite more patients to come to your clinic and freely book appointments for home visits.
Equip Yourself with Mobile Medical Devices
Investments in devices can be both for you and your patients. Those with illnesses that need special monitoring can highly use apps that monitor blood glucose. You, on the other hand, can use this for extensive patient records. 
Nowadays, you can utilize your smartphone for many purposes. You can use your phone as a glucometer or as an ECG monitor. You can also attach devices to your phone that allow you to use it as a mobile ultrasound. 
Many patients are relieved to connect remotely with doctors to avoid going to clinics and hospitals. There is one home device that you can suggest to your patients that they can use as a thermometer, oximeter, stethoscope, and otoscope. This means you do not have to bring in anything from outside. You can use this when you visit them at home for their peace of mind. 
Develop a Dependable Mobile System
Establishing a way to access your records wherever, whenever is possibly an essential step if you want to become an established mobile doctor. An EMR software that you can install on your smartphone will allow you to see any pertinent data of the patient you are visiting without having to carry all the paperwork. 
Another option is to find a web-based software that can get you into your files as long as you have an internet connection. You do not need to install this, but you can log in to this software and synchronize your communication with the rest of your staff so you can ask them to do anything remotely. No practice or work will stop just because you are out of the office.
Take Advantage of Digital Media to Build Interactions with Patients
You can send reminders via SMS to avoid no-shows. Not only that, this makes a big difference to patients as you can show them your intentions and care beyond what happens when they go to your clinic. Also, this is to keep up with the trend showing your patients you are moving forward with the rest of the world. 
Offer Patients Remote Medical Services
Home visits are, in fact, the very heart of perfecting mobile consultations or home visits. It takes advantage of the most advanced portable healthcare devices to still cater to needs as an outpatient or sometimes via home visits.
Many patients appreciate this, considering most of us would rather stay home or to others, who are pressed for time to go to clinics and would prefer to do anything related to their health while still at work. 
We Understand You Want to Take Care of Your Patients 
WebMD knows this by heart. We are one with your vision to make doctor appointments easier without compromising the health of your patients. Get in touch with us to learn more about how to manage your patients with our all in one practice growth solution.
---
Interesting Related Article: The Future of Telehealth and How Employers Can Benefit from It"