It's not easy standing out from the crowd. Not many places are more difficult than effectively making your business stand out in social media. Just one look at Facebook, Twitter, Instagram, Pinterest, and LinkedIn paints the picture of what you're up against.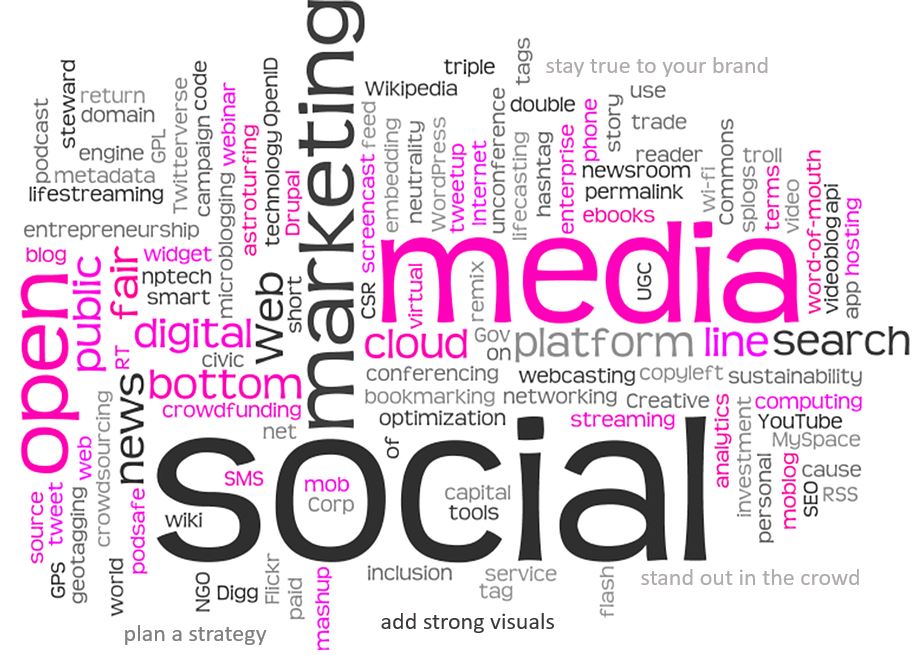 You can't ignore the obvious. Social media drives business engagement. But is it possible for your company to compete? The answer is yes. Here's how.
Stay True to Your Brand
One of the obstacles for small businesses when it comes to social media is developing a brand voice that stands out from the competition. Copying the competition at first seems logical. But, if you do that, you're making a big mistake. To attract new leads and customers means you can't look like the other guy.
If you have a company mission, let it shine in all of your social media accounts. Your brand voice should give your viewers a reason to choose you over the competition. You need a consistent voice and look to attract the right followers.
Take a look at your social media accounts. Is the overall theme the same? Or, does each account have a different color palette, profile, and header graphic? A consistent theme throughout your online presence builds user confidence and distinguishes your brand.
For example, take a look at Freeway Insurance's LinkedIn page. Notice the color palette and logo. If you go to the company website, what do you see? You see the same logo, color palette, and graphic types. The overall theme remains the same regardless of the platform. You can tell without reading a word that what you're looking at is from the same company.
You also have to remain consistent in what you post on social media and why. Remember, you have to build your online brand in a way that gives people confidence enough to place their trust in you.
Plan a Social Media Strategy
Staying true to your brand and mission requires strategic planning. Take the time to look at the big picture. Where would you like to take your company? What types of information reverberates with your followers? Create a marketing plan designed to captivate as well as promote your website and online store click-throughs.
Come up with a long-term strategy that includes events throughout the year, such as seasonal content and product launches. That's not to say you never deviate from the plan. Take advantage of breaking news and industry trends as they happen. Publishing content about the latest events gives users confidence in your business's reputation as a leader in its industry.
Choose the Right Social Media Platform
Not all social platforms fit your business. Spend the majority of time on one or two channels with users most likely to need your product or service.
For example, LinkedIn is an effective social media platform for B2B companies. But, business-to-consumer companies do better on Instagram. Local businesses thrive on Facebook.
It's important to have a presence on all the major platforms. But, spend the most time on the channels with the best fit.
Add Strong Visuals
Static images and videos attract immediate attention. Invest in a photographer, designer, graphic set, or camera to get the finest quality visuals you can afford.
Make sure your graphics match your overall brand mission but make them eye-catching enough to attract and retain followers. Devise a creative plan for using graphics. You don't want to look like your competitors. Do something different.
Videos almost always get a click. Effective videos include how-to and behind-the-scenes footage.
If you need to get the word out about statistics related to your business, use an infographic. The graphic section catches the user's eye, and the accompanying bulleted or short text sections give users a quick but authoritative read.
Visuals don't have to be expensive. Check out free and low-cost tools online to create graphics and design infographics. Most sites offer templates that make it easier to design specific graphics. Use your creations on your website and throughout your social media accounts.
Create a Community
Before you create a community of followers, you have to know your audience. Who are your customers? What do they need to know? What information about your business should you emphasize to those who don't know anything about your company or what you do? Develop a social media strategy to cover all the bases.
You also need to encourage feedback from followers. Ask questions. Respond to comments and reviews, whether they're good or bad. Always maintain a friendly, respectful manner. Let your followers see how you react when something goes wrong. Respond to questions and comments as promptly as possible.
Stand out from the crowd by keeping your vision focused, strategizing and investing time into your social media accounts.
__________________________________________________________________
Interesting related article: "What is Online Marketing?"