2020 digitalized a number of industries and healthcare was one of the first ones to embrace digital transformation. Digital software products enabled the industry to battle the increasing medical conditions owing to the pandemic. These digital products not just help in record management but also in diagnosing and treating several ailments quickly.
Today, one can find different types of software revolutionizing healthcare. Be it electronic health records, practice management software, hospital management system, medical visualization software, billing system, lab information management system, or any other type of software, healthcare is certainly embracing technology.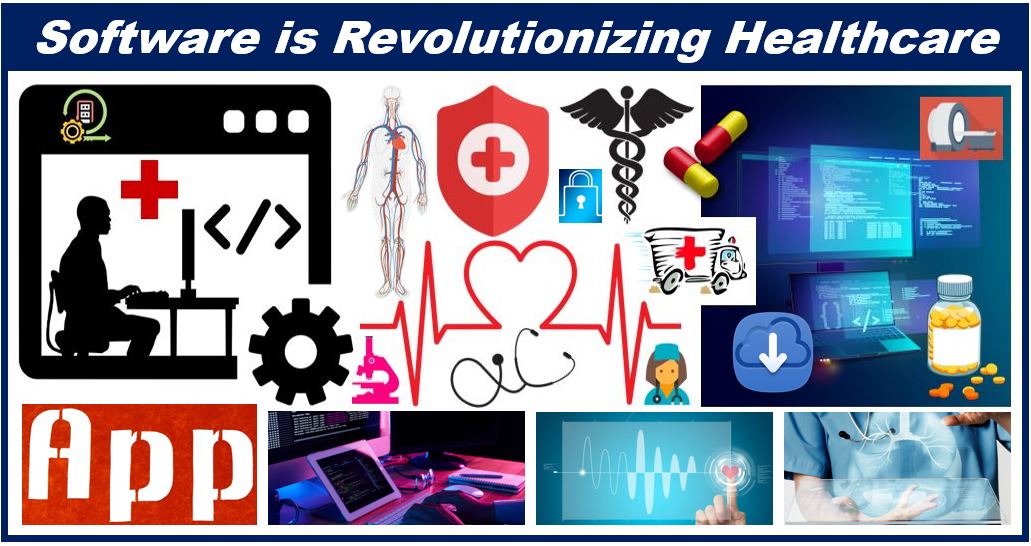 This wasn't the case a few years back. Healthcare was all about reaching out to a hospital, attendants feeding the patient data manually, doctors performing tests to diagnose, and then providing treatment. The healthcare industry pivoted as technology ushered in all walks of life. And so did the role of software products in healthcare.
How Software Products Are Changing Healthcare
There are different roles that healthcare software products are playing in the current health and Medtech scenario. While some are simplifying tasks, other advanced healthcare products are supporting in providing care and value to the process. They are taking care of a majority of the operations like:
Maintaining workflow in the healthcare institute, keeping medical records, accounting activities, setting appointments, etc.
E-prescribing allows healthcare institutes to directly send the prescription to pharmacies and get the same delivered to patients.
Recording of a patient's medical history and fetching data from universal data servers to know the patient history before initiating any procedure.
Offering urgent aid is another way in which software products are changing healthcare. Now, patients can find teleconsultation without any need for visiting the doctor's office.
Diagnosing a disease can be done by diagnostics tools present in sensors and wearable devices to help patients self-diagnose and find help quickly while taking the load off of the healthcare system's shoulders.
Detecting error or compliance to the set guidelines in treatment is another future-centric approach that healthcare will soon be taking.
Billing, settling insurance claims, are also another aspect of healthcare that can be completely taken care of by software now.
Such software tools are enabling doctors and others in the healthcare professions to offer care instead of spending time being immersed in the patient records, papers, bills, etc. Not only will it help in managing patient data but also ensure value care is given to patients.
Inclination Toward SaaS Healthcare Products
There are different software products that are enabling telehealth and simplifying healthcare. A number of ways healthcare professionals are turning to technology to change the way they offer care to patients. Significant importance should be given to software as a service (SaaS) in healthcare. While several are building digital products for their healthcare systems, others are turning to SaaS products as an affordable alternative.
There are smart AI solutions with artificial intelligence integrated into that will enable healthcare to become autonomous and self-learning. Not just AI, another shift that we will see in SaaS healthcare software products in 2021 would be towards security. The major challenge holding healthcare to shift to SaaS products has been cyber threats to patient records and data. A security model would be adopted to track everything.
Medical Software Enabling Diagnosis
What was unimaginable in healthcare is becoming a reality today. There are software products that are able to diagnose diseases that took days to diagnose. Doctors and even patients can perform differential diagnoses with just a few clicks. They can enter the symptoms, organs, previous conditions, etc., to find the disease.
There are several software products that can easily process and analyze the test reports to diagnose the disease in a patient. Moreover, there are software solutions that can assess the patient's medical history, current levels in the body to warn of any upcoming medical ailment. The data-driven decisions are even enabling healthcare professionals to diagnose faster and better, without inaccuracies.
MedTech is evolving and providing doctors with a huge dataset to yield useful information. In fact, there are software products that can now read images and see any abnormalities in the system and diagnose issues instantly.
Telemedicine To Plug The Gap Between Patient & Doctor
The pandemic led to lockdowns and patients were unable to reach out to hospitals to get care and treatment. This is where software products come to help. New smartphone apps were launched that connected patients with physicians closely.
One could now sit at home and be safe while getting teleconsultation. The traditional barrier of distance was eliminated with telemedicine software. Telehealth became popular and enabled doctors to provide care to patients via teleconsultation.
VR Software To Improve Healthcare
There is a pressing need in the healthcare industry to improve care. The development of software with virtual reality is enabling healthcare providers to improve care. Such software products are empowering different aspects of healthcare. Some of these are:
Simulations: creating real-life-like experiences to understand medical conditions and complex surgeries.
Medical training: The traditional form for medical training has now paved the way for VR training. It boosts accuracy, speed, and quality of care provided.
Pain management: An immersive experience can help manage pain. Moreover, VR software with playful games for exercises makes recovery more fun and easier for patients.
No More Technophobia In Healthcare In Future
In 'The health plan for tomorrow' Deloitte suggests different trends that software products or digital transformation will see. It states that the adoption of ubiquitous technologies like wearables and sensors will become increasingly popular. The data stored in these devices would help healthcare professionals monitor health and analyze the implications of health data.
Software products with the latest technologies like edge computing, artificial intelligence, blockchain technology, data analytics, etc., will further assist in healthcare digital transformation.
No doubt, the traditional healthcare structure is shambling and being reconstructed into a more digitally-powered system. This system is fueled by the latest tech, making healthcare more accessible, quicker, easier, and affordable to all.
About The Author
Tanya Kumari leads the Digital Marketing & Content for Classic Informatics, a global web and custom software development company. She is an avid reader, music lover and a technology enthusiast who likes to be up to date with all the latest advancements happening in the techno world. When she is not working on her latest article on tech dynamics, you can find her by the coffee machine, briefing co-workers on the perks of living a healthy lifestyle and how to achieve it.
---
Interesting related article: "What is Software?"