Most small business owners know about the necessity of a proper approach to planning and sharing data within the company. The right working environment, organization, and business planning can save a huge amount of money and time. Using a DaaS as your IT infrastructure is an affordable solution for a small business.
Implementing a thriving and secure remote work environment will add value to your business.  Thus, you need a daily set of quality apps and services. Whether we're talking about regular task schedulers, CRMs, time management tools, or a whole range of services like Google Workspace (G-Suite) to handle any work tasks via a single interface.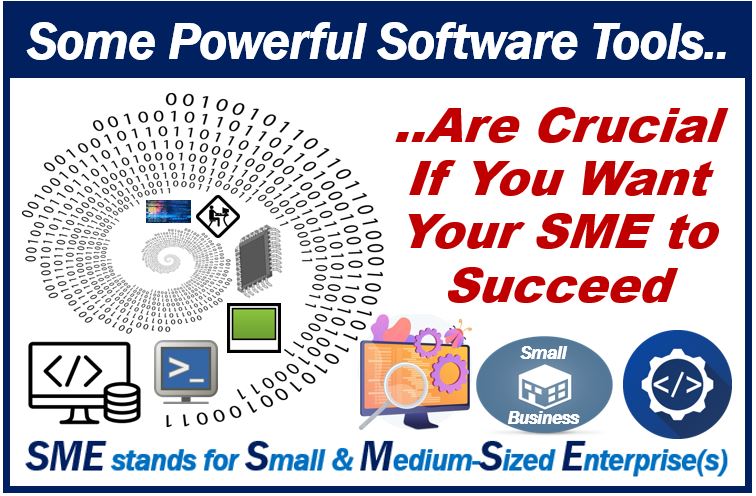 Today, we'll take a look at some of the most useful organizational, management, and planning tools for small businesses. Many of them have a free version, so you can test most of them to see if they match your goals. As your business grows, you can purchase paid packages to gain access to exclusive premium features. When considering new tools, take time to think about your current business practices.
With that said, let's take a look at all the tools in categories, which will make working on business tasks much easier. Read on to get your insights!
Working with Customers
Keap offers a platform for organizing marketing and email newsletters. The company helps small businesses personalize their services and products, optimizing the entire customer lifecycle. It provides data about each customer in one place to track task status, sales opportunities, and email campaign results.
Zendesk creates a platform for customer service and interaction. It organizes customer service via phone, email, social media, and other channels. The service helps improve customer service so businesses can grow and expand faster.
Indy allows subscribers to organize day-to-day tasks, track time, send out contracts and invoices, and manage multiple projects, enabling small businesses to get productivity services at an affordable cost. This tool helps to keep track of tasks for multiple projects by assigning filters or moving tasks from one project to another. Indy also allows you to track hours worked on specific tasks, which can easily be added to invoices before billing. The deadline and reminders feature will ensure you deliver your work on time.

Pricing
Indy's Free plan gives you unlimited access to all the basic tools you need to manage your business.
Subscription: $12 per month for Indy Pro Bundle and paid yearly costs $9 per month.
Salesforce integrates customer information into a single, integrated platform that helps build a customer-centric business, offering cloud-based solutions for sales, service, and business promotion.
Iterable creates a platform for integrating disparate communication channels into a single system. The service uses artificial intelligence to analyze each user's digital footprint to select the best time, channel, and frequency to communicate. The platform also considers behavioral and demographic information about each customer.
HubSpot offers a suite of inbound marketing tools that automate routine tasks. The service organizes and tracks customer relationships offers analytics on communication channels, and automates email and appointment scheduling. You can embed a HubSpot form into a smart rich text module, newsletters, websites, or social media.
SignalHire helps to find everyone's contact information on the web (email address, phone number, social media profiles, etc.). This tool is a great solution for small businesses that want to personalize their marketing efforts and therefore bring their business to the next level.
Insightly is an account manager that also boasts many project management features. Additional features in the app help make it versatile for smaller companies.
You can categorize contacts with tags, integrate their social media profiles, and manage potential clients. Moreover, it also allows to creation of tasks for team members, tracking their statuses, connecting to any application, modeling and automating business processes, finding/managing leads, and creating email reminders. 
Other cool features include Calendar and Events, Address Book, Notes and Comments, Quick Search, Customizable Fields and Filters, File Sharing (to keep related records together and accessible), Forms for Contacts, Tags for Keywords (as well as for contacts and projects), Notification and Subscription System, Bulk Emailing of Contacts with MailChimp integration. 
There is a free basic version, with prices ranging from $29 to $99 per user/year. Namely the Plus package will cost you $29 per user/month, Professional is $49 per user/month, and Enterprise costs $99 per user/month. All packages are billed annually.
Scalefusion MDM solution for small businesses is crucial to get the most out of mobility, as they provide positive returns on investment. An MDM solution that manages mobility in a small business is suitable if it has the capability and features that are simple to use, dynamic, and can be customized to meet the business's specific needs. IT admins in SMBs will benefit greatly from MDM products that are easy to use and rely on dependable support.
Reply.io allows you to streamline your communication with prospective customers across emails, calls, LinkedIn, SMS, and Whatsapp messages. This helps businesses easily engage prospects at scale while making the conversations feel warm and personal. Some extra perks include LinkedIn Email Finder, an AI-powered email writing assistant, a built-in email verifier, in-depth reporting, and team collaboration capabilities.
MailTracker is a simple yet powerful tool built by Hunter that allows you to know when your email is opened, how many times, and where the email was opened. This is a free tool that can be used with Gmail and installed via a Google Chrome extension.
Planable is the command center for social media teams. The wow factor? Their feed view feature allows you to preview your social media posts as though they were live. Bye-bye test pages, mockups, and other spreadsheets that were never designed for social media.
With Planable, everybody is on the same page. Literally. Collaboration happens right next to each post. The only place it actually makes sense. Invite all your stakeholders, but give them specific permissions. Then, let them approve the beautiful content you're creating. 
SendX is an Intuitive, Affordable and feature-rich Email Marketing Software for marketers & business owners. SendX prides itself on enabling marketers with one of the simplest UIs in the industry. SendX provides unlimited email sends with every plan, powerful automation capabilities, best of best-of-breed email deliverability. 3000+ companies worldwide trust SendX for their Email Marketing. **Start with a 14-day free trial (no credit card required). **Pricing starts at $7.49/month.
Project Management
FunctionFox offers tools to track projects from concept to implementation. The service reduces time spent on administrative tasks, allowing time for creativity and increasing productivity. The platform helps keep track of time and to-do lists in one place.
Asana is another workflow management application. Asana takes a slightly different approach when compared to Trello https://trello.com/. Instead of visual cards, Asana uses a task list. The basic idea behind the app is a systematic approach to managing your tasks that will increase the productivity of your entire team.
Asana allows you to keep all projects, tasks, reports, etc., in one place so that all team members can get access and keep track of them. This way nothing gets lost, and everyone is on the same page. You can also communicate directly with your team members within any task. Plus, in any task, you can attach elements as needed, including images, text documents, Dropbox folders, and more.
Asana's collaboration toolkit gives you what other team collaboration apps don't – complete clarity and accountability in your company. Like Trello, you can use Asana on both your PC and mobile devices using its basic free version or any of the paid plans.
Pricing:

Premium plan costs $10.99/year or $13.49/month per user;

Business plan costs $24.99/year or $30.49/month per user;

Large companies will have to negotiate individually.
Tallyfy monitors all business processes in a company and helps automate daily routine tasks. The system also keeps track of recurring processes, and expenses, helps plan events, and answers user questions, etc. Tallyfy makes work clear and transparent.
Process Street is a simple and free tool for controlling repetitive tasks in a team. The app helps create work tasks, control lists, and track various processes.
Evernote is an advanced workspace that can be used to increase the productivity of any user. Some people use the service only to keep their personal files and projects, and some immerse all of their business records in the system.
Evernote allows you to create any notes, to-do lists, entire studies, and tables. You can then share all of this information with other devices and users. You can also copy articles, collect snapshots, store handwritten notes, create screenshots of documents, and scan and send them to colleagues or friends. 
You can even use Evernote to create corporate instructions, plans, shared notebooks, and collaborative projects. Plus, sorting and searching through the entire database is always available to keep things in order. Evernote works on almost all systems and in all browsers.
Digital Adoption Software
Apty is the modern Digital Adoption Platform that helps enterprises in faster onboarding, training, and product adoption. Apty's interactive software walkthroughs help you engage your employees, increase employee performance, and ensure faster RoI. With the help of Apty's validations, tooltips, and in-app announcements you can ensure process compliance. 
Automating Reports
QuickBooks. If your small business is like many others, you should get to know QuickBooks. QuickBooks Online has many features, including a familiar, easy-to-navigate interface and integration with many other services. You can send bills, view account balances, and connect with many other services, including PayPal.
The basic version (Simple Start) usually costs $16 per month. It includes account activity and bank integration. The more expensive versions cost from $25 (Essentials) to $34 (Plus) per month and include advanced features like Insights and Reports (bill payment planning), Purchase Order Management, Employee Management, Multi-Currency, Recurring Transactions, Budget Management, Projects, and Location Tracking, and Inventory Tracking.
SaasAnt PayTraQer
For those navigating the complexities of e-commerce finances, SaasAnt emerges as a beacon of clarity. With its ability to Integrate e-commerce platforms with QuickBooks, SaasAnt bridges the gap between e-commerce platforms like Amazon or Shopify and accounting software like QuickBooks and Xero. It's an essential tool for those seeking an easy way to track e-commerce sales and consolidate financial data efficiently.
Expensify has created a system that makes it easy to work with expense reports. The app helps you upload and retrieve receipts and then creates an automated report. It also allows finance departments to approve and export reports.
PandaDoc tracks sales documentation and helps companies close deals faster. The service controls document management processes with the help of automation and analytics, providing full document lifecycle management.
FreshBooks makes financial management a no-brainer and is a great QuickBooks alternative. The platform is designed with small teams in mind. It helps you track external and internal fund movements and get detailed information on accounts.
Working Time Management
RescueTime. If you know that you or your team is spending too much time on social media or online stores, RescueTime can fix it. The app tracks where you spend your time, including apps and websites, allowing you to set productivity goals and improve them. Top RescueTime features include Activity and Task Tracking, Goal Setting, and Detailed Report Generation. 
The premium version even lets you block certain websites, track offline activity, or set notifications (for example, if you spend too much time on something).
The basic version is free, while the Premium one will cost you about $6 a month. RescueTime is available for Mac, Windows, Linux, iOS, and Android.
Website & App Building
Ucraft helps you create personal websites. The service also has an app for creating logos. The peculiarity of the project is that you can add your own domain name in the free version.
Carrd organizes work with single-page sites. The service offers dozens of free templates. Most forms such as Contact, Sign Up, Custom, and Payment-enabled are available only in the paid version. You can also get access to custom domains, more websites, widgets/embeds, Google Analytics, and remove Card branding. Go Pro starts from $19/year.
Swiftic offers a wide range of templates for creating mobile apps – e.g. loyalty cards, e-commerce, event management. Seven different templates can be combined with six navigation styles – add your own colors, background images, and icons.
Appy Pie offers a platform for creating mobile web apps. You can add chatbots, AI (Artificial Intelligence), VR (Virtual Reality), or IoT (Internet of Things) technology to your project. In addition, you can add inline shopping, connect databases, or create a dating app.
Bubble is a powerful visual environment for creating web apps. The platform fully customizes the interface without any code writing. The project team emphasizes that it can be used by users who have no programming skills.
Launchaco helps startups create simple websites. The free version has integration with Google Analytics, unlimited Launchaco websites, hosting on a Launchaco subdomain, and automatic HTTPS. Premium plan costs $50/year and will let you download websites, host with your own URL, etc. Plus, with Premium, you can also remove Launchaco branding.
Business Planning
One really useful app for creating a business plan deserves special attention. 
Every business needs a plan that acts as a roadmap to success. In the past, business plans were large, labor-intensive documents that were written by hand. They made it quite difficult to find information, which often led to mistakes. Sometimes, teams couldn't implement their plans because of time constraints, which was a major barrier to business operations and productivity. It also led to delays in making business decisions.
And that's where business plan software comes into play.
Today, business planning tools create highly professional plans and make it easy to enter financial, operational, and strategic information. They act as a centralized storage facility for all business-related content, helping companies extract actionable insights and demonstrate results that positively impact customers and shareholders alike. With that said, let's take a look at some of the best solutions available on the Web.
LivePlan is a business planning platform for small businesses that helps you track your working progress. It comes with more than 500 free and detailed business plan templates to encourage the user to get to work. With LivePlan, you visualize your complete project and get step-by-step instructions with built-in examples. If you are looking for a cost-effective ($15/month) and easy-to-use business planner, LivePlan can become your best option.
Expect an all-in-one business plan for small and new businesses that you can use to explain business opportunities to your clients. Plus, you can also make changes and updates at any time to keep it accurate.
Other features include the following:
Building financial projections and reports;

Formatting metrics according to SBA standards;

Team collaboration;

Industry benchmarks (reference points) to understand your competitors' positions;
In addition, LivePlan's automated financial reports and presentations allow you to transform a one-page plan into a detailed plan. In addition, financial services provide an estimate of your economic performance forecast over the next five years.
Key Features:
Business Model Canvas

lets you project your business model onto a single page. You can document your business idea in about 30 minutes to share with your investors and partners;

Cash Flow Forecasting

automatically imports accounting data from your business to create a forecast. You just need to follow a few simple steps. Moreover, you can also sync it with QuickBooks and

Xero

(accounting software).

Milestone Scheduling

lets you schedule critical business tasks and milestones on your dashboard. LivePlan will send you automatic reminders whenever an event is about to happen.
LivePlan Pros:
500 free sample business plans;

Step-by-step instructions;

Quick blank fill-in process;

Automated financial projections;

Visual forecast tools for your sales plan;

Money-back guarantee (60 days);

10 business plan themes optimized for financing;

Business dashboard to track metrics like cost/expense, segmented revenue, net income, operating margin, etc.;

Enables sustainable collaboration with easy-to-manage permissions and global access;

Allows you to work with multiple active plans simultaneously;

Enables bank-level data security.
Pricing:
Annual: $15 per month;

6-Months: $18/month;

Play As You Go: $20/month.
Each plan includes features such as automatic financial reports, more than 500 sample plans, forecast tools, a customizable plan builder, performance dashboards, and more. Although there is no free trial, you get a 60-day money-back guarantee.
Creating a business plan is essential to future business growth and convincing creditors and customers to invest in your business. Fortunately, the right business plan software can help you create a business plan to meet your exact needs.
Besides Live Plan, you can also try high-quality alternatives like PlanGuru and Bizplan.
Conclusion
In the end, any of the above-mentioned tools for small businesses can be useful for streamlining your daily business processes. Plus, most of them are free (or at least have free trial periods), there's nothing wrong with installing and testing them to decide if they're right for your business.
We highly recommend that you review all of the tools along with their key features to make your final decision. Good luck with your business organization and growth!
---
Interesting Related Article: "What You Should Know About Management Software?"