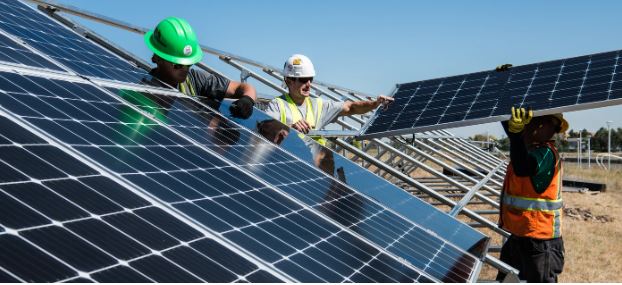 Recently, there have been endless discussions concerning solar energy. The likes of Warren Buffet, renowned investors, have not been left behind on these discussions. They claim that it's a significant sector with promising returns. The fact that you are reading this means that you are giving the idea about solar energy a second thought, but you aren't sure of the benefits it brings along.
Without saying much, here are the many reasons why you shouldn't hesitate to go ahead with the idea. 
Saves You Money
Currently, the economy has continued to skyrocket. The unfortunate thing is that people's income has remained the same. As a result, most individuals out there are left struggling to try to make ends meet. Talk of the endless bills that have to be met. The fantastic thing is that the use of solar energy can see these monthly bills slashed down.
These tools use energy from the sun, which is free. Therefore, when adding a solar panel to your home, you will no longer have to worry about the high energy bills that hit you mail every month. Besides, solar panels can be used alongside electricity, for example. These setups are recommended in a case where you have got high-consuming gadgets within the house.
It's Dependable
In the modern world where we are used to electricity, it can be challenging to survive without the supply. You need the power to run almost every gadget within your house. The good thing about adding a solar panel on your roof is that it's dependable. With the right panel, you don't have to worry about spending a night in the dark. Today's panels are advanced and collect enough energy that you may need to run your gears.
It Saves the Environment
Thanks to the power of the internet, today, you can find loads of info about anything that ever existed. Besides, your basic science knowledge should remind you that this useful resource plays a significant role when it comes to protecting the environment. Apart from safety, sustainability, and cost-saving, a solar panel helps decrease the level of carbon emissions.
According to solar energy specialists, these units don't release any harmful substances to the environment during their operations. These specialists go-ahead to insist that a single panel counterbalances 178 tons of carbon dioxide for 30 years. This can be compared to 10 football fields filled with trees.
Increases The Value of Your Home
On one occasion or another, you may need to sell your home. Often, the idea of selling a home usually comes when you are looking to move into a new house. It's every homeowner's wish to have the sale earn him or her profits.
Over the internet, you will often find tricks on how to raise the value of your home. Some of the methods are usually easy to accomplish while others require an investment. The addition of a solar panel is one of the most forgotten remedies. It's advisable to acknowledge that today, almost every home buyer is looking for an energy-efficient home.
Based on the ever-growing energy bills, the move is understandable. It's for such reasons that you are always advised to add a solar panel to your house for the sake of long-term investment. Even the local realtors will boldly tell you that a home with solar panels is likely to get off the market quickly as compared to one without.
Solar Incentives
Everyone around the world is going green. It's another reason that you ought to consider adding a solar panel to your roof. The fantastic thing about adding solar panels is that they are quite easy and affordable to buy in the first place.
You must understand that all governments have been at the forefront of the move to save the environment. Therefore, when it comes to buying solar panels, there are usually incentives in terms of federal tax credits. The government takes care of a certain percentage of the installation costs, thus making the whole system more affordable for everyone.
Easy to Add
As compared to the energy from electricity, the installation of solar panels is quite easy to add. The fact that most homes need small panels means that you can have them installed by yourself if you are a DIY kind of person. However, if you are opting to add the high-end panels, it's recommended that you involve the services of a professional. Most professionals dealing with the supply of the panels can quickly have it added to your roof.
One good thing about involving a pro is that he or she can assist you in accessing your home and coming up with a working plan. The good thing about having a proper plan is that it ensures you get the right tool to get the job done. Besides, with a professional, you are assured that the panel will be set in a location where it can tap a maximum amount of energy during the day.
There have been a lot of arguments concerning the use of solar panels within a home. If you are looking forward to adding this powerful tool in your home, this article explains the many benefits you will enjoy. Read through the article to understand why you shouldn't hesitate to follow up on the idea.
__________________________________________________________
Interesting related article: "What is Renewable Energy?"