Back in 2010, Steve Jobs announced that Apple would soon unveil a tablet that would revolutionise the world of computing. The iPhones in 2010 were pocket-sized, and it made sense for Apple to launch a separate line of large-screen devices, which could be used to work on the go. Since then, iPads have come a long way. For instance, the first-ever iPad launched in 2010 did not come with any cameras. However, the second generation of iPads housed both front and rear cameras. The third-generation iPads came with Retina displays, while the fourth generation iPads also came in 'Mini' avatars.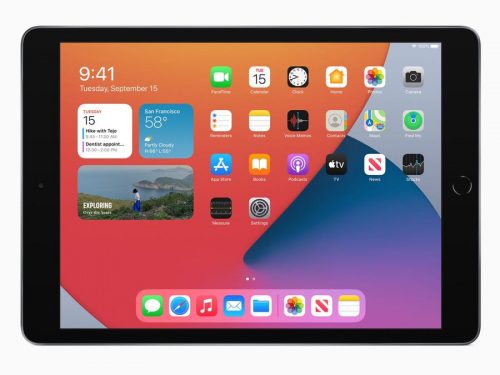 Today's iPads are far more sophisticated than the earlier versions, and are powerful devices. The latest iPad models use Apple's A14 Bionic chipset, and come with impressive attributes such as Face ID and ProMotion display. Furthermore, you can also purchase the Magic Keyboard to convert iPads into laptops when required. Given Apple's penchant for innovation, and its key attention to detail, you can be assured of getting the best bang for your buck with the latest iPad models.
If you're currently thinking about investing in a new tablet, here are the top five iPad models you can consider.
iPad Pro 12.9-inch (2021)
When it comes to sheer power, the latest iPad Pro 12.9-inch model easily outperforms every other iPad (Apple) or tablet from other brands. This iPad houses the Apple M1 CPU, which is found in high-end Apple MacBook Pro and MacBook Air models. This ensures that the iPad can execute compute-intensive tasks with ease. The model comes with up to a whopping 2TB internal storage, which is more than adequate to store all of your files and documents without ever worrying about storage capacity. However, as one would imagine, it is quite expensive, and the tablet price is more than Rs. 1,50,000!
iPad 10.2-inch (2020)
One of the more affordable models is the iPad 10.2-inch (2020), which is powered by the Apple A12 Bionic chipset. The processor ensures that all the tasks are executed with minimal fuss. Furthermore, the tablet's 3GB RAM and 64GB/128GB ROM ensures that the device runs smoothly without any lags or jitters, regardless of the app you are using. With up to 10 hours of battery life, you can bank on the iPad for crunch work, and carry it around wherever you go.
iPad Air 4 (2020)
If you cannot afford the iPad Pro, you can go for the iPad Air 4 instead, which packs a lot of power, but is a lot cheaper than the iPad Pro models. It also flaunts a 10.9-inch display with a resolution of 1640 x 2360 pixels, offering an immersive visual experience. The device is powered by the Apple A14 Bionic chipset, which is one of the most powerful processors available today. Additionally, the internal storage goes up to 256GB, but you can purchase the base variant which comes with 64GB ROM. With a 12MP rear camera and a 7MP front camera, you can also click decent images, or FaceTime with your friends and family.
iPad Mini (2019)
iPad Mini (2019) model is yet another cost-effective option, as it is available for around Rs. 30,000, which is a decent proposition given the brand and the tablet's attributes. It sports a 7.9-inch display with a resolution of 1536 x 2048 pixels, and allows you to watch your favourite content or play your favourite games with ease. The tablet is powered by the A12 Bionic processor that delivers a seamless and ultra-smooth performance. Furthermore, the device houses a 5,124mAh battery, which assures you of the tablet's long-lasting performance.
iPad Air 3 (2019)
Another powerful tablet that was released in 2019 is the iPad Air 3. It uses the Apple A12 Bionic chipset, taken from the iPhone XS. This ensures that you can easily edit videos, take down notes, or watch your favourite content without facing any issues. Furthermore, the tablet sports a 10.5-inch display with a screen resolution of 1668 x 2224 pixels, and the device dispenses images that are vibrant and immersive. Similar to the other models, the base variant comes with 64GB internal storage, while the maximum ROM in the high-end variant is 256GB. You can purchase the model that caters to your requirements, without compromising on the storage capacity.
Thus, depending on your budget and requirement, you can select an iPad  from the list. You can shop for your favourite iPad models at the Bajaj Finserv EMI Store, and avail exciting deals and discounts. Additionally, by using the Bajaj Finserv EMI Network Card, you can buy the tablet and pay for it in monthly instalments. With flexible tenors ranging from 3 months to 24 months, you can pay for the device in bite-sized instalments without fretting about the tablet price.
---
Interesting Related Article: "Apple unveils new 4-inch iPhone and smaller iPad Pro"