The Covid-19 pandemic is set to have consequences in a number of areas, with many sports having already been postponed, rescheduled or even cancelled. While some organisations have the security and financial backing required to survive such changes, others are not so fortunate, with sports apps being among those set to potentially meet their fate. With that being said, let's take a closer look at the impact of the coronavirus, as well as which sports apps may come into difficulty.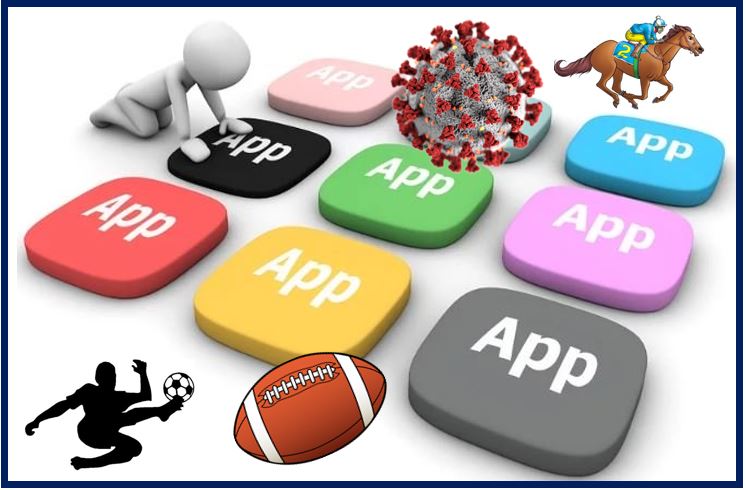 New sports apps – betting
Sports betting apps that do not have the backing of a casino brand behind them may well find it difficult to recover, with almost all major events having been indefinitely postponed, while some have been cancelled completely.
The future of the 19/20 Premier League season remains up in the air, while Wimbledon has been cancelled for the first time since World War II and the Tokyo Olympic Games rescheduled for the summer of 2021. The absence of such events means that those who have signed up on new betting apps have little to stake funds on, with even established bookmakers struggling to quantify just how the Covid-19 pandemic will effect them.
Flutter Entertainment, which powers leading bookies Paddy Power and Betfair, has predicted £100 million loss in total revenue as a result of cancelled sporting events, while Ladbrokes is anticipating a decline of as much as £150 million, demonstrating just why new sports apps face huge difficulties.
Casino apps may suffer too
Meanwhile, with bigger limitations looming, as the British Government looks to impose stricter regulations surrounding gambling while Covid-19 is still a significant threat, it could well be that even casino apps feel the pinch.
The fact that over 50% of William Hill's annual revenue comes from sports betting also helps to demonstrate just why new and smaller sports apps will struggle during this period, with Covid-19 set to be a hit for the betting industry in general.
While the Virtual Grand National attracted a good amount of interest from punters when it was staged on the same day as the real-life race, with over £2 million being raised for the NHS in the process, this will have done little for sports betting apps, which are normally inundated on such occasions.
The sports industry
It is not just betting related sports apps that will be effected unfortunately, with live score, news and fantasy gaming platforms also set to take a significant hit. The sports industry is big business today, with many new company's having invested heavily of late in order to get their slice of the pie.
However, those new to the market will undoubtedly struggle to stay afloat, with the use of mobile sports apps having decreased significantly. While dating, cooking and fitness apps are thriving, the situation for new sports apps is quite the opposite.
It remains to be seen as to when things will get back to normal in regard to coronavirus, however this period of uncertainty is certain to have a major impact on many businesses, including sports apps, both new and old. While the demand for sports is as great as ever, continued cancellations and postponements will only make the situation worse, with it set to be months, not weeks, before professional events return to our screens.
_____________________________________________________
Interesting related article: "What is an application?"