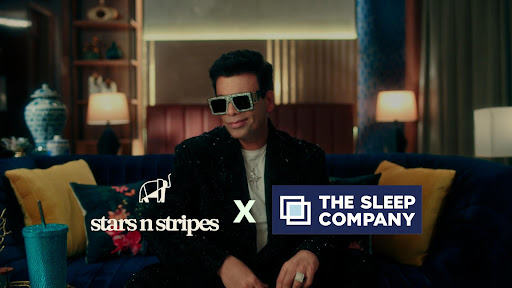 Stars N Stripes, a renowned Creative Agency has joined hands with The Sleep Company (TSC) to unveil TSC's latest innovation, the Elev8 Smart Recliner Bed with SmartGRID mattress. This exciting collaboration introduces a new era of comfort and convenience in the realm of sleep technology.
In a captivating video that showcases the perfect synergy between luxury and innovation, Bollywood luminary Karan Johar is seen experiencing the Elev8 Smart Recliner Bed with the SmartGRID mattress, providing viewers with a glimpse into the future of sleep. The video, not only highlights the product's cutting-edge features but also captures the essence of relaxation and rejuvenation.
Stars N Stripes, with its unique vision and creative prowess, led the conceptualization and creation of the video, skilfully showcasing how TSC's Elev8 Smart Recliner Bed and SmartGRID mattress transform the sleep experience. 
Kunal Gavankar, Co-Founder & Chief Creative Officer of Stars N Stripes, expressed his enthusiasm about the collaboration, stating, "Our partnership with The Sleep Company underscores our dedication to promoting cutting-edge technology through innovative visual films that enhances the quality of life. The Elev8 Smart Recliner Bed with SmartGRID mattress is a game-changer in the world of sleep, and we are proud to have played a part in bringing this innovation to the forefront."
The Elev8 Smart Recliner Bed with SmartGRID mattress represents a remarkable fusion of technology and comfort, offering adjustable positions, soothing massages, and advanced sleep tracking capabilities. With this collaboration, Stars N Stripes and The Sleep Company aim to inform and educate consumers about the possibilities that modern sleep technology can bring to their lives.