The United Arab Emirates is situated in the Arabian Peninsula next to the Sultanate of Oman and the Kingdom of Saudi Arabia. The country has state-of-the-art infrastructure with seaports, airports, excellent road connectivity to nearby countries for ease of doing business cost-effectively. It is a vibrant economy and has a great banking system, perfect to start a business.
Most of the population speaks the English language, and more than 93% are expatriate population from more than 155 countries working and doing business in UAE.
How to Start a Business Company in the United Arab Emirates
The United Arab Emirates has 43 free zones that accommodate to do business for all industries, whether it is trading, commercial, manufacturing, technology, services. It is part of the Gulf Co-operation Council which comprises of Kingdom of Saudi Arabia, the Sultanate of Oman, the Kingdom of Bahrain, Kuwait, and Qatar.
Availability of Activities to Set Up a Business Company in UAE:
As per with the introduction of the 100% foreign ownership law, foreign nationals can now think about a business setup in Dubai with a UAE national act as a sponsor. This new company set up in Dubai does include specific industries, including:
Insurance
Commercial agency and trading activities
Professional and service license activities
Road and air transport
Road and air transport
Fishing and related services
Oil exploration and production
Pilgrimage and Umrah services
Banking and financing activities
Medical retail (including pharmacies)
Blood banks, quarantines, poison/venom banks
Telecommunication, Post, and other audiovisual services
Certain recruitment activities water and electricity provision
The investigation, military (including manufacturing of military weapons, dress, security, explosives, and equipment).
Note: Here, you can see the Best Free Zone in UAE for starting your business.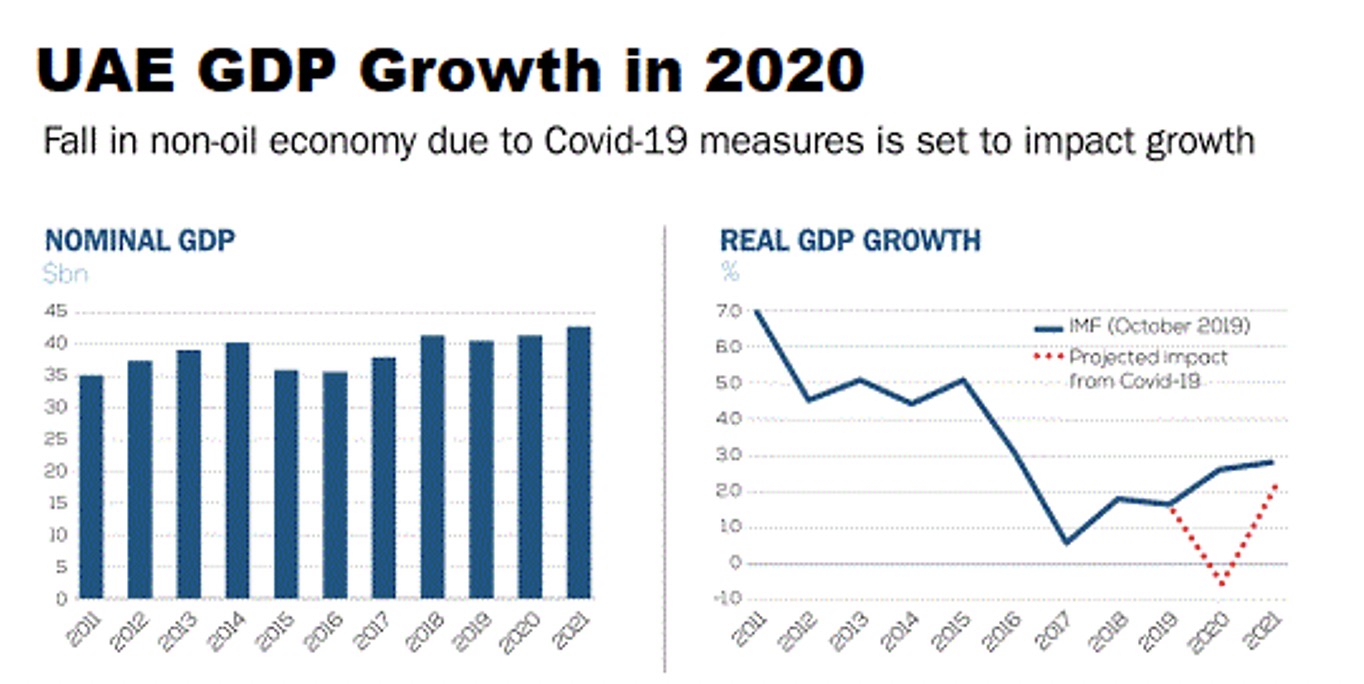 Even though Covid-19 impacted the downward growth trend in the UAE, the country has bounced back despite global downward cues seen in the past. Because of world-class infrastructure, excellent leadership, benefits of time zone, and economic nature.
Cost of Starting a Business Company in UAE
As you can expect, starting a business requires a substantial upfront investment that will go towards office space, license fees, worker visas, and so on. This cost will also differ based on the actual type of business you would like to start (commercial, industrial, service) and the sort of legal formation you'll be creating (establishment, company, branch, etc.).
How much capital you need for a company in UAE also varies depending on the form of business- for instance, minimum initial capital starts from AED 10,000 – AED 150,000 for small and medium-sized companies. For larger companies, PJSCs need AED 30M. In contrast, PrJSCs need AED 5M paid in full.  The UAE has two stock exchanges, Dubai Financial Market in Dubai and Abi Dhabi Global Market in Abu Dhabi.
There is absolutely no legal requirement for minimum capital for different types of Company, but whatever this capital is it needs to be mentioned in the Memorandum of Association and be deemed adequate' to meet up with the business's objective. Here you can get direction and business set-up services.
Direction to Start a Business Company in UAE
The first thing you will have to do is, of course, decide what your business is and which sort of license it requires. Currently, the Dubai Economic Development Authority (DED) has over 3,000 business license types of activities available, split across tourism, industrial, commercial, and professional. Depending on the type of business you choose, you might take a different set of approvals.
The next step is to ascertain what sort of legal entity (legal form) you intend to set up (such as LLCs, branches, Sole Establishment, Etc.). However, based on your type of business, the sort of legal entity you set up might differ.
Once you've decided on the above, it is time to decide on your trade name and to apply to register it. It can be done via a lawyer, a DED service center, Happiness Centres, and the Business in Dubai app. Keep in mind; you will have to be sure that your proposed name follows the guidelines, such as being connected to your license type.
Next, you will need to make an application for initial approval from the DED. If you intend to put together a company dealing with commodities, securities, or legal services, you may require additional consent.
Following approval, you'll need to approach an authorized entity (like the DED or a law firm) to draft your business' MoA and then register your LSA or Corporate Agent agreements. Once more, these requirements are determined by the legal form of your business.
It's now time to find an office area in Dubai as all companies in town need an actual physical address. To enroll for Ejari on the internet, you will require your initial approval certificate along with your tenancy agreement and other documents. Only once you obtain this attested Ejari document can you go ahead with obtaining your actual business trade license?
Based on the kind of business you are setting up (as an example, a business type out of the management of the DED), you might have to apply for additional licenses from your company type's governing body.
Now, all you have to do is submit all of your files into the DED or Happiness Lounge, and you can get to work running your very own business!
Remember to inform yourself well and learn as much as you can about the process. If you have doubts, you can always rely on experts that can help in this matter. In the UAE there are many companies, such as www.alphaequitymc.com, that can help you out.
---
Interesting Related Article: "Reasons Why You Should Start a Business This New Year"