Starting our own business is a dream of our lives. When it is an IT start-up, and it means that your company uses Information Technology as a path to reach your business goals. So literally an IT business is a process of using technology to get a business in an advanced way.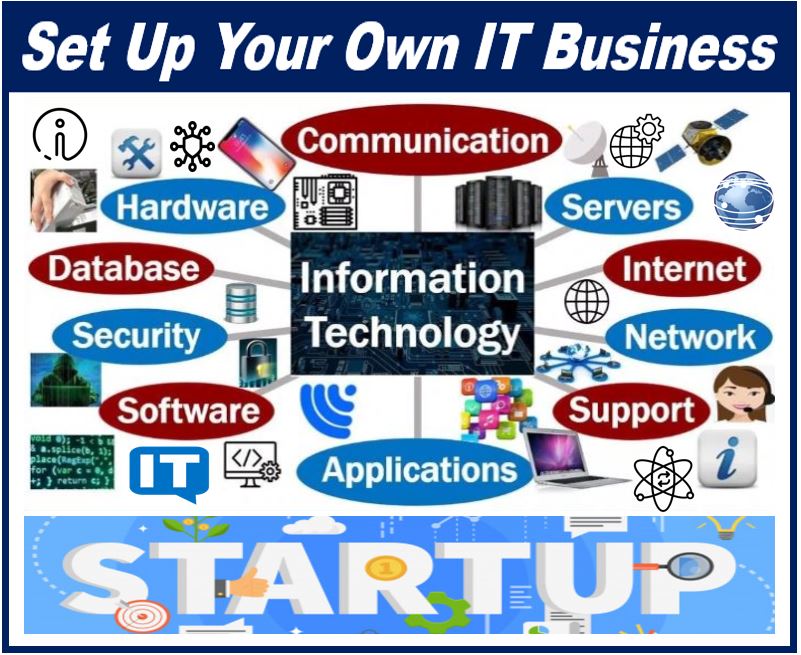 In an IT business, it achieves business goals and reaches for the current market competitiveness successfully. If you intend to use an IT start-up, you must keep remembering that your central platform should be Information Technology. Your business has to be transferred within an IT frame to make it an Information Technology Business.
How to start up your own IT business
Most modern businesses are running through an Information technology infrastructure, and they have a high demand in every industry without any doubt. You can capitalize on your need in your current engagement by using your technology service. But things are not coming easier with a one night, and they must have a method to start.
So IT start-Up have to follow these simple steps to emerge in the current market.
Decide on your service offer
You services are related to a selling point, and you have to aim your clients through that. Basically as a first step, you have to think of a service you will offer. When you choose your offering service, you have to keep in mind to engage in a field where you have experience.
If you use a selling option that doesn't have previous knowledge, you may fall into many troubles. So do what you have capabilities. If you sue a service-related work that has an explicit understanding with you, you will win some more clients towards your business.  You can try the following services based on your experiences.
Tech supports
Designing networks and installation
IT budget systems and procurement services
Software application installations.
Security assets
Risk assessment
Admin management
Research on your market and your competitors
As a second step, you have to get to know about your current market. Please make sure to have a broader knowledge of the market you step for. Identify its potentials and decide what kind of customer category is you are searching for. Focus on your chosen clients and identify the competitive situations they have.
Some of the places are hard to start up a due to their cost and the customer base. So, do some research related to your service before you start your business. Identify the potentials of the area you settle and take advantage of them for you in advance.
Educate yourself and have basic knowledge of certifications
When you earn certifications for your plan, it helps you to shine among your current market competitors. So you have to get sufficient knowledge on the certificates. When you continue your education through your field, it helps you understand recent trends and the chances to learn new things. So educate yourself and make more identifications for certifications.
Choose a specific business structure for yourself
When your IT start-up is happening, don't overlook the proper structure, and it will not be easier as you think. Most of these IT businesses are following a sole proprietorship, an S corporation and also the Limited Liability Corporation. You have to select one of this structure, and it will decide how much tax you pay for you and the paper works you have to engage.
One of the most straightforward business structure is the Sole Proprietorship, and it doesn't have so many paper works. But this choice depends on someone's likes about their future in the business.
Choosing a workplace
Your area of work will impact so many benefits you depending on your location. You have to choose a place where you have a dedicated market for your business and the resources you need.
If your chosen area has no potential customers need IT services will you be success? No. that place will not work for you. So decide where you will establish and choose a better place to start your workplace based on the favourable conditions.
5 Requirements to start an IT business
There are a few basic requirements need for an IT business to start as follows.
A registered business name
A budget
Business permits and licenses
Working area
A business bank account
Frequently Asked Questions
How much does it cost to start an IT business?
It depends on what you are going to start, and most of these micro-businesses are starting around $3000. Every business has its own financing needs and objectives, so it depends on your dealing.
What are examples of start-up costs?
Starting up cost may go with advertising, opening, partnerships, training wages, and travel costs.
Conclusion
Starting up any IT business is not an easy procedure. It takes more actions and more dedications. It should have a correct plan going with strategically, leading you to have a successful outcome. So start with the right decisions and with the proper method to grow success towards your dream.
---
Interesting related article: "What is a Startup?"