Anyone can start a business online but not everyone has what it takes to do so sustainably. What separates both categories of people are the resources the latter possess that help them scale their ideas.
It's more advantageous to start your business online because it requires limited funds but a lot of dedication. However, nothing beats having the right tools; they simplify much of the hassle that comes with starting a new business.
Have a great business idea? Consider this a checklist of solutions to help you fulfill your goals and run your business successfully. It focuses on 4 key areas:
Website Creation – Creating your online workspace

Legal and Finances – Paperwork and compliance measures

Business Promotion – Marketing and advertising to an audience

Business Productivity – Organizing tasks efficiently
A – Website Creation 
Starting an online business without a website is like opening a physical business without an office/workspace. The attention your business website deserves is the same as setting up a physical store, office, or workspace. That's why many businesses are considering SEO services.
Your needs would determine the type of tools to use. Before publishing your website though, test different iterations of it to ensure that everything works fine.
The following factors help you optimize your website for increased visibility on search engines (SEO):
Use responsive design (a site that adapts to the viewing device)

Standardize the URL structure for each web page

Optimize for site speed

Use tags comprising relevant keywords to your business
Beyond these tips, here are tools you need to create a fully functional website:
Before you register your business name, you want to make sure the domain name is available to preserve the uniqueness of your brand. GoDaddy is one of the most popular web hosting platforms in the world.
You can use it to register your business domain name and create a fully functional website. GoDaddy also has payment processing, SEO, marketing, and mobile-optimized features, among others.
Content Management – WordPress
Once your domain name is ready, it's time to build and publish the website. Thanks to platforms like WordPress, you can easily build any kind of website in a matter of minutes.
WordPress claims a 40% market share of all the world's websites. Easily find unique themes and templates and add features you want on your website without writing code. As a Content Management System, it allows you to regularly publish content on your website and track performance.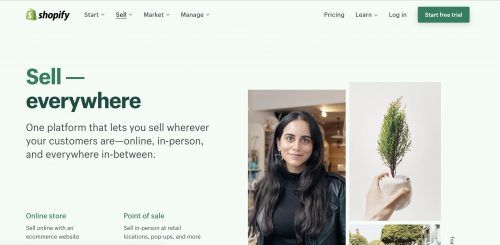 If your business is online, a Shopify store is the equivalent of a physical store. But it's even better because Shopify provides you with the tools you need to make your business successful.
With the emergence of COVID-19, the US has witnessed a business formation boom and many of these businesses start by selling on Shopify. Also, you can integrate your online store with your retail point-of-sale should you decide to extend your business beyond the internet.
Cybersecurity – Avast Business Antivirus
Many startups are vulnerable and that makes them easy targets of cyber attacks, which have been rising in the past years and particularly due to the pandemic.
Protecting your business and its (online) assets is a non-negotiable priority. Popular antivirus software, Avast has a cloud-based business solution to secure your IT resources regardless of business size.
B – Legal and Finances
Before you jump right into creating a website and opening new social media handles, it is important that you tighten things on the legal side.
Formalizing your online business secures you against the unintended consequences of running an unregistered business.
Here are some reasons you need to formally register your business:
To protect your business identity

To improve your business' public perception. People are more trusting of registered companies; some people and companies do not even do business with unregistered companies, especially for regulatory and tax reasons.

To attract investors. Banks and most investors would not fund your business unless it is registered.

To avoid legal punishment. Failing to register a business in some circumstances may lead to lawsuits, fines, business closures, and other penalties.
To avoid legal troubles in the future, the following must be settled:
A detailed business plan explaining the business' organization, funding sources, financial forecasts, and goals.

Complete business registration and full compliance with state laws and regulations.

Financial records management. Many legal troubles for businesses emerge from the financial side.
Below are some effective tools for taking care of the legal and financial aspects of your business.
The conception stage is the foundation for any business and the key to bringing your plans to fruition is writing a comprehensive plan to guide the business.
LivePlan helps you to achieve this. LivePlan provides you with professional templates, expert guidance, and financial forecasting to enable you to pitch your ideas to potential investors and convince them to bet on your business.
Business Formation – ZenBusiness
For an affordable sum, ZenBusiness covers the necessary legal aspects of registering your business LLC, as well as providing efficient support throughout the process.
Likewise, as business formation can get quite messy, it assigns you a registered agent who ensures your business stays compliant and organized.
You can also use ZenBusiness to register your domain name, get a business email address, and build a business website that projects your online presence. This detailed ZenBusiness review walks you through the step-by-step guide of fully utilizing the features of ZenBusiness for your business.
Payment Processing – Stripe
Because processing payments and keeping records can be a hassle, you need a tool like Stripe to manage your business finances. It has a startup toolkit, Stripe Atlas, that assists you to launch your business.
Integrate Stripe APIs into your website and start accepting payments from customers all over the world. Stripe helps you to optimize checkout, secure payments, and reconcile finances easily.
C – Business Promotion
Once your business is formed and the fundamentals are settled, the next thing is to promote your business and your products/services to the public and especially to your target market.
Your business marketing strategy should be beyond opening social media accounts and posting catchy images a few times a week. Marketing requires careful planning and intentional efforts.
Starting your business, areas you should focus on should be:
Social media: aim to turn your social media following into a community of people loyal to your brand and what it represents.

Email marketing: build meaningful relationships through regular personalized interactions with your leads/clients/customers.

Advertising: attract new leads through targeted ads online (Google and social media).
Below are some tools for creating, running, and managing an effective social media campaign.
Social Media Management – Buffer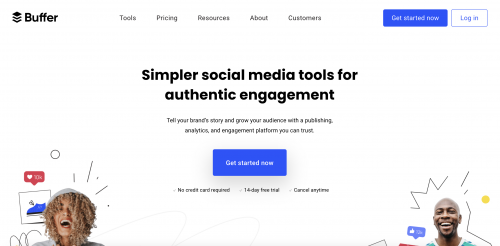 Your social media strategy should be beyond posting cool graphics on Instagram a few times every week. Use Buffer to organize social media campaigns and track results.
With Buffer, you can implement your social media content strategy, engage your target audience, measure performance, and build your community. Buffer is geared towards Instagram but it works well for other social media platforms as well.
Email Marketing – MailChimp
Email newsletters are a great way to keep in touch with your customers/clients on a personal level. MailChimp allows you to automate email marketing and connect with your audience.
There are a number of flexible templates to get started with as well as a Creative Assistant to customize designs for your business. From the software, you can easily build and manage an email list and scale your business.
Online Advertising – Google Ads, Facebook Ads
Getting your business products and services in front of the right audience requires targeted advertising, the kind that giants, Facebook Ads and Google Ads, can provide.
Both apps run ads for you according to your budget and you only pay for results, such as clicks. Google Ads run on its search engine and Maps while Facebook ads run on Instagram and Facebook.
You don't need to be an expert to set up your first ad and start attracting customers.
D – Business Productivity
Running a business can be daunting. Going through the checklist of activities you must take to keep your business running, you might find them overwhelming.
How do you make your work easier? You need tools to keep you focused, organized, and productive. Some of these tools are discussed below.
Task Outsourcing – Upwork
You can always outsource tasks to professionals. Outsourcing routine, low-priority tasks, and even some critical processes help you focus on the most important aspects of your work.
Where to find such professionals online? Upwork. Upwork features talents from various fields that may be useful to your business success.
On the surface, Notion looks like just another note-taking app. But that simplicity is what makes it a powerful tool for managing all sorts of projects including running your business. It dubs itself the 'all-in-one workspace'.
You can also integrate Notion with other apps for seamless efficiency. Use Notion to keep track of your goals, organize your tasks, collaborate with other people, as well as manage records.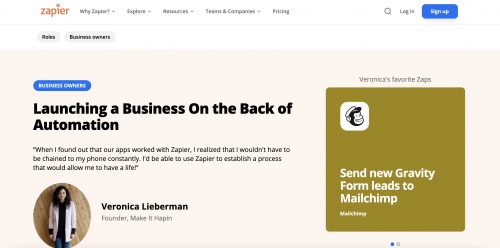 Running a business is a challenging undertaking, requiring a lot of multitasking trying to keep everything in place. Zapier does this for you by allowing you to integrate your apps into one platform and automate your work.
You can use Zapier workflows to automate your social media posts, schedule messages to leads/clients/customers. There are more than 3,000 apps including your calendar, email, and messenger apps that you can connect and automate to improve your productivity.
Video Conferencing – Zoom
Amidst lockdowns and various movement restrictions due to the pandemic, Zoom emerged the app of the year, enabling video conversations and meetings for several individuals and businesses.
As an online business, Zoom is a great tool for meeting with your clients, customers, leads, workers, etc. It can also be a marketing tool since you can use it to organize webinars and other events to promote your business products/services.
Conclusion 
This is not an exhaustive list. But it's a good list of tools to start your new business with. You may find better and cheaper alternatives but the tools listed above have had their quality tested and they are trusted by several businesses and entrepreneurs. What is most important is to find what works for you and commit to that.
---
Interesting Related Article: "Getting Ahead in Digital Marketing: 3 Essential Tips for Online Business Owners"