The coronavirus pandemic has undoubtedly changed the way we do business, crossing industry barriers and making its effects known to everyone. Times are tough, and the impact on how we live, and work is unlikely to stop with this global health emergency.
Whilst many people don't exactly welcome the current level of instability, there is cause for hope and it's important to recognise the opportunities that can be drawn out of the crisis. For one thing, COVID-19 has levelled the playing field with established companies unable to continue with business as usual.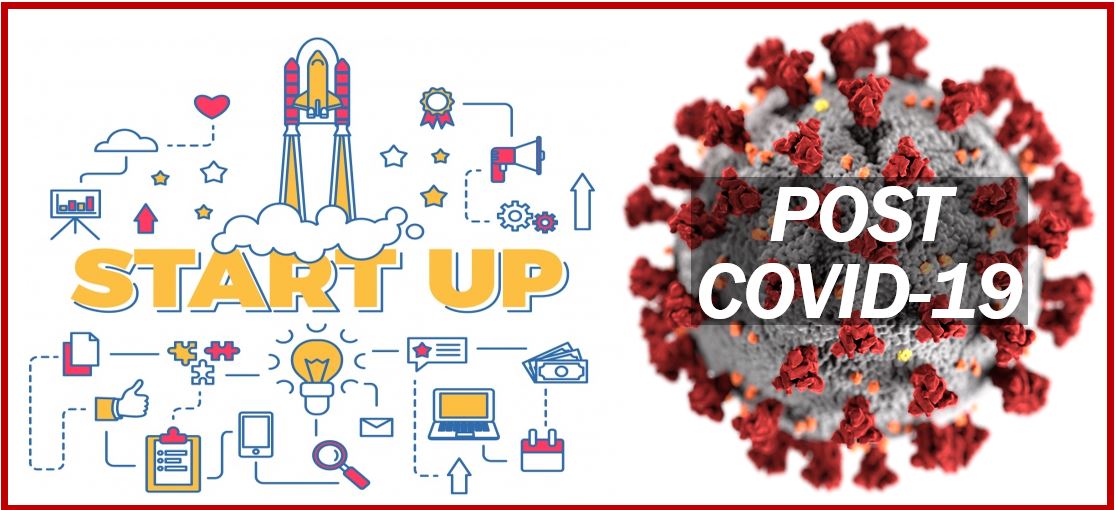 It is these large businesses that often find themselves unable to quickly adapt to change. This makes it an ideal time for the owners of small businesses to showcase what makes them different, taking advantage of their size to quickly implement changes that reflect the state of the market.
Commercial activity online vs. offline
The coronavirus pandemic lockdown has accelerated the shift from offline to online shopping in the USA, UK, Europe, Japan, and many other countries across the globe. Many other changes have also taken place over the past couple of months, which may have a long-term impact of how people shop, work, see their doctors, and study.
The infographic below shows that consumer behavior patterns in the USA and UK has shifted significantly because of COVID-19:
Top tips for your startup business
Whether you've had an idea for a new product, or lockdown time away from your employer has made you realise that you could finally branch out on your own, here are our top tips for starting a small business after the pandemic.
1. Develop systems and stick to them
If there's one thing that the coronavirus pandemic has taught us, it's that anything can happen. Staff illness, government restrictions and shop closures all seem inevitable now – but just months ago it would be impossible to guess at what was to come.
Businesses simply can't prepare for every possibility, but what they can do is put in place solid and functional systems that leave them equipped to deal with any hardships or surprises they may face. If you're starting a service or consultancy-based business, making sure that your people can work remotely from home without sacrificing quality or client care is paramount.
For brick and mortar sales businesses, the same could be said of auditing your supply chain to ensure that you'll never find yourself without the products that make up your bottom line.
2. Safeguard your customers, physically and financially
When starting a small business, it will always be exciting and encouraging when you get your first customers through the door or onto your books. Even as COVID-19 figures begin to slip down, social distancing and public safety measures are likely to remain for a long time to come and you will need to think carefully about how to approach this in your business.
From introducing one-way policies around a shop, regularly cleaning the card machines, and encouraging contactless payments, the physical element of safeguarding your customers may be quite simple to decide upon. It's vital to remember, though, that health concerns are not the only factors affecting clients at the moment.
Companies and individuals alike are coping with stretched budgets, and creating an open line of communication about their budget at an early stage could help you to  align your products and services with their needs. Whether you use a survey or just get in touch to have the conversation, really listening to what's bothering your clients is the key to fostering an effective business connection.
3. Get a watertight payment solution
When you're working hard to make sure that your business offers good value for customers, it's easy to forget how important it is to make sure that your finances are in order – and that includes your approach to payment solutions.
Finding the right payment solution could make taking payment the easiest part of your sales process, and there are lots of options and providers available.
It cannot be overestimated just how important cash flow is in the early days of a business, and so quick and reliable payment solutions of this kind could really help you to get your venture up and running.
4. Find the right voice
Being confined to their homes has left people spending considerably more time online scrolling through emails, social media, and news feeds. With an increase in screen hours, it's also inevitable that people are being inundated with advertising – leaving them at the mercy of the companies with the biggest marketing budgets.
If you're setting up a new business, it's vital to find ways to connect with your clients and drive the engagement that will grow your brand. Whilst you'll want to find a social media strategy that works for you, that doesn't necessarily mean sending out mass-emails updating clients on everything that you do, but you should still find ways to relate with your target market and illustrate how your product or service could be the one for them.
5. Making the jump
No matter what your small business or company does, getting off to the best possible start could be your ticket to a new career or even to doing what you love for a living. The COVID-19 pandemic presents considerable challenges to business owners, but by putting in place the right processes, payment solutions and strategies, you could make a real success of the situation.
---
Interesting related article: "What is a Startup?"