Shipbuilding is a complex and high-tech process that is relevant for military or industrial purposes in many countries of the world.  It is obvious that for the construction of ships, both navigable and inland, special materials are used, like certain types of wood, paints and varnishes, lubrication fittings, and steel.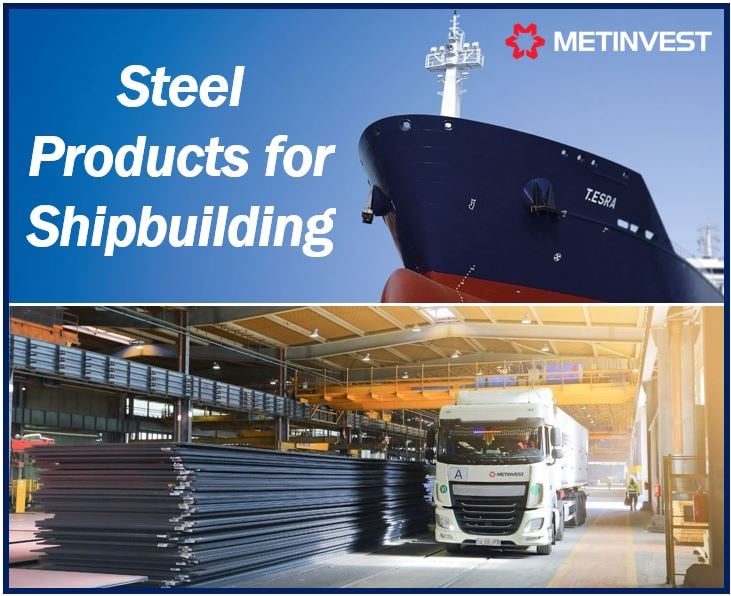 Here are a few products, made of shipbuilding steel:
I-beams.

H-beams.

Channel bars.

Equilateral angle iron.

Non-equilateral angle iron.

Reverse frame angles.

Bulb plates.
Shipbuilding Steel Sheets
From a technological point of view, the process of sheet production consists of several stages:
The first is the production of steel castings with desired chemical composition and mechanical properties in electric or open-hearth furnaces, as well as in a converter with purging with pure oxygen.
The second is rolling, drawing or forging the obtained steel castings, which allows to obtain a shipbuilding sheet of the required thickness and strength.Sheet products for shipbuilding are classified according to several indicators.
 Depending on the purpose of steel they are:
Rolled steel for inland vessels.

Rolled steel rental for seacraft.
Difference Between Types of Steel Sheets
The main difference between these types of sheets is the degree of impact resistance, weather resistance, resistance and flowability. But characteristics and  of sheets for shipbuilding have to meet all the requirements, as shipbuilding is one of the most serious craft that has to obtain impeccable materials, strict technological inspection and approval of higher instances.  For steel products that are used in shipbuilding, there are increased requirements for the following indicators:
Resistance to low temperatures.

Lack of magnetic indicators.

High level of corrosion resistance, including in aggressive environments.

Resistance to delamination and cracking.

Resistance to high levels of vibration and radiation.

 Rhe ability to retain their original properties during temperature fluctuations.
In addition, products for shipbuilding should be well processed, inspected, and operated for a long time in conditions of high humidity.
Steel – A Common Shipbuilding Metal
Steel is one of the most common metals in shipbuilding. Shipbuilding steel  should be distinguished by corrosion resistance, impact resistance, high flowability, strength, weldability and temperature resistance.  With all this, carbon or stainless steel sheet should not be unnecessarily expensive, given its required amount even for a small vessel.
Assigning a material with worse properties, but greater thickness, in this case, is wrong because water transport creates big problems that can be solved with this approach. The following classification of stainless steel for shipbuilding is the best:
Two types for rolling accuracy (A – increased, B – normal).
Four types of flatness properties (especially high, high, improved, normal).
Two types of cutting edge (sheared plate, edged plate).
 ABS clearly defines steel for shipbuilding, and it is impossible to replace a certain brand with another, even similar, without permission.  Well-known manufacturers of these materials are few and well known to shipbuilders. After all, the material of dubious quality can lead to very sad consequences.
Three things matter when choosing steel products for shipbuilding, they are: durability, resistance and proper inspection.
Interesting related article: