What is StocksToTrade All About?
As a first-time trader, you are naturally cautious about trading stocks, commodities, indices, and currency pairs online. It can be unsettling because the trading arena looks complicated.
Besides the charts, graphs, tools, and a seemingly endless array of financial instruments, it takes time to learn how to trade. Fortunately, our fears were unfounded when we followed sage advice and tried out StocksToTrade (STT).
So, why did we pick StocksToTrade, given the glut of options available to us? Truth be told, we like to get personally invested in our trades. Our traders enjoy having full control over our trades at all times. With STT, you retain control of all your trades, and you will benefit from a set of powerful trading features and functions too.
As with any trading platform, it's important to know a little about the company's history. StocksToTrade was founded in 2009. It was built by traders for traders. Whether you're a casual trader or an experienced professional, this platform is just what the doctor ordered.
All too often, traders find that they have to navigate out to source relevant information about their trades. This includes external sources for news, economic indicators, charts, graphs, trading tactics, and strategies.
It's tough finding a platform that offers a complete online trading education in one place. But that's exactly what you get at STT. No hedge fund managers are needed to identify lucrative opportunities in the market. Our research has found that STT empowers individual traders to take the proverbial 'Bull by the Horns' and trade at will.
As far as the integrity of personal information is concerned, STT is guaranteed secure. SSL (secure socket layer) encryption, and firewall protection systems are in place to protect trader information. This frees you up to trade as you please, without worrying about account safety.
A team of experts, led by Tim Bohen (Lead Technical Trainer), and Michael Hudson at STT who present traders with valuable insights into stocks trading activity. The trading platform is not a broker, nor does it masquerade as such. Coupled with insightful podcasts, it's possible to get your trading knowledge up to speed on all the most relevant topics out there.
In respect of brokers, there are several options available, notably ETrade, TradeStation, RobinHood, TD Ameritrade, Tradier Brokerage, and Interactive Brokers.
What Does it Cost to Get Started with StocksToTrade?
Various options are available to you as a trader at STT.
You can get an unlimited trading account with Tradier (broker), for a fixed monthly fee of $14.99, and a minimum account value of $500. Each broker offers different costs, and it is incumbent upon you to pick the most appropriate broker for this trading platform.
As far as general pricing goes, you have a monthly or an annual option. We picked the annual option simply because it offers great cost savings upfront. For an annual fee of $1,899.50, you save $250 and enjoy uninterrupted service with unlimited access to trading resources.
For those who prefer a monthly payment plan, the cost is $179.95. Before we chose the annual option, we opted in for the 14-day trial for a starting price of $7. We were impressed with this powerful platform and decide to sign up for the full year.
What Are Some of the Benefits You Can Expect When Trading at STT?
This trading platform brings plenty of features to your screen, on PC, Mac, and mobile. The charts are particularly impressive. We liked the real-time analytics that is presented with every equity.
For example, in the chart above (AAPL: NASDAQ), you can assist the performance of the stock over your chosen timeframe. The candlestick patterns are impressive in that you can see highs and lows, and bullish and bearish price movements per time interval.
As a case in point, the above chart reflects a 30-minute trading session of Apple with prices reflected in 1-minute intervals. As you would expect, there are 30 red or green candlesticks each representing 1-minute price movements.
If you want to view AAPL over a 30-minute trading session, but you don't want to deal with 30 X 1-minute candlesticks, you can adjust it accordingly. For example, you can view 6 X 5-minute movements over 30 minutes and the chart will look much different.
It gives you a broader trend perspective which in this case is largely bearish. You can see from the chart below that our team toyed around with, the high of $110.72 and a low of $109.46 in the trading session.
The broader performance of stocks can be extrapolated over longer periods. For example, in the case of Apple Inc, you can go as far back as 20 years, or as little as 30 minutes – it's your call.
For trading purposes, shorter time sessions are preferred, since trades always closeout within the same day for day traders. We have included a year-to-date chart for Apple Inc, as it makes for interesting reading, given the geopolitical events that have shaped 2020.
So far, this is a standard operating procedure with many trading platforms. Where things get cranked up a gear is the analysis of each financial instrument.
In the case of Apple, STT provides useful data such as high price, low price, open, previous close, volume, 52-week high, average 60-day trading volume, market capitalization, float, number of shares, price/earnings ratio, and earnings per share.
Additional data in the form of news, SEC filings, events, check, profile information, et al is provided for your benefit. We liked this aspect of the stocks to trade platform.
These nuggets of data are extremely important when you are trading. They indicate how much trading interest exists with the stock (higher volumes = higher interest), and whether it is trading at a fair price, undervalue, or overvalue.
Beyond the basics, you get access to full market movements with green, red, yellow, blue, and other color-coded indicators. Typically, green represents rising prices, or rising trading volumes, a.k.a. bullish movements, and red represents falling prices falling trading volumes, a.k.a. bearish movements.
What is Oracle all about?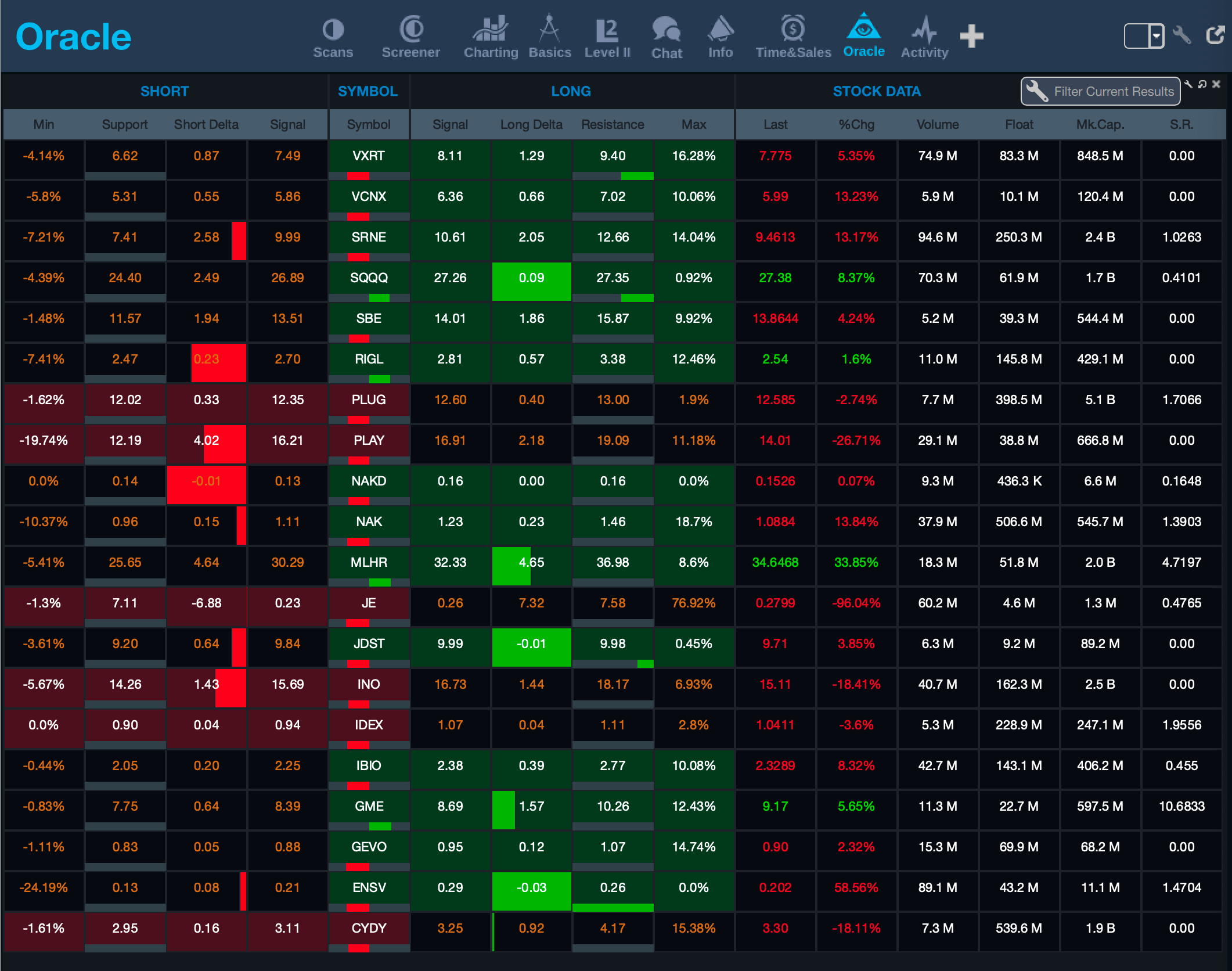 There is one feature that sets StocksToTrade apart from the competition, and it is known as Oracle. As its name suggests, it is an 'all-knowing' algorithm that automatically scans the markets for the best-performing stocks.
Think of it as a personal trading assistant with tremendous market insights. Oracle automatically pops up when you click on the link from your trading platform. It presents you with a grid of stock data, Short and Long options, and the current stock ticker.
This information is extremely useful when you're looking to capitalize on volatility in the markets. As you now know, the red reflects falling prices, and the green represents rising prices. It's no coincidence that Short is associated with the red and Long is associated with green.
We found that it's best to play around with the data to find the best possible mix of short and long options for optimal trading outcomes.
Pros and Cons of the STT Platform
On the plus side, we were thoroughly impressed by the inclusiveness of features, functions, charts, graphs, and trading resources. Everything is available as a stand-alone unit within the STT platform. That means you don't need to navigate out for economic data reports, company SEC filings, earnings, or price fluctuations.
STT is also perfectly suited to traders with little or no experience in the market. All information is provided for you in color-coded options, allowing for a quick understanding of price movements with specific financial instruments. Since you don't have to follow the crowd, you can educate yourself and understand how to trade stocks successfully. The onboarding process is pretty quick, given the user-friendly nature of this trading platform.
As far as cons go, it's not a broker. That doesn't mean it's a bad thing – but you have to find a broker that you are comfortable with to pair it up with STT. Once you have selected a broker, you can choose your plan to make it as cost-effective as possible.
Some of our team members weren't so happy about the costs, but there's always the option of $14.99 when you sign up through the STT at with Tradier. It's a win-win!
Overall, we were thoroughly impressed with this trading platform and its powerful functions and features.
---
Interesting Related Article: "What is Stock Market?"