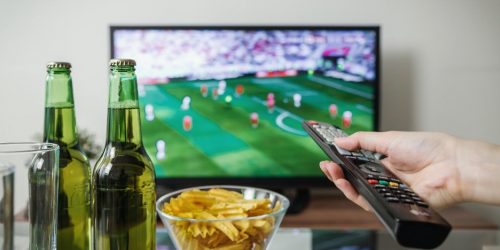 Those of us thinking about how to stream the World Cup from anywhere should know that there are some issues surrounding this. Some of you may have come across what is known as geographical blockage, or 'geo-blocking' as it is popularly known — a broadcasting rights issue that stops digital streamers from watching content from a specific region. Thanks to the work of software developers and network security engineers in recent years who have combined to overcome this, we now have access to apps called Virtual Private Networks, or VPNs! More on those later, after we dive into a bit of FIFA excitement first!
After four long years, the FIFA World Cup is back! It is, of course, the biggest football tournament of the year where the world's top teams will compete for the shining trophy that every player dreams of. On December 16, who will win the World Cup? There are several excellent contenders for that question.
Yes, many websites offer free live sports streaming, so you may watch the action without spending a dime. When accessing these websites, you must take precautions to safeguard your computer and your data because they pose a major threat to your safety. We'll go through everything you need to know to live stream the World Cup safely unhindered!
What About Free Streams?
Let's start by figuring out why premium streaming services are so expensive. The broadcasting rights that allow media organizations like ESPN to live stream and broadcast FIFA World Cup matches cost millions to obtain. It's hardly surprising that you have to spend so much money on those dependable, high-quality streams given how much money is spent on the sport itself.
However, there are some free live-streaming sports websites available to you that you may use to watch the FIFA World Cup for nothing at all! There are also many websites you can utilize, including USTV GO and 123Sport, but there is a catch!
These websites that offer free live sports streaming make it clear that they do not host the feeds on their servers. You, therefore, have no idea where their live broadcasts are coming from; they can be from illegal or insecure sources! The websites themselves may be laced with malware or ads, or both. For these reasons, it's crucial to make sure your device is secure when visiting such websites because this might potentially put your devices and data at risk. Some cunning hackers may be exploiting the live feed to entice unsuspecting victims and snoop through their data or install malware on their devices.
With a VPN, however, you're practically bulletproof!
VPN Time!
To access the free live streams of the most thrilling FIFA World Cup matches, all you have to do is install a helpful cybersecurity tool on your smartphone. You'll find the free stream links in the link at the beginning of the article.
The tool in question is a VPN or virtual private network. A VPN's primary function is to encrypt your internet connection, which will prevent anyone from monitoring your internet traffic and recording your browsing history, including the government and your ISP. If you plan to watch free live sports online, make sure to arm yourself with a VPN first because it is the best way to ensure your cybersecurity.
With a VPN, you can also access a network of secured international servers located in different nations and locations all over the world. Your device will route data through those servers when your VPN app connects, hiding your true IP address. By doing this, you can deceive a website into believing that your device is connecting to the internet from the same location or nation where FIFA action is being broadcast.
You can get around websites that are blocked based on your location by using this tool. When a website prevents you from viewing a live stream because you are not in the designated area, this is known as geo-blocking.
It might be easy to locate free live streams of the World Cup. But there are several crucial criteria that you must take into account while selecting a VPN. However, there is one cardinal guideline that you must always abide by: make use of a high-quality VPN that is subscription-based and has customer service.
Although it may be alluring to match your free live streaming with a free VPN, it is not worth it, especially when your device's security and privacy are at stake. Free VPNs have a ton of disadvantages, including slower connection speeds, more advertisements, less security, daily usage caps, and a smaller selection of international servers.That's it! Flip on your VPN, relax, and watch FIFA World Cup action on any platform, from anywhere in the world at any time!
---
Interesting Related Article: "The FIFA World Cup 2022 In Qatar Will See A Significant Change"