Are you stuck on the myth that shorter hairstyles for round faces are not flattering? It's time to shed those old views and embrace a sassy new short hairdo! The right short haircut can flatter your face nicely and give you a new air of confidence.
Not sure if short hairstyles for round faces is your cup of tea? Here are some pros of shorter hair give you a little incentive.
A short sassy hair cut is ideal for those hot and humid summer days. You will feel cooler and lighter with a shorter hairstyle.
Short hair is typically very easy to style. You can pretty much wake up and walk right out the door with little or no fuss.
Short hairstyles for round faces are very flattering and a great way to show off sexy makeup looks and show off your gorgeous facial features.
Short hair is very in right now. Celebs are sporting trendy short haircuts everywhere.
Cutting your hair short is a great way to get rid of some of that dead weight from your long locks and give your hair a fresh and healthy start. Plus, it always grows back if you get bored with your shorter hair.
Your hair will dry much faster and you will use less product.
Say goodbye to stubborn knots and tangles!
Short hair is so much fun to accessorise with cute headscarves, fashionable hats, and dozens of other hair accessories. And it's a great way to show off all of your dangly earrings and hoops!
Short hairstyles will add more bounce to your natural waves or curls. It can add more body to fine or thin hair or remove some weight from thick hair. to give it new life.
A trendy short haircut can make you feel years younger!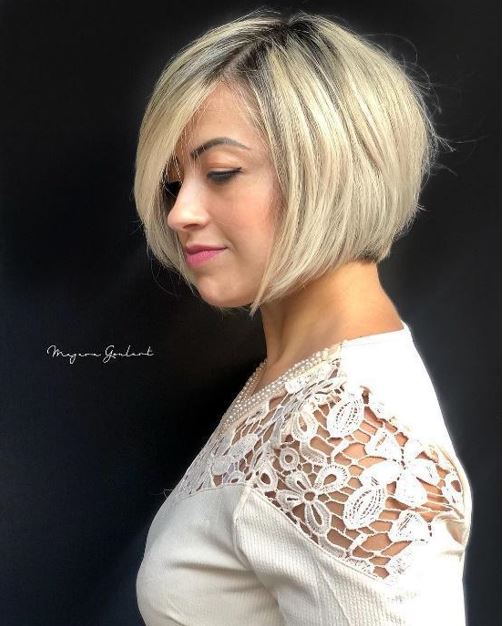 Now that we have given you some bonuses for short haircuts, here are some tips on how to style and care for short hairstyles for round faces.
Wearing your shorter haircut in a cute updo such as a top knot, half ponytail, short braids or bun can make your face look longer.
If you have curly or wavy hair, focus the main style near the top of your head as opposed to your cheeks.
Have your hair trimmed every four to six weeks to maintain your sassy short hairstyle.
Blunt bangs will take add volume your face so opt for layered fringe.
Shaggy layers are very flattering if you are going for a short bob.
Soft, beachy waves are extremely alluring on short hairstyles for round faces.
Don't part your hair in the middle. Instead, a deep side part will work wonders for flattering your facial shape!
Here are some of our favorite short hairstyles for round faces. Check out our website for more trendy short hair looks for women and girls with round faces!
Short, stacked bob
This stacked, graduated bob is super cute and very professional looking. Yet it still has an air of sexiness about it. Ask for stacked layers in the back to add some body and longer layers in the front to flatter your face. Style your hair with a deep part and longer bangs that fall seductively over one eye.
Asymmetrical Short Bob with Side Bangs
If you want a look that's sophisticated but has a bit of an edge, this short bob is so much fun. The one side is just an inch or two longer to give it a playful vibe. Yet is still acceptable to wear at the office. Messy, side bangs give it a softer feel. If you have more freedom, you can keep one side drastically longer to give it more modern look.
Short and Sassy Pixie Cut
Are you feeling especially bold? Why not go for an adorable pixie cut? Pixie hairstyles are very much in style now and there are dozens of styles for pixie cuts, from longer pixie so super short pixies with shaved sides and faux hawks! If you really want to go for a daring and sexy look, a pixie cut could be exactly what you need!
Do you have the guts to try one of these shorter hairstyles for round faces? We think so! Call your hairdresser and get ready to embrace your fun and flirty new look!